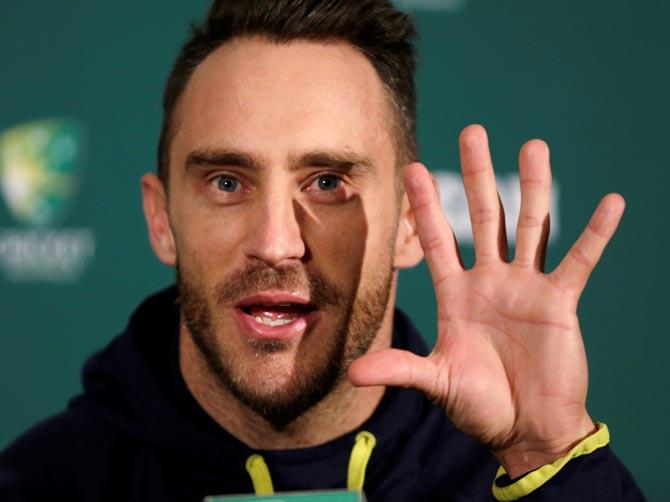 IMAGE: South Africa's captain Faf du Plessis says India is a quality team and expects them to come out with same challenge and intensity as they did in the Test series. Photograph: Jason Reed/Reuters
South Africa captain Faf du Plessis, on Wednesday, acknowledged that it will be tough to beat India in the six-match ODI series starting on Thursday and said the visitors' poor record Durban in the 50-over format will not be much of a factor.
India have won only 5 out of 27 ODIs they have played against the Proteas in South Africa. They have never won a bilateral series in Durban or beaten South Africa at the venue in ODI cricket.
"I think it (the poor record) tells a story. It means that there is something difficult for touring teams to come here and get accustomed to. But as I mentioned before the Test series, I feel like this Indian cricket team has got the names on paper to challenge that and get some victories in South Africa.
"They have proved that in the Test series and they are a quality team. So I expect the same (challenge and intensity) in the ODIs coming up," said du Plessis on Wednesday.
South Africa won the Test series 2-1, but the Indian bowlers gave a good account of themselves picking all 60 wickets on offer.
Du Plessis felt that this would be a factor in the ODI series as well, in both pace and spin, with India bringing fresh leg of spinners into the mix.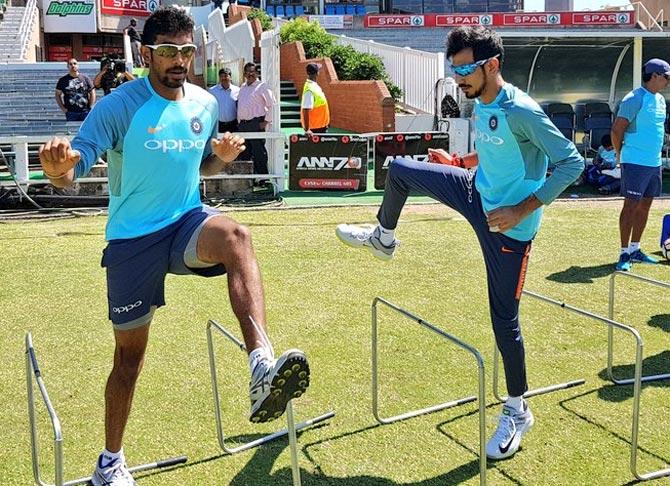 IMAGE: Jasprit Bumrah, left, with Yuzvendra Chahal during Team India's training session. Photograph: BCCI/Twitter
"They are very good spinners. I've played against them (Yuzvendra Chahal and Kuldeep Yada) obviously in the T20s and in the IPL. They have been very successful for India in the last while. ODI wickets here generally don't spin a hell lot so it depends on how the wickets play.
"But they have got more control. The benefit of having spinners like that is they are always looking to get wickets And if you get wickets, you put pressure on the batting side. They'll be two important bowlers for the Indian team," he said.
The skipper said he was surprised with the performance of Indian pacers in Tests.
"The conditions in the Test series were bowling friendly, but I was surprised how consistent the Indian seamers were. They were very, very consistent and it showed us there is a lot of strength in their bowling department.
"Jasprit Bumrah was a surprise selection because India had more experienced bowlers in the squad, but he was very impressive. He is a good ODI bowler but I was really impressed with his consistency. He didn't bowl a lot of bad balls, which shows that he is someone for the future," he added.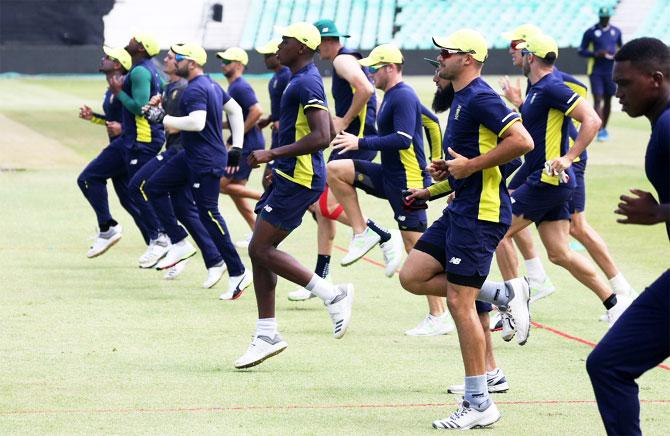 IMAGE: The South African cricket team at a training session on Wednesday. Photograph: BCCI/Twitter
Talking about South Africa's game plan in this ODI series, he further said, "The good thing is that from a batting point of view, we were able to still make a few inroads. We feel like we had some good plans in the Test matches to certain batsmen and so if we can keep those guys quiet in the early doors of the series, we feel that as a batting unit we can keep them under pressure."
Meanwhile, South Africa have a few changes thrown in as they bid to plan ahead for the 2019 World Cup. The skipper said that they will need to find a balance between the short and long term ambitions keeping next year's tournament in England in mind.
"I think our mindset has changed. We have always been focussed on the now. And, when you get to that big tournament, that becomes your focus as well. This is the first time when we have really taken a small step into the now and bigger step into the future where we are trying to see.
"This is the first time every conversation we have as selection panel, captain or coach, we try to see how we could have a look at more players. Personally I haven't been involved in a vision like that. So obviously it shows you that there's a big focus on how we could give guys a lot of opportunity," du Plessis said.
"I've always been of the belief that you play every game as hard as you can. You do everything to win a game of cricket. But I do feel like we're a little bit more focussed on 2019 now. If you say that, you have to give yourself a little bit of allowance."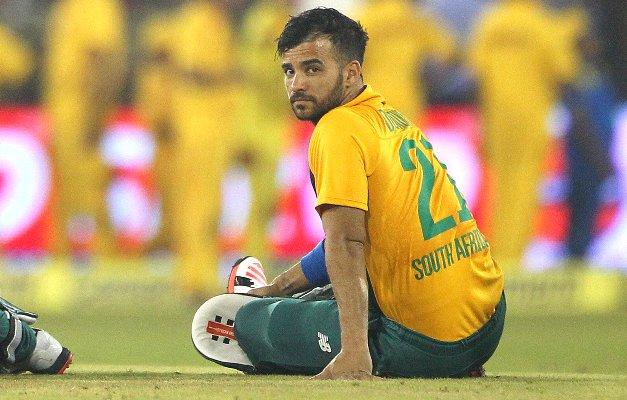 IMAGE: Du Plessis expects JP Duminy to contribute in an all-round capacity. Photograph: BCCI
In terms of team composition, AB de Villiers is ruled out of the first three ODIs. Chris Morris is fit and expected to play. JP Duminy and David Miller are back in the ODI set up as well. Additionally, South Africa are looking to go in with just the one spinner.
"Chris is coming off quite a few injuries so good to have him back. He's a very good white-ball player. So we're hoping to see the best of him again. It's important for us as a team that he gets good opportunity and even starts winning games for South Africa.
"If you look ahead in a-yea-and-a half's time, he is someone who can do something special in a big tournament. JP Duminy hasn't been with the side in a while. It's great to have him back. Once again, he needs to put in some good results, as with David Miller. He's been very good for us," he said.
Du Plessis said Markram and Duminy's role with the ball could prove to be crucial.
"AB is not playing this game so Aiden Markaram is coming into his place, giving him an opportunity to bat in different places in the batting order. We won't play two frontline spinners together, not with the balance of our team.
"So it is important then that your all-rounders in Duminy and Markram, those guys are prepared to bowl as a sixth bowling option. Obviously Imran (Tahir) is a quality bowler. He's probably been the biggest reason for our success in one-day cricket because he always keeps getting results," he signed off.