'The IPL has only helped change my game tremendously'
'It has helped a lot to play under Dhoni and Brendon McCullum'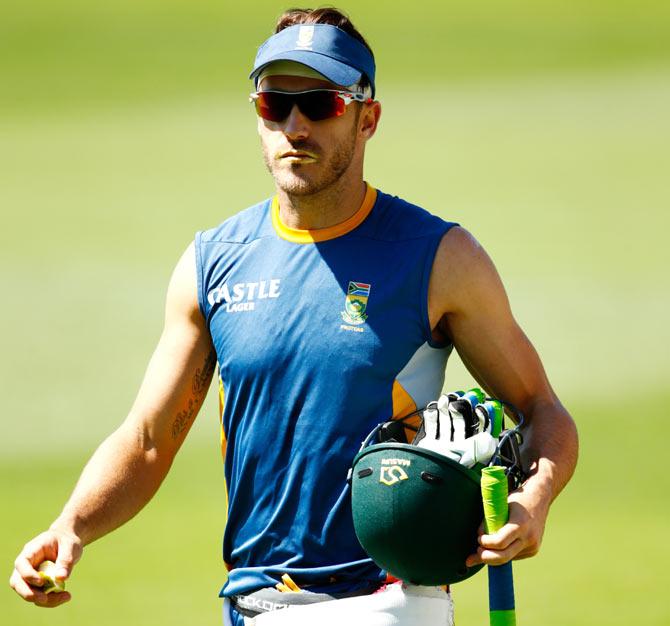 IMAGE: South Africa's T20 captain Faf du Plessis during a nets session. Photograph: Phil Walter/Getty Images
Chennai Super Kings' future in the Indian Premier League may be uncertain following the two-year suspension, but South Africa's Twenty20 captain Faf du Plessis feels the five seasons he played under 'Captain Cool' Mahendra Singh Dhoni in the Indian Permier League transformed him as a cricketer.
"I always ask him (Dhoni) how is he so cool.
"I can say two things about Dhoni. I have been fortunate to have played under him and I have huge amount of respect for him.
"Secondly, I know what he brings to the table. He is a calm captain and knows how to handle pressure situations. You can learn to be your own man," said Du Plessis, talking about the kind of influence India's limited-overs' captain had on him during his time at Chennai Super Kings.
In fact, the South African team has a 'Mini CSK' unit with Du Plessis himself in charge of the side.
Whether it is CSK opener Mike Hussey offering tips to the boys on how to play Ravichandran Ashwin's 'Carrom ball' or former pacers Chris Morris and Albie Morkel chipping in with inputs on what length to bowl to Suresh Raina in the death overs, Du Plessis will certainly rely on the successful 'CSK Model' to beat Dhoni and Co.
"I can only speak from personal point of view that the IPL has only helped change my game tremendously. I have learnt a lot about batting under these conditions. I have been fortunate to have a good leadership, in terms of my understanding of captaincy.
"It has helped a lot to play under Dhoni and Brendon McCullum. Personally, I learnt hell of a lot from MS. One of the reasons that South Africans are good travellers because of the likes of Chris Morris have also played IPL. We can sit back and look at those performances," said South Africa's T20 team captain.
Former Australian batsman Hussey was part of the South African support staff during the ICC World Cup in Australia and New Zealand and Du Plessis feels it will only help youngsters to learn from the dogged left-hander.
"I have played a lot of cricket with Michael in Chennai as well. He is a good guy to have as he has played a lot of cricket. For young batters, he is the best guy to learn from is 'Mr Cricket'. He is a good person, fits in beautifully and we are very lucky to have him."
Also read:
- South Africa coach backing his pacers to deliver in India
- Amla to miss warm-up game vs India 'A'; Albie yet to get visa
- South Africa keen to start off well against India's T20 hopefuls in warm-up tie