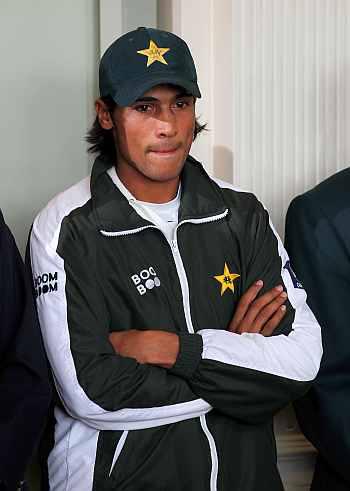 The Pakistan Cricket Board and coach Waqar Younis indicated that disgraced left-arm pacer Muhammad Aamir will soon be given a chance to play for the national team again.

PCB chairman Shaharyar Khan told the media in Lahore that the Board is considering giving a comeback chance to Aamir, who served a five-year ban for spot-fixing which expired last September.

"I think Aamir has done enough with his performances to warrant a place in the Pakistan team and we are considering him. But the final decision will be with the national selection committee," Khan said.

"But the important thing is that we first would like to speak to him and convey to him clearly that his behaviour and attitude will matter a lot if he is to play for Pakistan again. We have to guide him to keep a modest behaviour."

Reminded about the recent statement from senior player Muhammad Hafeez about not wanting to share the dressing room with Aamir and also about reports that some other players were also not keen to see him back, Khan said there is a need to discuss everything.

"I think what we need to do is have a meeting with Aamir, selectors, team management and the players to sort things
out and make some things very clear to Aamir," he added.
"The PCB does feel that if Aamir has learnt his lesson and is performing well he deserves a second chance. If the selectors say they want him we will put the matter before the Board of Governors," the PCB chief said.
Waqar also said he is in favour of forgiving Aamir and giving him a second chance.
"He has served five years of punishment and he deserves a second chance. There is a need to communicate clearly with him but that can be done," he said.
Waqar also played down reports about players not wanting the pacer back in the team, stating these matters can be settled through meetings.
Aamir is presently playing in the Bangladesh Premier League (BPL) and has again impressed with his performances. He also ended up with 50 wickets in the non first class qualifying rounds and than the first class main rounds of the premier Quaid-e-Azam trophy tournament before going to Bangladesh.
Aamir said on
Geo Super channel
on Thursday that he understood that some players were not keen to play with him when asked about the Hafeez incident.
"I respect Hafeez bhai as a senior player and he has every right to his opinion. But in the BPL so far the franchise fellow players including my Pakistani colleagues have all been very supportive and are encouraging me," he said.