'I see in him a desperate leader trying to win a Test match for his country'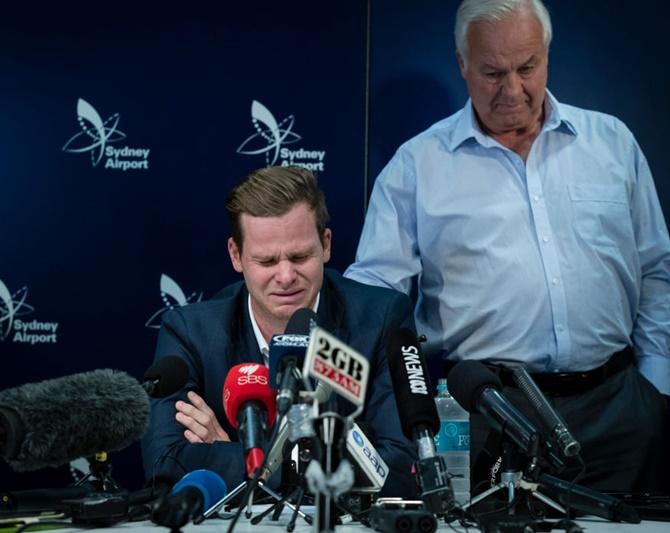 IMAGE: Australian Test cricketer Steve Smith is comforted by his father Peter as he confronts the media at Sydney International Airport . Photograph: Brook Mitchell/Getty Images
Former India opener Gautam Gambhir, on Thursday, termed sanctions imposed on Steve Smith and David Warner 'harsh' and raised questions whether the errant duo paid the price for revolting against Cricket Australia on pay hike issue.
Smith and Warner have been handed one year ban by Cricket Australia with rookie Cameron Bancroft getting a nine-month suspension for their involvement in ball tampering against South Africa in Cape Town.
However, Delhi Daredevils captain Gambhir felt that Smith and Warner being the primary voices during the senior team's pay hike dispute with the establishment might have played a role in their ouster.
"While cricket needs to be corruption-free but feel sanctions on Aussies bit harsh. Are @stevesmith49 & @davidwarner31 paying for revolt for pay hike? History has it administrators deride those who standup for players' cause. Classic case: Ian Chappell," Gambhir wrote on his official Twitter page.
Gambhir urged the Australian media and the general public to spare a thought for the families of the players.
"Feel sorry for @stevesmith49 dad (in pic) other family members. Hope media n Aussie public go easy on them as families can be soft targets. More than d ban living wid this feeling of being called a cheat is a bigger punishment," the veteran left-hander wrote in a series of tweets.
In his opinion, Smith can't be termed a cheat and he would rather call him a 'desperate leader' trying to win a Test match.
"I may be getting emotional but @stevesmith49 doesn't look to me a cheat. Don't know about u but I see in him a desperate leader trying to win a Test match for his country, his team. Yes, indeed, his methods were questionable but let's not label him corrupt," he wrote.