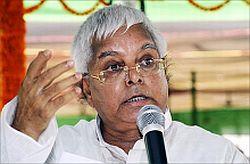 Barely 17 days before the Board of Control for Cricket in India's annual general meeting, the Bihar Cricket Association (BCA) led by Rashtriya Janata Dal president Lalu Prasad Yadav is embroiled in a controversy with its rebel group unilaterally electing a president and a general secretary on Sunday.
While the rebel group leader Ajay Narayan Sharma was elected general secretary, Vinod Kumar Singh was appointed president.
The BCCI recently recognised the Lalu-led BCA as its associate member and invited its convenor and state RJD Chief Abdul Bari Siddiqui to attend the AGM on September 29 in Mumbai.
After the election held in Patna on Sunday afternoon, the rebel group leaders claimed they are the 'real' BCA.
While Sharma and Singh were elected unopposed to their posts, Ravi Shankar Singh was elected treasurer.
Meanwhile, Mritunjay Tiwary, president of the Bihar Players Association and member of the adhoc committee of the Lalu-led BCA, said Sharma and Singh had been expelled from the BCA committee.
He said convenor of the BCA adhoc committee Siddiqui has been invited by the BCCI for the AGM and the Lalu-led BCA is the only affiliated member of the BCCI in the state.