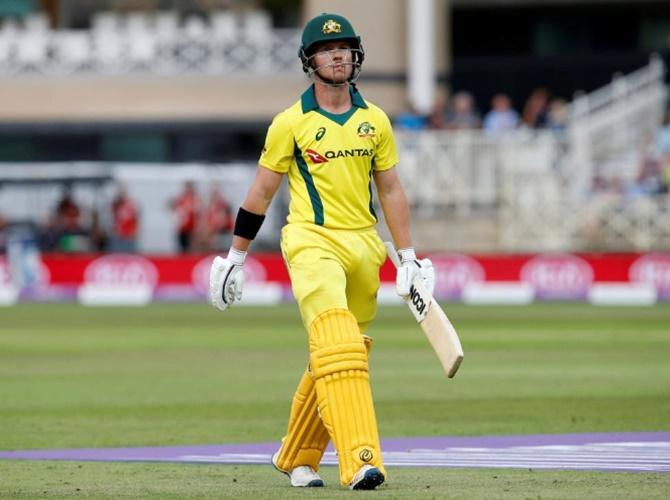 Australia's white-ball specialist D'Arcy Short says the tag of being a limited overs cricketer doesn't bother him and he remains determined to prove himself in the traditional format.
The 29-year-old batsman, who has so far played 8 ODIs and 20 T20Is for Australia, said the pressure of performance bogged him down as he failed to grab his opportunities.
"I don't think it's an unfair view, it's just what people have seen. I definitely back myself in red-ball cricket as well. I just haven't taken my opportunities as well as I could have or should have in the games that I've played," he was quoted as saying by cricket.com.au.
"The pressure of wanting to do well and keep my spot plays on my mind a bit as well. I know I can do it. It's just about putting it together in a game."
Short averages just a little over 26 in 14 first class games in four years for Western Australia but says scoring a fifty as an opener against a NSW side comprising Australia's top Test attack gave him a lot of confidence.
"I think I slowly proved that last year. Against NSW, I opened the batting against a Test attack and got fifty and batted for a fair amount of time (164 balls). I got a fair bit of confidence out of that. It's just about putting a big score on the board when I get a chance."
Short said trusting his skills as a batsman is the key to breaking the code of red-ball cricket.
"I've probably tried to change things too much (in the past) instead of just keeping it simple like I do in the white-ball game," he said.
"It's just the little things; knowing which balls to play at, being decisive in my shot selection and making sure I'm getting my hands through the ball.
"... it's something that I've been working on in the pre-season, my red-ball cricket. (I'm) trying to show that I can do it and trying to get my opportunities when I am available."
Short had turned down an "enticing" offer from Tasmania hoping that he will be able to prove his worth in red-ball cricket by performing in the first full preseason at West Australia.
"It was very enticing in terms of the opportunities that I could have got (in Tasmania).
"But I felt like if I stayed here and put in a full pre-season, I can play all formats here as well. That was a challenge for me; I know I can do that here and this is where I want to try and do it," he said.
Pakistan batsman Khushdil Shah ruled out for up to 3 weeks after suffering thumb injury
Pakistan batsman Khushdil Shah has suffered a fracture in his left thumb and will be out of action for up to three weeks, the country's cricket board said on Sunday.
The left-handed batsman, who has played only one T20I, hurt his thumb during Saturday's training session in Derby.
"Left-handed batsman Khushdil Shah has been ruled out for up to three weeks after suffering a fracture in his left thumb while batting during Saturday's training session in Derby," Pakistan Cricket Board said in a statement.
"Khushdil is not featuring in the ongoing four-day intra-squad match and will not be available for selection for the second four-dayer, which will be played from 24-27 July in Derby."
However, the 25-year-old cricketer will be able to resume his training from next week.
"As the nail is intact and there is no injury to nail bed, the orthopedic surgeon, team physician and team physiotherapist expect Khushdil to resume physical training by the end of the next week," PCB said.
In another incident, regular Test opener Abid Ali escaped injury as he was hit hard on the helmet while fielding at short leg and needed treatment.
The team management had to call in an ambulance after Ali fell to the ground after the blow and remained motionless.
Fortunately, the 32-year-old escaped any major injury and was able to sit up on a stretcher while being escorted out of the field.
Ali is slated to go to a hospital for further check-ups and to see whether he has any concussion.
The Pakistan team is currently playing a four-day intra-squad match as part of its preparation for the upcoming Test series against England starting next month.
Pakistan will play three Tests and as many T20Is. The opening Test begins at Old Trafford on August 5.