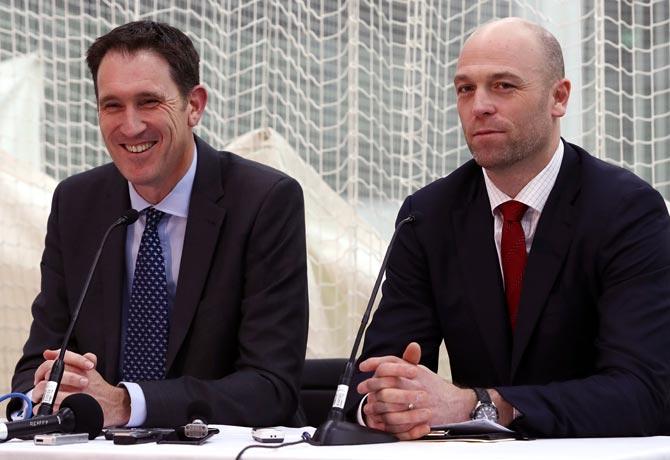 IMAGE: Cricket Australia CEO James Sutherland, left, and Australian Cricketers' Association CEO Alistair Nicholson speak to the media during a press conference in Melbourne. Photograph: Robert Cianflone/Getty Images
Cricket Australia (CA) and the Australian Cricketers' Association announced they have agreed a new pay deal "in principle" on Thursday, ending an acrimonious dispute that threatened a tour of Bangladesh and this year's Ashes series.

The previous five-year collective bargaining agreement expired on June 30, which had left about 230 players effectively unemployed and forced the cancellation of Australia's 'A' tour of South Africa.

"I think we've reached a good compromise, one we can both live with and one that will be good for the game and good for Australia's cricketers," CA chief executive James Sutherland told a news conference at the Melbourne Cricket Ground.

The immediate repercussions of the deal are that two Tests in Bangladesh will now go ahead in August and September with the Australia squad scheduled to gather in Darwin next week for a pre-tour camp.

At the heart of the disagreement was CA's insistence that a two-decade-old model, under which players receive a fixed percentage of revenue, should be jettisoned.

The governing body said the model was outdated and claimed it was starving grass-roots cricket of funding, while the players' union countered that it had underpinned the game's growth and prosperity over the past 20
years.
The revenue-share arrangement has survived in the "heads of agreement" on new Memorandum of Understanding (MoU), which union boss Alistair Nicholson said he is confident the players would vote to accept.
"A revenue sharing model ensuring all players, male and female, are partners in the game of cricket," Nicholson said, outlining the agreement.
"The revenue sharing model in which the players will share up to 30 percent of agreed revenue consisting of 27.5 percent of forecast revenue streams and a 2.5 percent performance pool.
"This is estimated to be up to $500 million in the next five-year period."
Nicholson said the players would receive back pay once the final MoU had been signed.
The dispute had raged on for nine months and grew increasingly bitter as both sides took to airing their grievances publicly.
The union refused to deal with CA's lead negotiator and were angered when Sutherland warned players would be unemployed and unpaid without a new agreement on the table.
Players subsequently boycotted the 'A' tour and warned subsequent tours to Bangladesh, India and the Ashes series were under threat.
Having declined for months to deal directly with the ACA, Sutherland was cajoled back to the negotiating table in July and the deal was struck in head-to-head talks with Nicholson on Thursday morning.