All that's transpired on and off the cricket pitch on Wednesday.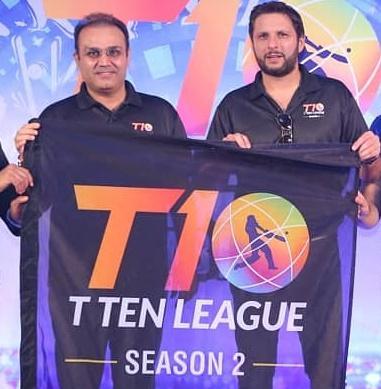 The International Cricket Council is investigating the Qatar T10 league after intercepting 'a number of known corruptors' in the event, which it sanctioned a year ago and featured some prominent retired players such as South Africa's Hashim Amla.
The ICC's Anti-Corruption Unit was working with the organisers to monitor the league since its inception.
"The ICC sanctioned this event 12 months ago based on the sound information provided by the organisers," ICC's Integrity Unit General Manager Alex Marshall said in a statement issued Tuesday night.
"However, substantial changes to both team ownership and the organisers just days prior to the event getting underway rang alarm bells for us and we applied additional investigative resource on the ground to address our concerns.
"As a result we have intercepted a number of known corruptors both in Qatar and globally and disrupted planned corrupt activity at the event. This has given rise to a number of new investigations for the ICC ACU team as we continue in our efforts to ensure cricket is a corruption-free sport," he added.
The inaugural edition of the Qatar T10 League, 10-over format tournament organised by the Qatar Cricket Association was held from December 7 to 16 this year.
The T10 league witnessed six teams comprising 24 international cricketers, 12 players from associate ICC countries, Qatar national cricket team players and other local players.
Falcon Hunters won the tournament by beating Swift Gallopers by four wickets.
Fast bowler Manpreet Gony, who played just two ODIs, was the only Indian to feature in the tournament.
Other prominent players to compete in the league apart from Amla were Pakistan discards Kamran Akmal, Mohammed Hafeez and Sohail Tanveer.
Sangakkara to captain MCC side to Pakistan in February
Kumar Sangakkara will lead a Marylebone Cricket Club side on their tour of Lahore in February to help Pakistan in their bid to convince touring sides to return to play test cricket in the country, the club said on Wednesday.
The MCC, which was founded in 1787, will play a number of matches in the city in February after its World Cricket Committee voiced support in seeing touring sides return to Pakistan at meeting held at Lord's in August.
Pakistan is currently hosting Sri Lanka in a two-match series, their first Tests on home soil since the 2009 militant attack on Sri Lanka's team bus in Lahore left six security personnel and two civilians dead and six players injured.
Other teams refused to travel to Pakistan due to security concerns and the side were forced to play home tests at neutral venues in the United Arab Emirates.
The PCB promised watertight security for the Sri Lankan players as the team returned to play several limited overs matches earlier this year - though 10 key players opted out citing security concerns.
A full-strength Sri Lankan side, however, returned for the tests, the first of which was drawn in Rawalpindi.
Former Sri Lanka captain Sangakkara, who took over as the first non-British president of the MCC in October in a one-year post, said he was excited to lead the club side in Pakistan.
"It is hugely important to support cricket in countries such as Pakistan, and the PCB has done a tremendous job in rebuilding the international cricketing landscape since the tragic events of 2009," he said in a statement.
"With international cricket having returned for the first time in a decade, it is wonderful the Club is doing its part to strengthen cricket in Pakistan and I look forward to being part of the trip."
MCC works closely with world governing body International Cricket Council and undertakes overseas tours, where they play exhibition matches to help in the development of the game.
PCB Chief Executive Wasim Khan welcomed the decision of MCC, which has been based at Lord's, which it owns, since 1814 and is the custodian of the Laws of the game.
"The decision by the world's oldest and most influential cricket club to send a quality team is further testament that Pakistan is as safe and secure a country as any other cricket-playing nation in the world, and MCC's tour is a further step forward in normalising team tours to Pakistan," he said.
Returning Anderson grabs wicket for England in warm-up game
James Anderson took a wicket as he bowled for England for the first time in five months to help dismiss Cricket South Africa Invitation XI for 289 runs on Wednesday.
England had declared overnight on 309 for four to allow their bowlers a chance to get in some practice on the last day of the two-day warm-up game at Willowmoore Park in Benoni, on the outskirts of Johannesburg.
Chris Woakes (3-48) was also among the wickets as England's bowling resources were stretched with Jofra Archer, Stuart Broad and Jack Leach out through illness, and Mark Wood injured. Ben Stokes only arrived on Tuesday after winning the BBC Sports Personality of the Year prize on Sunday.
Anderson, who took 1-37, last played for England in August when a calf injury forced to limp out of the first Ashes test.
England will now play a second warm-up match before the first test against their hosts begins in Pretoria on Boxing day.
They take on South Africa A over three days at Willowmoore Park, starting on Friday.
DDCA's chief selector Wassan removed
Atul Wassan was on Wednesday removed as the chairman of the Delhi District and Cricket Associations' (DDCA) senior selection panel by its Cricket Advisory Committee and replaced by former batsman Bantoo Singh.
Interestingly, DDCA's Ombudsman Justice (Retd.) Badar Durrez Ahmed had requested against tinkering with any committee at the moment, but the association still went ahead and changed the three-man selection panel.
The 56-year-old Bantoo's first-class career spanned a decade, from the mid-1980s to the mid-'90s.
Bantoo, who has served as a state selector in the past and has been a junior selector, scored 3694 runs in 69 first-class matches at an average of 45.04 and a highest score of 214. He had 11 centuries and 18 fifties. As per rule, a selector cannot have a tenure beyond five years.
In 33 List A games, he has scored 607 runs at an average of 33.05.
He will have former players Chetanya Nanda and Anil Bhardwaj as his co-selectors.
Former India player Wassan was appointed as the chief selector of the senior selection committee in August 2018.
The 51-year-old Wassan was head of the selection committee for the 2017-18 season when Delhi finished runners-up in the Ranji Trophy.
The CAC also deliberated on the junior selection committee and approved the names of Ashu Dani, Karan Dubey and Pradeep Chawla.
Sri Lanka-Ireland one-off Test match postponed
Sri Lanka have postponed their scheduled one-off home Test match against Ireland next year due to the lack of a broadcast partner, the country's cricket board SLC announced http://cricket.lk/2019/12/ireland-tour-of-sri-lanka-postponed on Wednesday.
Sri Lanka's current broadcast agreement for home matches was inked in 2013, at a time when Ireland were yet to secure a full member status.
Ireland was scheduled to play Sri Lanka in a one-off Test from Feb. 8-12, 2020.
"Sri Lanka Cricket in consultation with Ireland Cricket decided to reschedule the tour to a later date to ensure that the proposed one off Test match will come under the next broadcast agreement, which SLC is planning to sign with a prospective partner during the year 2020," the SLC said in a statement.
"The new dates of the tour will be announced, once confirmed."
The news comes just days after Ireland were forced to cancel next year's home Test against Bangladesh, which chief executive Warren Deutrom described was due to a "number of financial headwinds" faced by the board.
Ireland have played three Tests since being awarded full member status in June 2017 and are not part of the ongoing World Test Championship.
West Indies batsman Butcher dies aged 86
Basil Butcher, the stylish former West Indies batsman, has died at the age of 86, Cricket West Indies announced on Tuesday.
Butcher, born in Guyana, had a batting average of 43 from 44 tests for West Indies in the 1950s and 60s.
He scored seven centuries, with perhaps his most famous innings coming against a Fred Trueman-led England attack when he scored 133 at Lord's in 1963.
Butcher's highest test score, an unbeaten 209, came against England three years later in Nottingham.
Butcher, whose father worked at a sugar estate, was attracted to cricket from a young age.
"We had nothing else to do," he once said in an interview. "My back fence eventually became the fence for the community centre ground. All I had to do was jump that back fence and I was in the community centre ground at the sugar estate."