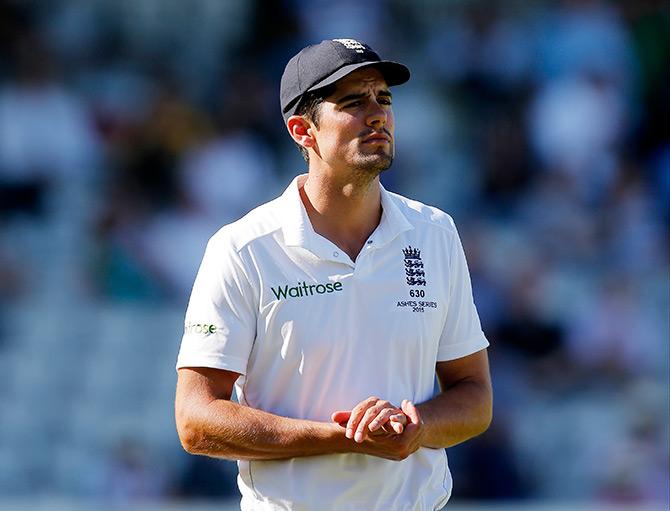 Even as Alastair Cook ponders about his future as Test captain after the 4-0 series drubbing in India, England's assistant coach Paul Farbrace said the entire team is behind the lanky opener.
Farbrace is confident that Cook will make his decision on captaincy keeping the team in mind. "We've planned, and have been planning, for Cooky to be captain going to the Ashes in Australia next winter," said Farbrace.
"Personally, I hope that continues. We know he still has the support of the team, and he's a very popular bloke and very popular captain," he was quoted as saying by The Guardian newspaper.
"He's got that decision to make -- and as he said before the series started, he and Straussy (Andrew Strauss) will sit down in the new year and have a conversation about the way forward. The most important thing is that Cooky will make the decision based on what's right for England cricket, not what's right for Alastair Cook."
The 4-0 defeat in India means England have lost six of their last eight Tests under Cook.
Cook, who turns 32 on Christmas Day, has requested time to think after the disastrous India tour.
Cook's future was a talking point throughout the tour after he told a magazine during an interview that he was uncertain about his future as England test captain.
But Farbrace has played down the suggestion, saying there is no uncertainty in the team.
"There's no uncertainty within our team. He's captain, everybody knows where they stand with him -- so there's absolutely no uncertainty whatsoever. The uncertainty is outside of our team. When you lose a series 4-0, of course people will talk about the leadership. We all know that.
"We would all, at the end of this series, be having a think about what we can do better, what have we learned from this series and what do we need to do to make this team win. Ultimately, that's what we're here for. But there's nobody looking round the dressing room thinking: 'Ooh, I wonder who's in charge?' It's very clear who's in charge, and that hasn't changed," Farbrace said.
"So when Straussy and Cooky sit down and have that chat, if it's decided that Cooky isn't the man to lead the team going forward, then there is still plenty of time before the first series in the summer (against South Africa in July)," he added.
Image: Alastair Cook
Photograph: Reuters