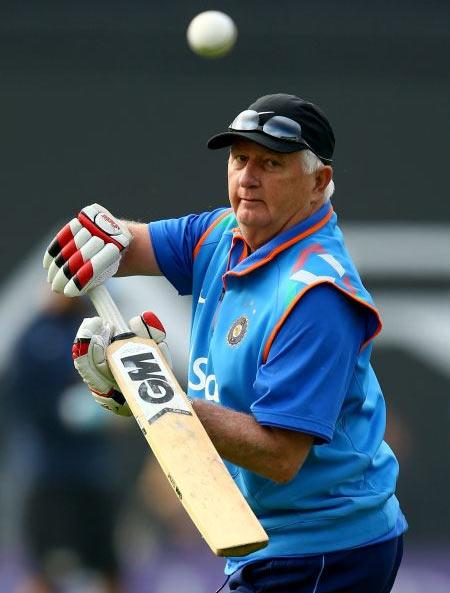 India coach Duncan Fletcher. Photograph: Richard Heathcote/Getty Images
India's assistant cricket coach, Sanjay Bangar, feels competence, not nationality, should be the sole criteria while judging a coach, and criticism must not be based on whether the person is Indian or not.
"It should never be termed as an Indian or an overseas coach. We need to get over such things. You need to be competent enough. You need to be challenging your own benchmark on a regular basis," Bangar told ESPNcricinfo.
"Cricket is evolving and any person in that capacity (coach) needs to constantly evolve, try and improve and bring fresh ideas," he said.
Bangar was handpicked by Ravi Shastri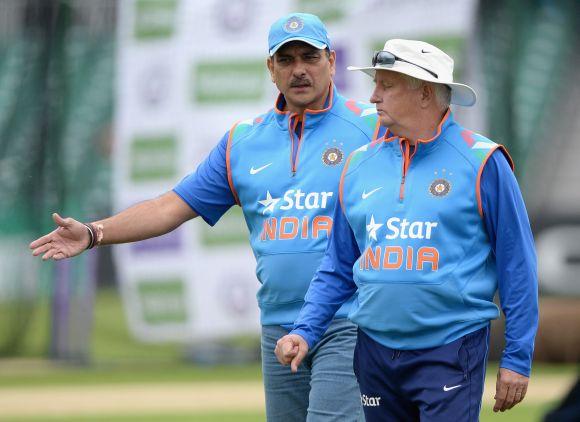 Ravi Shastri and Duncan Fletcher. Photograph: Gareth Copley/Getty Images
Bangar, along with B Arun and R Sridhar, was rushed to England by the Board of Control for Cricket in India in August to assist Duncan Fletcher for the ODI leg of India's tour after the 1-3 Test series loss.
Despite the abruptness of the BCCI call, Bangar, the 41-year old former India opener, said he is far from being "overwhelmed" by the job.
"I just look at the job as one level ahead, as a responsibility. It is again about trying build relationships, trying to earn respect, trying to earn the trust of the people you work with. It takes time," he said.
Bangar, who retired from first-class cricket last year, was handpicked by Ravi Shastri, the team director during the England ODI series, because he felt an Indian could serve the team better.
"It all boils down to individuals. How badly one wants to make a mark... that probably drives the kind of work he eventually does," Bangar said.
'Sehwag's ton against Chennai was special'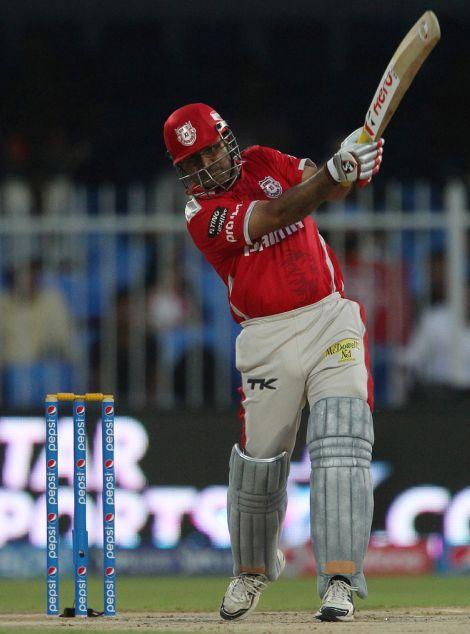 Virender Sehwag. Photograph: BCCI
When he received the call from the BCCI, Bangar was putting in place plans for Kings XI Punjab's campaign in the Champions League T20 as only the second Indian head coach of an IPL franchise.
Discarded as unfit for T20 in 2009, he excelled as coach when his tactics and open approach helped Kings XI make their maiden IPL final, where they lost to Kolkata Knight Riders, the same franchise that had sent Bangar back home five years ago.
Bangar said he relied on the experience of Virender Sehwag, who, he said, was instrumental in keeping the Kings XI dressing room competitive.
Sehwag, 35, is out of the India side for over a year, but Bangar is optimistic about the dashing opener's international comeback.
"By the way he has played his cricket (in the IPL) he has made a case for himself. The hundred he got in the qualifier (122 off 58 balls against Chennai Super Kings) was a special innings and everybody would agree to it," Bangar said.