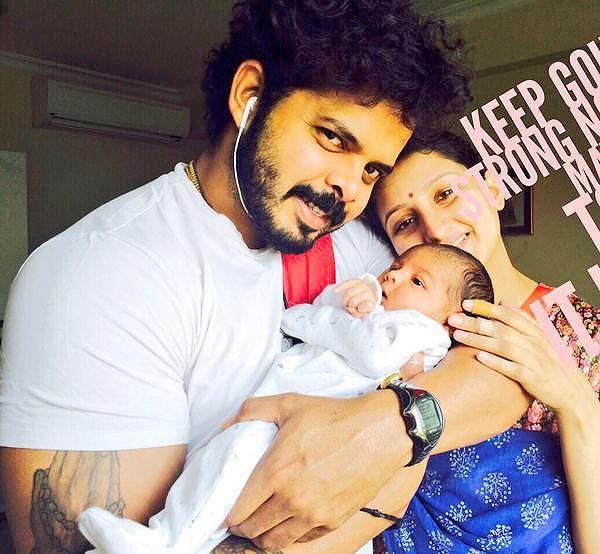 S Sreesanth with his new born baby and wife. Photograph: Sreessanth/Twitter
Cleared by a Delhi court of charges pertaining to the IPL spot-fixing case, including the one linking him to Dawood Ibrahim, S Sreesanth said if he had any connection with the country's most wanted fugitive, he would not have been a cricketer.
- IPL fixing: Sreesanth, Chandila and Chavan cleared
- Timeline: IPL spot-fixing scandal
- Sreesanth seeks BCCI nod for training, eyes 'selection'
- Life bans on Sreesanth, Chavan remain 'unaltered', says BCCI
"If I had any link with him, I would not have been here. I would have been in Dubai or some other place. If I had known people like him, I would not have been cricketer," said Sreesanth on Sunday.
The exiled Indian pacer was discharged in the sensational 2013 IPL-6 spot-fixing case by a Delhi court on Saturday.
The cricketer was accorded an emotional welcome by his fans, friends and relatives at the Kochi international airport on his arrival from Delhi on Sunday morning.
The Kerala cricketer said he was grateful to all, particularly Keralites, who stood with him throughout his career and troubled times.
"The money I earned...it is hard earned. The question was about my personality and my commitment. I am happy now...I am discharged from all charges," the cricketer said when asked about the trauma he underwent when charges were framed against him linking him to underworld dons Dawood Ibrahim and Chhotta Shakeel.
Sreesanth, Ajit Chandila and Ankeet Chavan, banned for life from the sport by the Board of Control for Cricket in India immediately after police action in the alleged scam two years ago, were clubbed with the fugitive dons.
They were accused of involvement in organised crime syndicates run by the dons.
The court, which dropped all charges against 16 accused, held that the Special Cell of Delhi Police has been unable to establish any "nexus" or link between accused and crime syndicate allegedly run by Dawood and his close aid Chhota Shakeel who have been declared as proclaimed offenders in the case along with one Sandeep.
Sreesanth said he was happy that he was able to recapture his life and career which were shattered because of the cases.
"I will resume my practice today," the cricketer said hoping that the BCCI would lift the life ban imposed on him from playing cricket.