Value my twin 50's against New Zealand more, says Wridddhiman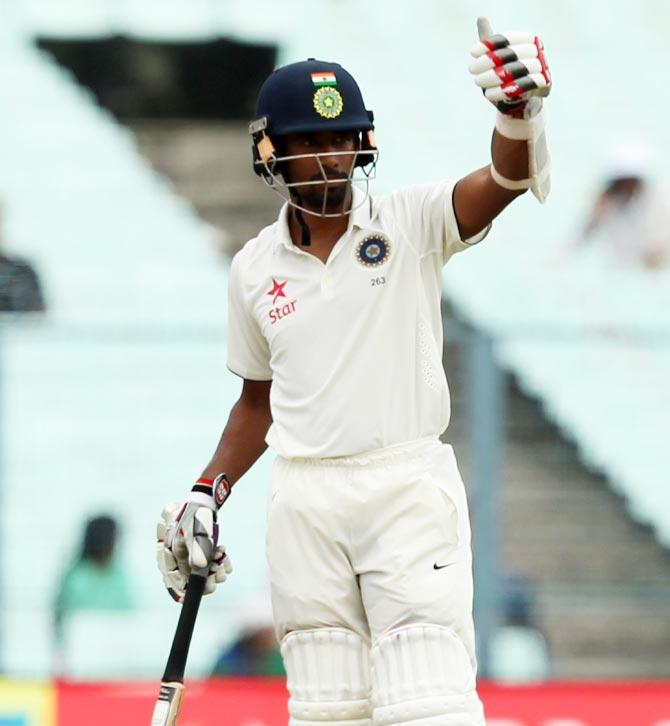 IMAGE: Wriddhiman Saha celebrates his half-century against New Zealand. Photograph: BCCI
Wriddhiman Saha remained unfazed in his finest cricketing hour and said his twin half centuries against New Zealand in Kolkata carry 'more value' than his unbeaten 203 in the Irani Cup, perhaps one of his best knocks.
"You can call this one of my better batting efforts alongside my century against the West Indies at Gros Islet. But if you ask me about the innings closest to my heart, then it has to be the twin half-centuries against New Zealand at Kolkata," a composed Wriddhiman said.
"The unbeaten knocks of 54 and 58 were special because the pitch wasn't an easy one to bat on. Also you had one of the best exponents of swing bowling, Trent Boult, using all his variations. It was a quality New Zealand attack and that's what makes it more special," said Wriddhiman.
His decision to stand at least two feet outside the crease was talked about and he said the lack of pace of the Gujarat seamers had a lot to do with it.
"It was a course correction on my part. Obviously if the seamers bowled at a decent pace, I would not be standing that far outside the crease. That they lacked pace enabled me to do that. Their seamers (Chintan Gaja and Mohit Thadani) were bowling at 120 kmph and the ball wasn't coming onto the bat. Most of us suffered because of that.
"So I decided that I have to meet the ball early and negate the swing. Manoj also got out in the second innings because the ball simply wasn't coming at a decent pace. Me and Pujara had decided that we both needed to be aggressive," said the India and Bengal stumper.
At 63 for four, did hopes of winning the match with another 316 to get cross his mind, and he was honest in his admission.
"Frankly speaking, no. At the beginning, I was not even thinking of winning. For me and (Cheteshwar) Pujara, it was important that we first at least get a few runs, disturb their rhythm and then try to attack. The form that Pujara is in, it is very difficult to get him out at domestic level. Even in the first innings, he didn't look like he will get out. That gave me a license to go for the kill. I was meeting the ball early for the lofted shots," said Wriddhiman.
In 42 scoring strokes, he had accumulated 140 runs (26 fours and six sixes), but this is not the first time he has shown this kind of an intent.
"I remember the Duleep Trophy final of 2012 which East Zone won. I scored a century in the final and it was an equally attacking effort," he said.
When told that chairman of selectors MSK Prasad has just said that he wasn't on a trial and this was his "fitness test", Wriddhiman sounded happy.
"Obviously if the chairman of selectors has said this, it means a lot. It definitely acts as a morale booster."
Did anyone in the Indian team speak to him, and he replied, "Well, I have not been able to check my messages but yesterday Anil bhai (Kumble) sent me a congratulatory sms."