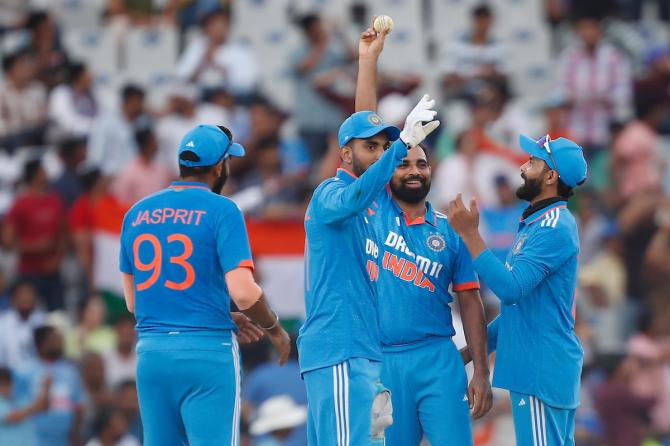 Following their comfortable win over Australia, Team India achieved a rare feat.
The Indian team dethroned Pakistan to take the top spot in the ICC ODI Men's Team Rankings. Their five-wicket win over Australia spurred the Indian team to the top of the rankings with a total of 116 points. While Pakistan (115) move to second, Australia remain third with 111 points.
What makes the achievement so sweet is that currently the Indian team is the No. 1 ranked team in all three formats.
As the Indian team rose to the top of the charts, it joined just one other team to do so. Prior to this, only South Africa had been ranked No. 1 across all three formats back in August 2012.
Furthermore, when it comes to ranking the Indian team couldn't have asked for more. With the 50 over World Cup less than two weeks away, the Men in Blue are the No. 1 ranked side! But can they hold onto the spot?
The top spot of the ODI team ranking has been a rat race with Pakistan, India and Australia all in contention. Despite not making it to the Asia Cup final, Pakistan held onto to the top spot.
Following India's win in Mohali on Friday, Australia is no longer in the running for the No. 1 spot heading into the ODI World Cup. But Pakistan can still reclaim top spot ahead of the marquee event. But their fate lies in Australia's hands.
If Pat Cummins's side defeat India in the next two ODIs, then Pakistan will be back at the No. 1 spot for the World Cup. But if hosts India win the home series against Australia, they will enter the marquee event as the No. 1 ranked team.