Former ICC Chief Executive Malcolm Speed has kicked up a controversy by claiming in his memoirs that the New Zealand judge who heard the Sydney Test racial row appeal had accused Indian and Australian cricket boards of colluding behind the scenes in a way that was "disastrous for cricket".
Speed reproduced in his memoirs 'Sticky Wicket' a letter from Justice John Hansen, the judge appointed to hear Harbhajan Singh's appeal after the Indian off-spinner was accused of racially abusing Andrew Symonds during the Sydney Test of January, 2008.
According to excerpts of the memoir reported by Sydney Morning Herald,  Justice Hansen wrote in a letter to Speed after the 'monkeygate scandal': "Although both boards would deny it, BCCI and CA were having discussions behind the scenes to resolve matters.
"Indeed, they presented me with an agreed statement of facts (signed by Harbhajan, former Australian captain Ricky Ponting, Symonds, Michael Clarke, Matthew Hayden and Sachin Tendulkar) and a consent order that they expected me to rubber-stamp.
"In my view the consequences of such a course of action would have been disastrous for cricket. In any event, their actions undermined the independence of the Code of Conduct Commissioner, were unbecoming, and in my view, contrary to the spirit of cricket," the letter of Hansen published in Speed's book said.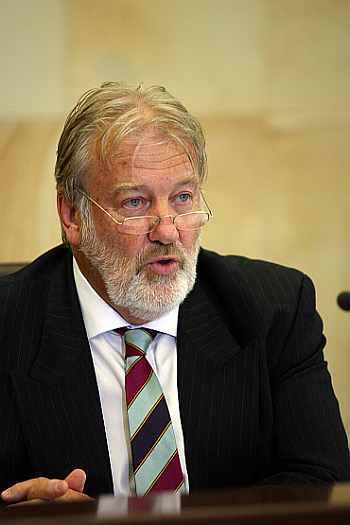 The letter of Hansen revealed the lengths CA went to preserve its relationship with the Board of Control for Cricket in India and, as Speed puts it, "the willingness of (India's) administrators to use their financial muscle when national pride is at stake," according to the newspaper report.
"The agreed statement had significantly watered down the version of events that had been given previously and made no mention of the alleged racial taunt big monkey," Speed wrote in his book.
A CA spokesman, however, rejected Speed's claim and said it had ensured that the agreed set of facts was provided so that the judge could decide on the scandal according to appropriate judicial procedures.
"We are not about to trawl over old ground or make any further comment on the matter other than to say that CA did not at any stage agree to any lesser charge and, on the contrary, ensured that the agreed set of facts was noted in order to ensure the judge could independently assess that matter in accordance with appropriate judicial procedures."
Recalling his own reaction after the row was settled, Speed said, "I kicked my desk when I heard about it, hurting my foot and doing no damage whatsoever to its sturdy Dubai-manufactured composite timber frame."
Speed said he hoped to correct misconceptions about the scandal, which left Australian players feeling furious and let down. He said India's wealth and power can be a great advantage for cricket but they must be used responsibly.
"It's pretty clear that (India's) power evolves from television rights when India tours, so they don't need to do very much to exercise that power. From time to time other countries will need to stand up to India but India needs to exercise that power responsibly," he said.
India had threatened to pull out of the tour after Harbhajan was accused of calling Andrew Symonds "monkey" during the controversial second Test in Sydney.
On appeal, Justice Hansen overturned the decision along with the three-match ban imposed by match referee Mike Procter, saying it was unclear whether Harbhajan had called Symonds a monkey or used a Punjabi insult which sounds like the alleged racial taunt.