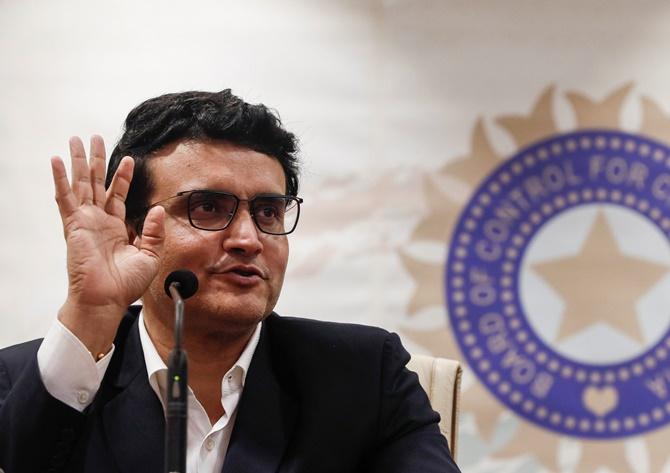 Cricket Australia chief executive Kevin Roberts has termed BCCI President Sourav Ganguly's idea for a four-nation 'ODI Super Series' as "innovative" but stopped short of giving any commitment.
Ganguly had said India will lock horns with England, Australia and one other top cricketing side in an annual ODI series starting 2021.
The move is seen as a counter to prevent ICC from implementing their plan of having a global event organised by the international body in every calendar year.
After a recent meeting with Ganguly in London, England and Wales Cricket Board (ECB) has said it was open to discussions on the matter.
"I think it's an example of the innovative thinking coming out of the BCCI with Sourav Ganguly as president," Roberts said.
"In his very short time, only a couple of months, we have already seen India commit to and host a day-night Test in Kolkata, so a brilliant result there. And now a suggestion around the Super Series, another potential innovation," he added.
The CA CEO said he will be in India next month and Bangladesh talking about the future cricket calendar. He also said he had discussions with New Zealand and Pakistan "talking about the importance of our future partnership".
Roberts sought to assuage feelings of other Boards, saying that all other nations should also be given opportunities for quality cricket and chances to raise revenue.
"We're really respectful of the importance of our international cricket relationships and our role as a leader in world cricket in supporting the development of cricket in other countries.
"We're looking forward to hosting Afghanistan next year and that is an example of our commitment to world cricket. We have discussions with all member nations of the ICC and take really seriously our role to partner them and working together with them to grow the game around the world.
"Cricket is more or less a religion on the sub-continent. It's absolutely the favourite sport in India, Pakistan, Bangladesh and Sri Lanka. We've got to try and make sure we see the game emerging in countries all around the world."
He said that a crowd of more than 80,000 turning up on the Boxing Day at the MCG would help ensure that the fixture between the Trans-Tasman neighbours would become a far more regular occurrence.
He also stated that the MCG would keep the Boxing Day Test for the foreseeable future, as CA negotiates a new stadium deal with the Melbourne Cricket Club.
"We really value the partnership with New Zealand. We are already having some high-level discussions around the cricket calendar from 2023 to 2031 and we absolutely hope and look forward to hosting New Zealand at a Boxing Day Test well before another 32 years pass," Roberts said.
"They are a really important partner and nation in the world of cricket. The reality is there is only one venue in Australia that can host over 80,000 people on Boxing Day as the MCG did yesterday. It was just a picture. That's something we are really grateful for and respect. The MCG Test is one of the two most iconic Tests on the planet, along with the Lord's Test.
"Given the importance of the MCG Test to world cricket, I would like to think it will remain here in perpetuity. There is a bit of work to be done on that front. But you would have to say it is best for world cricket to have a Boxing Day Test in Melbourne for years to come."
CA to develop sustainability strategy amid climate fears
Australia's cricket board will look to finalise a "sustainability strategy" in 2020 amid concerns that extreme heat brought by climate change is risking players' safety and could lead to major disruptions to summer playing schedules.
A hot, dry summer has already seen a Big Bash League match in Canberra abandoned midway through due to hazardous smoke from bushfires raging across eastern Australia and a number of amateur-level and youth games have also been called off due to health concerns.
A report released by the Australian Conservation Foundation on Friday warned Australia's premier Boxing Day Test might have to be moved to cooler months as the number of extreme heat days in Melbourne rises in coming decades.
Governing body Cricket Australia said it acknowledged "a more holistic approach to sustainability" was required to "lessen the impact of climate change on the natural environment."
"We acknowledge we have a role to play and our executive team are currently in the process of proactively developing a strategy for sustainability," Karina Keisler, CA's communications and stakeholder engagement chief said in a statement on Friday.
"The strategy is in the early stages of development and significant progress will be made to bring this to life in 2020."
Australia were playing day two of the Boxing Day Test against New Zealand at the Melbourne Cricket Ground on Friday where the temperature reached a high of 23 degrees Celsius (73 Fahrenheit). Day five of the Test on Monday, should it last that long, is forecast to be 41 degrees Celsius.
The teams played the opening match of their three-Test series in Perth earlier this month during a run of three consecutive days of 40 degree-plus weather.
The report, citing analysis from the Monash Climate Change Communication Research Hub, said continuing to play the Boxing Day Test in its current format would "expose players and fans to unprecedented levels of extreme heat".
"If no effective climate mitigation is taken, consideration must be given to moving the Melbourne Test to the shoulder season," it added.
Australia is battling bushfires that have burned more than 4 million hectares (9.9 million acres) across the country, destroyed hundreds of homes and been linked to the deaths of eight people.
PCB dispels impressions that Pak players were ignored for Bangla T20s
The PCB has dispelled impressions that Pakistani players were ignored for next year's T20 games between Asia XI and World XI, saying they were invited by BCB but will not be available as the dates are clashing with the Pakistan Premier League.
The two matches between the Asian XI and World XI are scheduled to be held on March 18 and 21 in Dhaka as part of celebrations to commemorate the birth centenary of Bangabandhu Sheikh Mujibur Rahaman, Bangladesh's father of nation.
"There is some confusion regarding the Asian eleven and World eleven matches. Our players were invited but since these matches are clashing with the Pakistan Premier League it is not possible for us to make our players available," a spokesperson of the board said.
He dismissed reports that Pakistani players were not part of the Asian XI as they didn't want to play alongside Indian players or that the Indian board was behind their sidelining from the Asian and World XI matches.
"The fact is that back in June we were invited by the Asian Cricket Council to nominate players for the Asian eleven and we accordingly requested the ACC and Bangladesh board to slightly adjust the dates of these matches so that our players can also participate in them," he said.
"We had requested a shift in dates since dates were clashing with the latter part of the PSL to be held in Pakistan this time."
The official said that the ACC and BCB had informed them that shifting the dates was not possible due to broadcasting commitments and the international calendar.
"That is why our players are not taking part in these matches," he added.
He said it was unfortunate that different twists were being given to the whole issue to create negative impressions about Pakistan cricket.
Another official in the PCB also made it clear that Pakistan was on course to host the Asia Cup T20 event in September as it had been granted hosting rights.
"The event will hopefully be held in Pakistan as planned and in due course of time we will be holding talks with stakeholders to ensure that all boards send their teams to Pakistan. Other options are on the table as well," he said.
Asked about the ongoing tussle with the Bangladesh board regarding their scheduled Test matches of the ICC World Test Championship in Pakistan in January, the official said there was no tussle but talks were still going on.
"They have responded to our last mail saying because of the security situation they can't play Tests in Pakistan but are willing to play a T20 series in January. The PCB chairman has once again in reply reminded them they have not responded to any of our queries in the last mail sent to them," he said.
"Our position is clear the BCB must come up with a reasonable reason for not wanting to send their test team and secondly we have told them playing at any neutral venue is not a option for us now after the successful test tour by Sri Lanka," he added.
India U-19 beat SA by 9 wickets in 1st youth ODI
India under-19 team produced an impressive all-round performance to begin its tour of South Africa with a comfortable nine-wicket win in the first Youth ODI at the Buffalo Park in East London.
Batting first, South Africa Under-19 team folded for 187 in 48.3 overs. In reply, India dished out a solid batting display to overhaul the target, scoring 190 for 1 in 42.3 overs on Thursday to take 1-0 lead in the series.
South Africa's decision to bat fist backfired as their batsmen failed to convert the starts into big scores with Luke Beaufort top-scoring with a 91-ball 64.
For India U-19 team, Ravi Bishnoi scalped three wickets, while Kartik Tyagi, Shubhang Hegde and Atharva Ankolekar picked up two wickets each.
Chasing the target, openers Divyaansh Saxena (86 not out) and N Tilak Varma (59) shared a 127-run stand to take the game away from South Africa.
Once Varma was dismissed by Achille Cloete, Saxena, who blasted 11 fours in his 116-ball knock, and Kumar Kushagra (43 not out) helped India romp home with 7.3 overs to spare.
India and South Africa will meet again in the second match of the series on Saturday.
Brief Scores:
India U-19: 190/1 (Divyaansh Saxena 86, N Tilak Varma 59; Achille Cloete 1/42) beat South Africa U-19: 187 all out (Luke Beaufort 64, Jack Lees 27; Ravi Bishnoi 3/36) by nine wickets.