'It was a great game of cricket which went to the wire. We could have done better but we were simply not good enough to capitalise on the chances we had,' laments Chennai Super Kings head coach Stephen Fleming after losing to Rajasthan Royals in Friday's Indian Premier League match in Jaipur.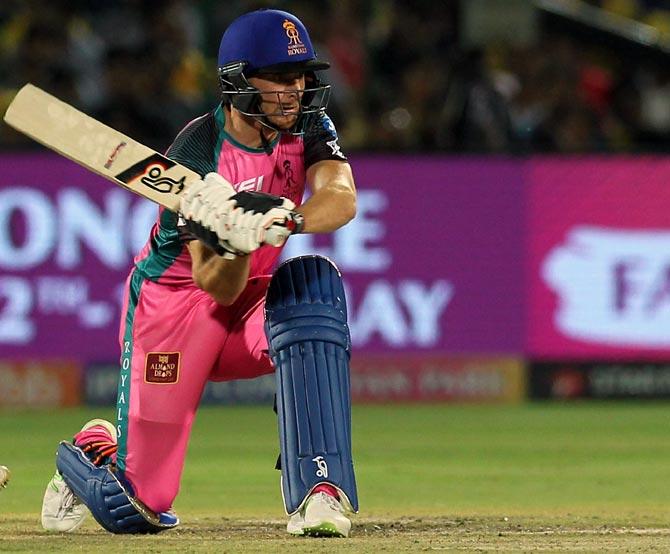 Losing team Chennai Super Kings head coach Stephen Fleming praised Rajasthan Royals opener Jos Buttler for his match-winning unbeaten knock, saying the English batsman was a class apart in Friday's Indian Premier League match in Jaipur.
Butler's superb 60-ball 95 not out guided Rajasthan Royals to a thrilling four-wicket victory over Chennai Super Kings.
"We had a lot of plans for him (Buttler); left arm spin was one of them we were looking at, but they did not work. Butler was a class apart on a difficult track. He batted through the innings. Had we got him earlier the result could have been different," Fleming said, after his side lost by four wickets.
Fleming said the team plan was to get Buttler and Ben Stokes out early but only one part was successful.
"We got (Ben) Stokes early but could not get Buttler, who settled down nicely, got the momentum in the first six overs. It was a great game of cricket which went to the wire. We could have done better but we were simply not good enough to capitalise on the chances we had," he added, at the post-match press conference.
"The game was pretty even after the powerplay when we got two wickets. We were hoping that the pitch will get slow and then our slow bowlers would get some purchase. But we realized that back of the length the medium pacers were getting more success. We became playing for the condition of the pitch rather than the plans for Buttler," said the New Zealander.
Asked about the performance of his bowlers, he replied: "Yes, it could have been better; they could have been more accurate. But it was under pressure because of the way he (Buttler) played.
"It was a difficult wicket and we were happy with the total we had and I feel it was par. It was Buttler batting through the innings and getting the momentum that decided the match."
Rajasthan Royals medium pacer Jaydev Unadkat conceded that except Buttler the rest of the batsmen were not up to the task.
"That's true, I think Jos (Buttler) has been taking the innings forward on his own in the last four innings and it is time for someone to step up in middle order. It is high time that someone else takes responsibility.
"They (other batsmen) were getting starts and played well in the middle and hit a few sixes, otherwise Jos could not have pulled it off alone. But more contribution in the middle would be welcome and we need more of them at this time of tournament," said Unadkat.
Not reading much in the recent failure of skipper Ajinkya Rahane, he said, "Rahane is a class player and has won matches on his own. He has been a special player for Rajasthan Royals and is captaining the side very well.
"It is about time that he plays a special innings. These things help when you are through a rough patch but we will soon see a special innings from him,"
Asked whether the absence of Steve Smith due to the ball-tempering scandal in South Africa was pinching Rajasthan Royals hard as their batting looks brittle, Unadkat said it was no use ruing about any player.
"We have done fair to ourselves in this tournament. We have been good in patches, extraordinary in patches and bad in patches as well. Off course he (Smith) is a world class player and world class leader in himself but we cannot keep on ruing his absence.
"The combination of team is coming right at this point and that is what is important for us. Other than just ruing about not having a player I feel it is our responsibility as seniors in the team to see that everyone is in good space, the atmosphere is good and that will allow the youngsters to come up and do well for the team."
On the many extras being conceded by his side's bowlers, he said, "We gave away 12 extras and extra balls which go for extra runs. We have to be careful about that.
"Having said that, it happens because the bowlers keep trying the same things or sometimes trying to execute certain plans. But in T20 cricket, restricting the extras would certainly give cushion for extra 10-20 runs. It was those runs which helped CSK reach 176 otherwise their total was par," added Unadkat.