Pakistani cricketers Salman Butt and Mohammad Amir will appear at the Court of Appeal in London on Wednesday to contest the sentences imposed on them after being found guilty of spot-fixing earlier this month.
- Coverage of the Spot-fixing trial of Pakistan players
According to media reports, "the Court of Appeal will hear their case on November 23 with the Lord Chief Justice presiding."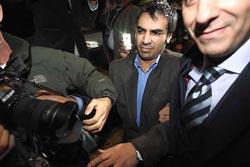 The duo, along with pacer Mohammad Asif, was found guilty by Southwark Crown Court of fixing parts of a Test match against England at Lord's last year after taking money from a bookmaker Mazhar Majeed, who has been sentenced to 32 months in prison.
Butt, 27, was handed a two-and-a-half year jail term after being found guilty of conspiracy to cheat and conspiracy to accept corrupt payments while Amir, 19, is serving a six-month sentence at a young offenders' institute.
Majeed claimed to have paid Asif 65,000 pounds, Butt 10,000 pounds and Amir 2,500 pounds.
The convictions were the first criminal charges ever to have been brought to bear for match-fixing in cricket.
In February, all three players were banned from playing for five years by the ICC. They are also appealing against the suspensions.