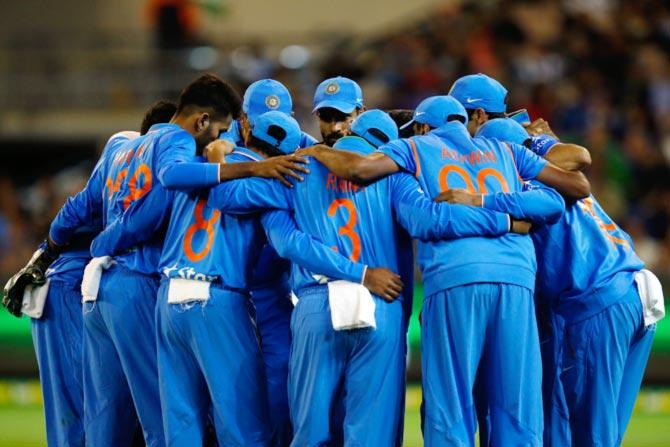 Pacer Jasprit Bumrah has been rested for the three-match T20Is and ODIs against West Indies but has been included in the Test squad, while veteran wicket-keeper Mahendra Singh Dhoni is 'unavailable' for the entire tour.
All-rounder Hardik Pandya will also miss the entire tour as part of the BCCI's 'workload management', confirmed Chairman of selectors MSK Prasad in Mumbai on Sunday.
Dhoni told BCCI that he will take a two-month sabbatical from the game to serve the Parachute Regiment of the Territorial Army, where he is an Honorary Lieutenant Colonel.
Prasad stated that the selectors are looking to groom the young Rishabh Pant for the future and will give the Delhi wicket-keeper more opportunities in the future.

"He is unavailable for this series, he has expressed his unavailability, but having said that, we had a certain roadmap and plans till the World Cup. Subsequently, post the World Cup, we have laid down a few more plans and we thought of giving as many opportunities as possible to Rishabh Pant and groom him. So this is our plan right now," said Prasad.
On being asked whether the selectors had spoken to Dhoni about his retirement, Prasad replied: "Retirement is purely individual. A legendary cricketer like MS Dhoni, he knows when to retire."
"I don't think we need to discuss anything on it, because, first of all, he is not available. Second, we have already started grooming some youngsters."
Opener Shikhar Dhawan, who had to return mid-way from the World Cup because of injury, also makes a comeback into the ODI and T20I squads.
Shreyas Iyer and Manish Pandey also make their comebacks into the limited overs' team, while Wriddhiman Saha is back in the Test team after a long injury lay-off, but young Punjab batsman Shubman Gill, however, failed to make the cut.
Dinesh Karthik and Vijay Shankar failed to retain their places, with the latter ruled out because of an injury he sustained during the World Cup, but 34-year-old Kedar Jadhav has managed to hold on to his place in the ODI team.
"Kedar has not done anything wrong for his non selection so we have considered him. We are also getting our back ups ready," said the chief selector.
Mayank Agarwal, who was called up as cover for Vijay Shankar during the World Cup, also didn't make it to the limited overs' team but retains his place in the Test team.
Leg-spinner Rahul Chahar is the only new face cross the three formats. Left-arm pacer Khaleel Ahmed, who put in a good showing in the IPL and for India 'A' during the ongoing tour of West Indies, has been called back to both the ODI and T20I squads.
Delhi fast bowler Navdeep Saini was called up for the one-off Test against Afghanistan in June last year as a replacement for the injured Mohammed Shami but he was not picked in Playing XI.
Off-spinner Washington Sundar also comes back into the T20I team.
India will play three T20 Internationals, as many ODIs and two Tests in the tour starting August 3.
The squads:
India's Test squad: Virat Kohli (captain), Ajinkya Rahane, Mayank Agarwal, KL Rahul, Cheteshwar Pujara, Hanuma Vihari, Rohit Sharma, Rishabh Pant (w/k), Wriddhiman Saha (w/k), Kuldeep Yadav, Ravindra Jadeja, Ravichandran Ashwin, Ishant Sharma, Mohammed Shami, Jasprit Bumrah, Umesh Yadav.

India's ODI squad: Virat Kohli (captain), Rohit Sharma, Shikhar Dhawan, KL Rahul, Shreyas Iyer, Manish Pandey, Rishabh Pant (w/k), Ravindra Jadeja, Kuldeep Yadav, Yuzvendra Chahal, Kedar Jadhav, Mohammed Shami, Bhuvneshwar Kumar, Khaleel Ahmed, Navdeep Saini.
India's T20I squad: Virat Kohli (captain), Shikhar Dhawan, Rohit Sharma, KL Rahul, Shreyas Iyer, Manish Pandey, Rishabh Pant (w/k), Ravindra Jadeja, Krunal Pandya, Washington Sundar, Deepak Chahar, Rahul Chahar, Bhuvneshwar Kumar, Khaleel Ahmed, Navdeep Saini.