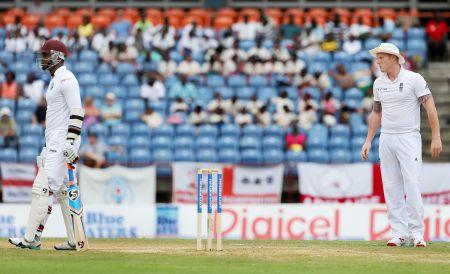 England fast bowler Stuart Broad has defended his team's verbal attack on West Indies batsman Marlon Samuels during their second Test in Grenada.
Earlier, the Jamaican cricketer had mocked Ben Stokes' attempt to provoke him, saying that he was instead motivated by England all-rounder's verbal sparring as he went on to make 94 not out on the opening day of the match.
In response, Broad has advocated the use of sledging, saying that it is good to see players engaging in a battle as it is essential in Test cricket when two players are playing with passion for their respective countries, the BBC reported.
Broad also said that there is no point sitting back, insisting that although he knows the International Cricket Council are very strict about sledging, one couldn't let that take away from a player's natural game.
Samuels could add only nine runs more on Wednesday before he was dismissed off a James Anderson delivery.
England produced a strong fight back as they bundled out the West Indies for 299 and subsequently scored 74-0 at stumps on day two of the second Test in Grenada.
Image: England's Ben Stokes exchanges words with Marlon Samuels of West Indies during the second Test match
Photograph: Jason O'Brien/Reuters