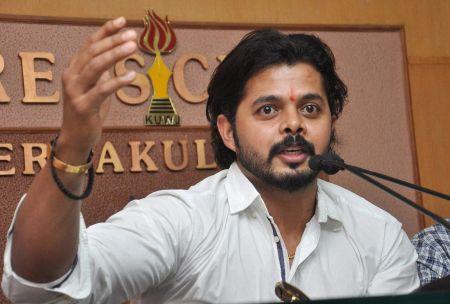 Board of Control for Cricket in India secretary Anurag Thakur says lifting the ban on those accused of spot-fixing during the sixth edition of the Indian Premier League will be considered provided the request comes from the players.
"For the moment the life ban stays and I haven't received any request from anybody. Regarding Sreesanth, if some request does come I will look into the matter," Thakur was quoted as saying by NDTV on Tuesday.
The Kerala Cricket Association had earlier asked the BCCI to lift the ban on Sreesanth. It's president, BCCI vice-president TC Mathew, said the KCA had written to both the secretary and president about the same.
"We have requested them that in the light of the court itself exonerating Sreesanth from the case, the ban imposed on him be lifted. Now we will wait for the response," Mathew said.
Sreesanth was also permitted to use the Jawaharlal Nehru International stadium in Kochi a day after he used a school ground for training in Edapally. The pacer warmed up and bowled a short spell on Sunday.
Mathew is hopeful that Sreesanth will be available to play in the upcoming Ranji Trophy season.
Last week, a Delhi court discharged cricketers Sreesanth, Ajit Chandila and Ankeet Chavan in the sensational 2013 IPL-6 spot-fixing case, holding there was no prima facie evidence to suggest that they had any nexus with the organised crime syndicate.
Additional Sessions Judge Neena Krishna Bansal, in her 175-page order, said "no prima facie case in any offence including provisions of MCOCA is made out against the accused persons and they are entitled to be discharged".
In a slap to the Delhi Police, the court discharged all 36 accused, including the three cricketers, in the sensational spot-fixing case saying it had failed to gather "all necessary ingredients to establish a prima facie case" under stringent MCOCA.
The three cricketers were banned for life from the game by the BCCI immediately after the police action in the alleged scam two years ago.
Image: Shantakumaran Sreesanth
Photograph: PTI