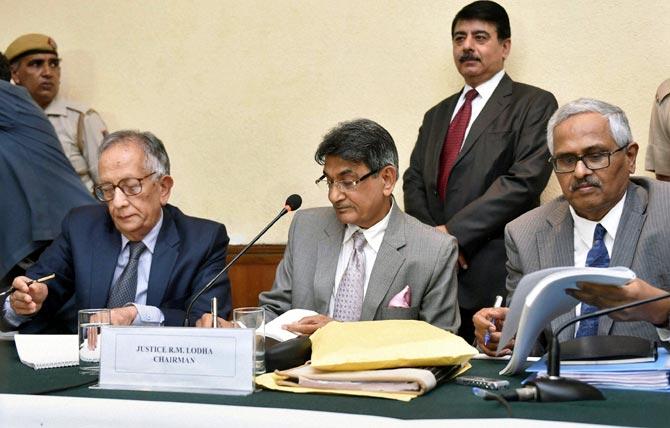 IMAGE: Justice Rajendra Mal Lodha, centre, chairman of the Supreme Court-appointed Lodha Committee with member Justice Ashok Bhan, left, and Justice RV Raveendran (Image used for representational purposes). Photograph: PTI
In a dramatic twist, Attorney General of India Mukul Rohatgi on Friday asked the Supreme Court to recall the radical reforms suggested by the Justice R.M (Retd.) Lodha-led panel in order to bring greater transparency in the Board of Control for Cricket in India (BCCI).
On a day when the apex court was to name a set of new administrators for the BCCI, the Attorney General said that although the country's cricket board is a private body, it partially affects the government too.
Rohatgi was filing an application on the behalf of the three bodies -- Railways, Services, and Universities, who were stripped off their voting rights after the Supreme Court asked the BCCI to implement Lodha committee recommendations.
Talking about the same, the Attorney General argued that the right of these state associations has been wrongly infringed under Article 19 (1) (c)- freedom to form associations.
Meanwhile, the amicus curiae in the matter Gopal Subramaniam submitted nine names for the post of administrators in the BCCI, in a sealed cover to the apex court bench head by Justice Dipak Misra.
The Supreme Court, however, questioned the list asking the names of those over 70 years of age have been included.
The apex court is now likely to take a final call on the proposed names submitted for the appointment of administrators in the BCCI on January 24.
Earlier, advocate Anil B Divan and Gopal Subramaniam had been asked by the apex court to assist in nominating persons of impeccable integrity as members of committee of administrators.
On January 2, the Supreme Court had removed BCCI president Anurag Thakur and Secretary Ajay Shirke from their respective posts for their failure to bring transparency and accountability to the Indian cricket board and their non-compliance of the court's July 18, 2016 order.
In a landmark judgment on July 18, the apex court accepted major recommendations of Justice Lodha-led panel on structural reforms in the BCCI and had given six months deadline to the board to implement the recommendations.
On October 1, the board had accepted many of the "significant recommendations" of the Lodha Committee, but excluded the important ones which have been a bone of contention between the cricket body and the Lodha Panel.
The recommendations, which have still not been accepted by the 30-member committee, include one-state one-vote, age limit of 70 years, cooling-off period of three years which included the tenure of the administrators, continue with the five-selectors and retaining the powers of the president and secretary as per the earlier constitution of the board.
- Full text of the Justice Lodha IPL verdict
- Report of Lodha Committee on Reforms in Cricket - Final Report, Volume 1