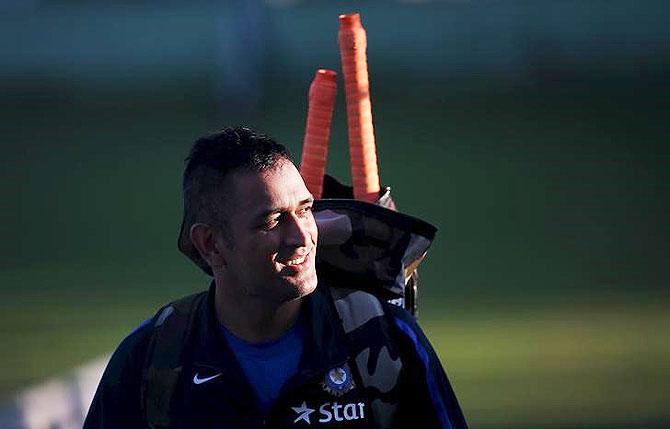 IMAGE: Mahendra Singh Dhoni leaves the nets during a practice session. Photograph: Adnan Abidi/Reuters
The Board of Control for Cricket in India put to rest all the speculations and rumours over the future of India captain Mahendra Singh Dhoni.
And, as soon as the Ranchi man was retained as India captain till the World Twenty20 Championships, chief selector Sandip Patil said the Board wanted to end speculations and "send a signal" to players as to who would be their leader at the mega-event to be held in India from March 8 to April 3.
Patil spoke on Saturday, after the selectors named India's One-day and Twenty20 squads for the upcoming Australia tour.
India lost the One-Day International and Twenty20 series against South Africa at home under Dhoni, who retired from Tests during the Australia tour last year, paving the way for Virat Kohli to take over as captain in the five-day format.
With Kohli's side registering their first Test series win in 23 years in Sri Lanka and handing South Africa their first away series defeat in nine years, there was speculation the 27-year-old would also be handed the reins in the shorter formats.
"Lot of speculation, lot of questions, lot of stories were going around. So selectors wanted to send a very clear cut message to all... that who's going to be our leader," Patil told reporters after the selection committee meeting in New Delhi.
"We named Mahendra Singh Dhoni as the captain as we wanted to end the speculations in the media. Not only media but players in general should know who will be their leader," Patil said.
Giving the impression that Dhoni is still the man in charge of the limited overs team, Patil said the "decision to pick the teams were taken in consultation with the captain and we support that".
Asked further about the future of Dhoni, Thakur said, "BCCI doesn't discuss players' future. Selectors do that with players. He is the most successful Indian captain. He has won two World Cups for India, taken India to No 1 Test rankings. It is only fair that we name him captain till World T20."