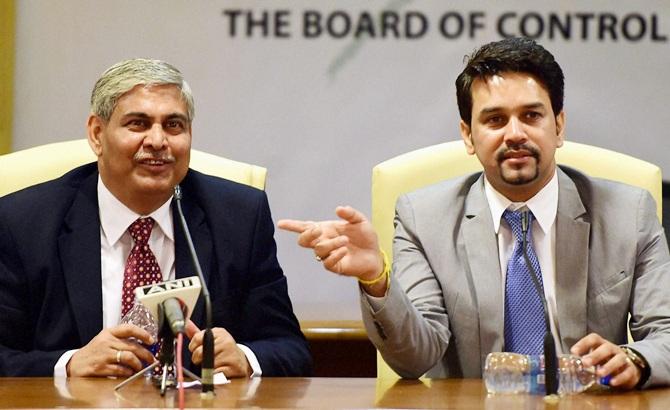 IMAGE: BCCI president Shashank Manohar (left) with secretary Anurag Thakur. Photograph: PTI
Cricket Association of Bihar (CAB) Secretary, Aditya Verma has criticised BCCI for appointing a new CEO without following the guidelines prescribed by the Lodha committee.
"BCCI is taking every possible step so that recommendations of Justice Lodha Committee will not be implemented," Verma stated through a release.
"Appointment of Ombudsman and New CEO in BCCI is also a matter of concern because the guideline that is prescribed by the Lodha committee was not followed in this appointment process.
"Without following the guidelines of Lodha Committee the wholly new appointed ombudsman or CEO of BCCI are also lies within conflicts of interest," he added.
The BCCI had announced the appointment of Rahul Johri, who has spent two decades in the media industry, as its first-ever chief executive officer. Johri will assume his new role on June 1.
Verma further said that the BCCI was trying to do everything possible to keep Bihar out of the cricket world.
"Lodha committee recommendation is enough to provide full membership to Bihar but BCCI is doing their every bit so that Bihar cricket will not come in the main stream of cricket world. Very shocking in his affidavit in Supreme Court Board's stand is that affiliation committee will decide the affiliation issue," the release further stated.
In January, Verma had shot off a letter to BCCI Ombudsman Justice AP Shah, requesting him to take urgent action against the Indian cricket board for granting associate membership to rival faction Bihar Cricket Association (BCA).
However, the Ombudsman had made it clear that the relief sought was not within the remit of the role of the ombudsman and disposed off the application.
- Report of Lodha Committee on Reforms in Cricket - Final Report, Volume 1
- Report of Lodha Committee on Reforms in Cricket - Final Report, Volume 2