'I really enjoyed batting at No. 3 in Sri Lanka; I am completely agreeable to whatever the team suggests'
Ajinkya Rahane opens up on the slot he likes to bat at, Virat Kohli's captaincy, India's record against spin and more...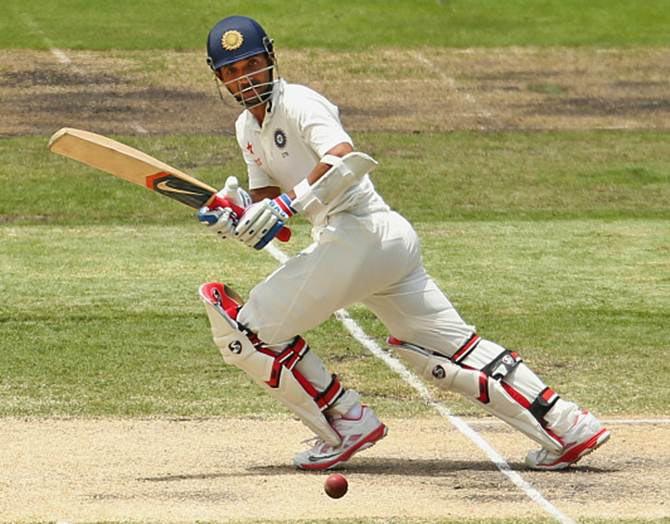 IMAGE: Ajinkya Rahane. Photograph: Scott Barbour/Getty Images
Unfazed by the growing debate over the most suitable batting slot for him in India's Test team line-up, Ajinkya Rahane says he relishes batting outside his comfort zone.
"I take it as it comes. I really enjoyed batting at number three in Sri Lanka. I got a hundred there (at number 3) and we won the (second) Test match," said the Mumbaikar, talking about his customary number 5 and one-down slot where he batted in the last two Tests in Sri Lanka.
"I am ready to do whatever the team management wants me to do. I like to bat out of my comfort zone. That's what actually gives me that high, that happiness, as it shows that the team management and captain have belief in me, that I can bat anywhere and whatever the situation is, I am there for the team.
"That's a good sign for me as well as for the team that I can handle any situation and take the team out of any situation. I am not thinking too much about the batting position. I really enjoyed batting at number 3 in Sri Lanka and I am completely agreeable to whatever the team suggests," added the 18-Test batsman, trying to put an end to the debate.
One of the team's middle-order mainstays, Rahane scored a second innings century (126) at the P Sara Oval in Colombo batting at number three and India went on to win by 278 runs and draw level in the three-match series after losing the opener in Galle.
The Virat Kohli-led Indian outfit then produced yet another top-drawer performance and won the final Test at the SSC Ground in Colombo by 117 runs to clinch the rubber 2-1, their first overseas series win after 2011 in the West Indies and their first triumph in Sri Lanka in 22 years.
Though he did not have as big success with the bat in Lanka as he did in South Africa, New Zealand, England and Australia, Rahane was very happy that the team won the series coming from 0-1 down.
"I got one hundred and we won that Test match. I got out on 36 once. I wanted to contribute more but am happy that we won that Test series from 0-1 down."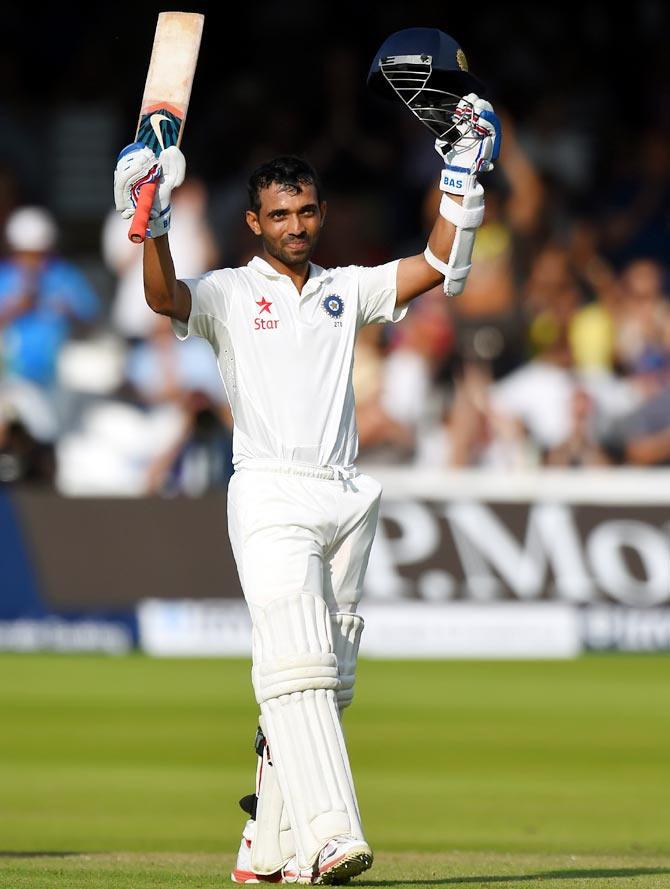 IMAGE: Ajinkya Rahane celebrates after reaching his century. Photograph: Stu Forster/Getty Images
Having scored four Test hundreds and two nineties -- all outside the country -- Rahane said it is all about adaptation.
"It's all about mental adjustment. When you bat at number 3 you have to take a little more time (to settle down) than at number 5. The ball is relatively new. You have to take your time, give half an hour to the bowlers, see how the bounce is and the (behaviour of the) wicket, and then you can play on your instinct.
"Whereas batting at number 5 you can actually take 10-15 minutes (to settle down) as you can actually know (understand) about the wicket (by) sitting inside the dressing room.
"By watching the openers and number 3 bat you can actually know (about) the wicket and the bowling attack - the line and length they are bowling - and in 10-15 minutes (on arrival at the crease) you can play your shots.
"At number 3 shot selection is important; at number 5 too it is, but a slight mental adjustment is needed (to bat at No. 3)," he elaborated.
Praising Ravi Shastri's role as team director, he said inputs from the former India all-rounder have helped the team significantly.
"Inputs from Ravibhai actually helped us a lot. He always gives us positive feedback and tells all positive things… his experience on and off the field. The team has benefited a lot, improved its thinking and got motivated from his talks."
On a personal level, he said: "He (Shastri) has told me take your time in the first 10-15 minutes and after that you have the game and have all the shots to dominate the best bowling attacks at the highest level.
"The first 15-20 minutes or half an hour (on arrival at the crease) is an important time for any batsman - whether he is playing his first Test or 100th. He has told me 'take your time, see what's happening, what a particular bowler is bowling, give him respect and after that it's all yours'."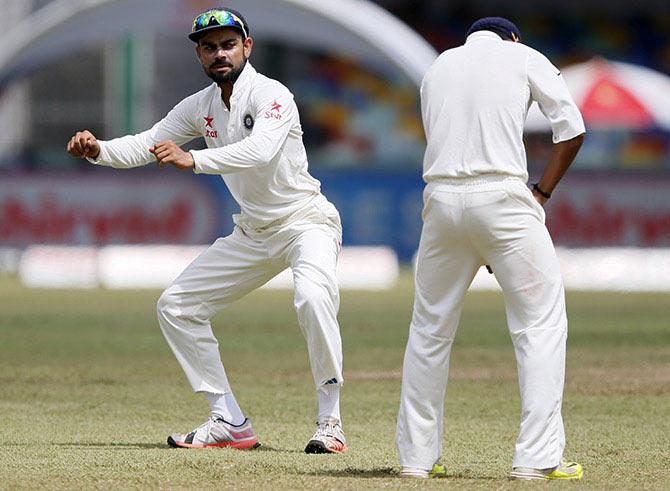 IMAGE: India's captain Virat Kohli (left) stretches as his teammate Ajinkya Rahane shines the ball during the recent Test series in Sri Lanka. Photograph: Dinuka Liyanawatte/Reuters
Rahane also hailed Kohli's Test captaincy, saying the Delhi batsman is handling the team very well.
"Under Virat's captaincy, the good thing is that every member is backing him and he supports all. The entire team is progressing in one direction, which is a good sign. The team has got only one goal and all of us are working towards the same -- that we have to win matches and series.
"Each individual has his own style of leading and Virat has been handling the team well and the team has also been backing him to the hilt."
Rahane, who made his Test debut in March 2013, at the Feroz Shah Kotla and then hasn't played another five-day international game in the country, said he is looking forward to play at home against South Africa in the upcoming series of T20s, ODIs and Tests.
"After a long time we are going to play in India Tests, ODIs and T20s. It is important to respect the opposition, whatever be the conditions you are playing in. But we will look to play the kind of cricket we have been playing over the last one-and-a-half to two years. It's important to stay positive all the time and look to dominate the opposition."
He differed when reminded that the Proteas have announced a Test squad comprising three frontline spinners and that India's recent record against the slow bowlers is not very rosy.
"I believe we have played spinners as well as we had done against fast bowlers. We have done well against the spinners. Okay, we have got out to them, but we have dominated them too.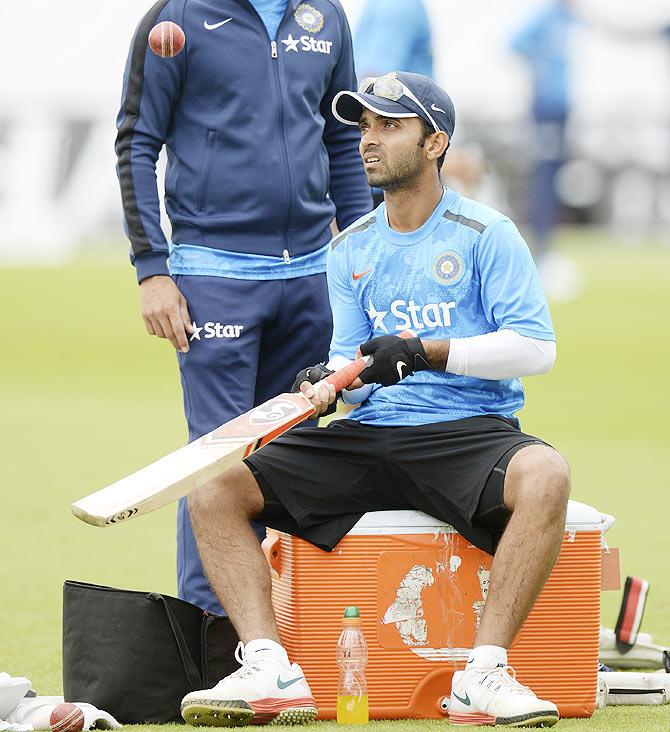 IMAGE: Ajinkya Rahane takes a break during a practice session. Photograph: Philip Brown/Reuters
"In Sri Lanka, our motive was to give our bowlers enough time. As a batting unit, our thinking was about our team's requirement.
"We played with five bowlers and it's important to take 20 wickets to win a Test match. We have practiced in the nets against spinners, what shots to play and how to dominate them.
"I believe even against South Africa we will be preparing for that and I am sure we will dominate their spinners and the entire bowling unit."
Rahane said he is in the process of preparing himself to shift gear from one format of the game to another ahead of the tour by the South Africans, featuring first a three-match T20 series, followed by a five-game ODI rubber, ending with a four-Test series.
"I am actually thinking of preparing on that aspect, shifting (smoothly) from one format to another, and how quickly can I adapt or adjust will be the key. It's all about mental adjustment, as no big technical changes are needed, only small adjustments need to be made.
"At the highest level 80-85 per cent is a mental game and only 15-20 per cent is technical. It's all about how to adjust to conditions quickly."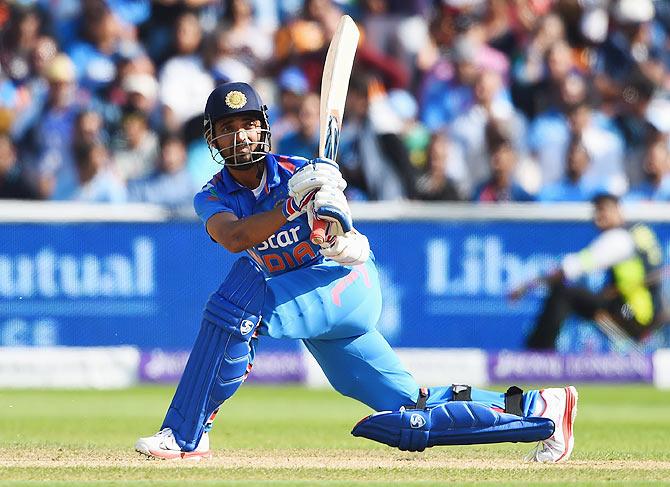 IMAGE: India's Ajinkya Rahane. Photograph: Getty Images
Insisting he neither gets too excited when he scores runs nor gets upset by lack of success, he said if he stays level-headed he can progress gradually in the game.
"I never get satisfied if I score runs. I don't get bogged down if I get out cheaply. If you maintain yourself at the same level when tasting success or failure, eventually you can go up step by step. That's important for me rather than to keep a goal. Yes, you need to have a goal and mine is to improve every day as a cricketer."
Outside of cricket, Rahane has hobbies like reading sports biographies, history, listening to music and watching Hindi movies.
"I like reading books, listening to music. I like to read sports books, autobiographies, history books. I recently read Shiva trilogy (by Amish Tripathi), read about Shivaji Maharaj, about his leadership qualities and what was his thinking, that he was ten steps ahead of the opposition.
"I am currently reading Open, by (former tennis ace) Andre Agassi. I like to watch movies. I am a big fan of Amir Khan and like watching all his movies."