Allrounder needs two wickets to become Bangladesh's leading wicket-taker in all three formats.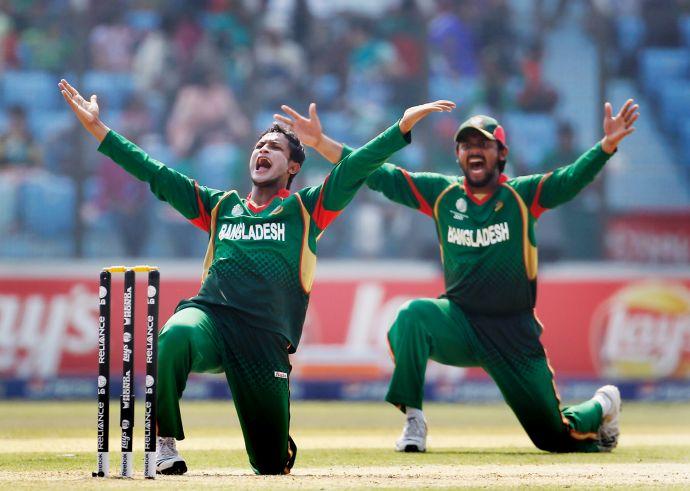 IMAGE: Shakib Al Hasan of Bangladesh appeal for a wicket during an international match. Photograph: Daniel Berehulak/Getty Images.
Bangladesh's star left-arm spinner Shakib Al Hasan needs just two wickets for becoming the only man in world cricket to be his country's most successful bowler in all three forms of the game.
Shakib with 206 ODI wickets is behind fellow left-armer Abdur Razzak on 207.
The all-rounder will be looking to achieve the record in the three-match ODI home series against Afghanistan.
Shakib is already Bangladesh's most prolific wicket-taker in Tests (147 wickets) and T20 internationals (65 wickets).
Razzak, who last represented his country more than two years ago, backed 29-year-old Shakib to break a multitude of records before his career comes to an end.
"I won't say or I can't say how many wickets he would take before retiring from the cricket but he stands on a good chance to break several records," Razzak told The Independent.
"His dedication and hunger makes him absolute favourite to make so many records for Bangladesh.
"I believe he is going to set such a benchmark which would be tough to emulate. The rate at which he is progressing is unbelievable. He is quite a genius and Bangladesh is lucky to have a player like him."
Most wickets
Bangladesh
Tests - Shakib Al Hasan (147)
ODIs - Abdur Razzaq (207)
T20s - Shakib Al Hasan (65)
India:
Tests - Anil Kumble (619)
ODIs - Anil Kumble (337)
T20s - Ravichandran Ashwin (52)