The NITI Aayog has big plans for Indian sport, reports Sanjeeb Mukherjee.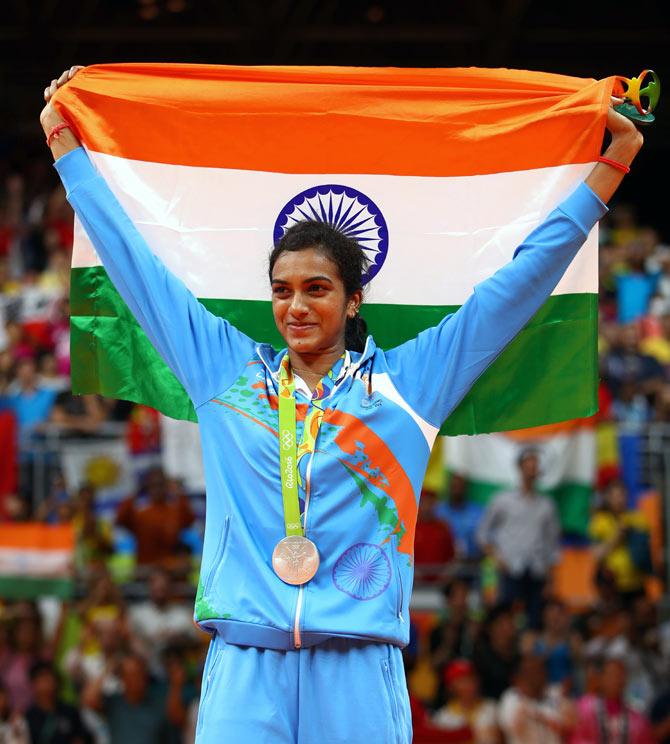 IMAGE: Olympic Silver medalist P V Sindhu, one of two Indian medal winners in Rio. Photograph: Clive Brunskill/Getty Images
With only one silver and one bronze won at the Rio Summer Olympics this year, India's performance was rather dismal at the biggest sporting event in the world.
The NITI Aayog thinks the country could take the tally to 50 at the 2024 Olympics.
Russia came in fourth with 56 medals at the Rio Games. It was well behind China (70) and Great Britain (67). India's rank was 67 -- with even North Korea above it, with a tally of seven.
For India, P V Sindhu got a silver in badminton and Sakshi Malik a bronze in freestyle wrestling. There were a few close misses with Dipa Karmakar and former gold medalist Abhinav Bindra coming in fourth in freestyle gymnastics and shooting, respectively.
Now, to better India's overall performance, the government's think-tank, NITI Aayog, which replaced the erstwhile Planning Commission in 2014, has prepared a 20-point action plan.
The plan is divided into two parts: The first part has short-term measures to be taken in the next four to eight years; the second part lists steps to be taken over eight to 15 years.
Prime Minister Narendra Modi has already set up a panel to prepare a road map for the next three Olympics -- 2020 (Tokyo), 2024 and 2028.
The host cities for the last two are yet to be decided, though Paris, Budapest, Los Angeles and Rome have emerged as front runners to host the 2024 Games.
In its road map, NITI Aayog has advised the government to bid for and host 100 major international sports events till 2026 by creating a separate arm under the Sports Authority of India.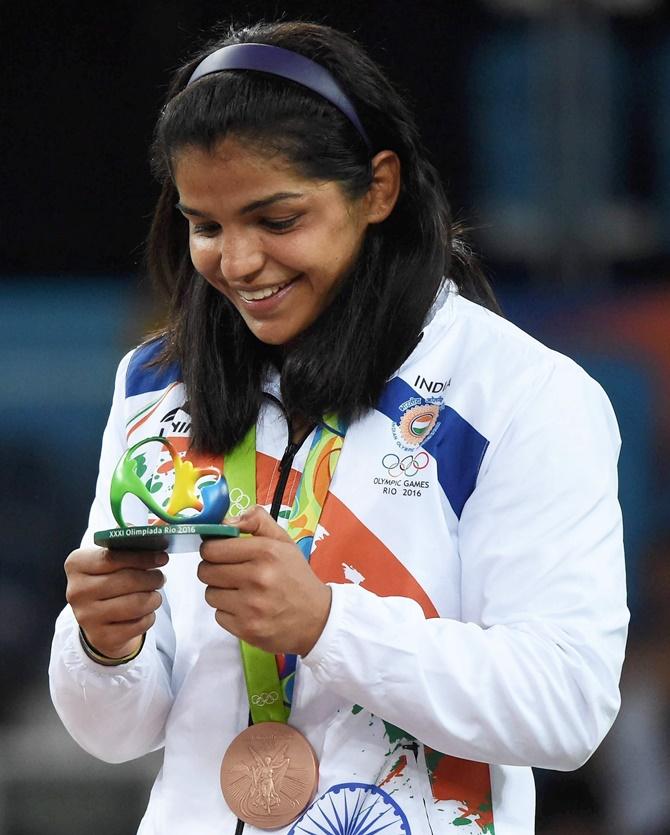 IMAGE: Sakshi Malik, who won a bronze medal in Rio. Photograph: PTI
The report, Let's Play -- Action Plan for Revitalising Sports in India, suggests focusing on 10 sports and developing an outcome-oriented action plan for each.
These should be sports in which India has already won medals, or has a high potential.
'Kenya and Jamaica participate in just two Olympic sports but have managed to get a (total) medal tally of 110 and 78, respectively,' the report said.
In the next four years, the report recommended the focus should be on training and coaching schedules, medical and psychological support, and drug test schedules.
It also mentioned setting up training centres, such as Prakash Padukone's badminton academy.
Taking a cue from cricket, in which India has performed so well over the years, the report suggested creating team leagues for the 10 selected sports, on the lines of the popular Indian Premier League.
Film stars could be used to promote the sports and leagues.
The report suggested ranking all sportsperson, depending on their performance in the Olympics. It also advocated scouting for talent in tribal, rural and coastal areas.
The Special Area Games scheme, which was meant for this, is woefully short of funds to fulfill its objective, the report said.
It also suggested hiring the best foreign and domestic coaches. A special incentive package could be prepared to attract retired sportspersons to become coaches, advisors and mentors. Coaches could also be ranked.
Along with improving training centres, the government should also frame a injury insurance scheme for sportspersons and strictly implement the provisions of the draft National Sports Development Bill 2013, to improve transparency and accountability in sports bodies.
RECIPE FOR SUCCESS
Concentrate on 10 priority sports
Host at least 100 major international events by 2026
Individual academies and IPL-style sports leagues should be encouraged in the 10 identified Olympic sports
Hire best national and international coaches; grade them periodically to maintain quality
All sportsmen to be divided in three categories based on their past performance and world rankings
Identify talent at a young age
Have a national sports Injury Insurance Scheme to cover all sportsmen between the age of 5 and 35 years
Implement Draft National Sports Development Bill, 2013 to bring transparency and accountability in sports bodies