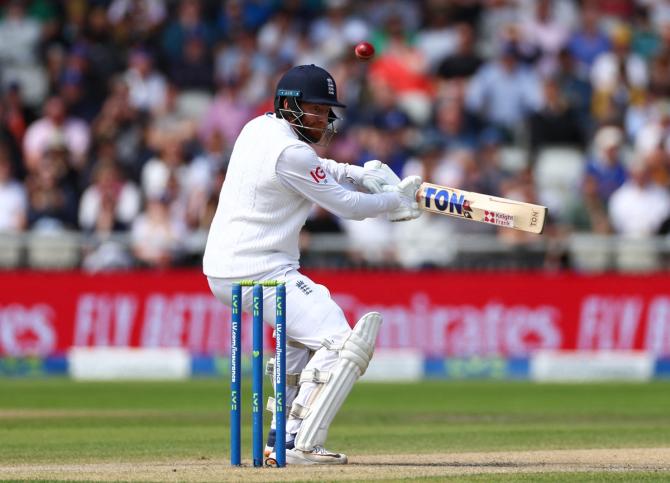 England wicketkeeper Jonny Bairstow hit back at his critics following a blistering 99 not out that put his side on the verge of a famous victory in the fourth Ashes Test at Old Trafford on Friday.
Bairstow slammed four sixes as he helped England post 592 all out in their first innings on Day 3, their highest Ashes innings total on home soil since 1985, giving the hosts a first innings lead of 275.
Australia laboured to 113-4 at the close of play, putting England in with a real chance of earning the victory that would level the series. With two days left, England need to take a further six wickets, even if the weather forecast is not favourable.
Bairstow insisted that much of the criticism he has received in this series from the media has been unfair considering he required surgery after breaking his left leg in three places and dislocating his ankle in a freak accident last September.
"There have been a couple (of catches) that have gone down. I've not kept wicket for three years," he said. "I've got nine pins, a plate and a wire that goes through my ankle. I've had nine months out.
"When you speak to the surgeon and he says I'm surprised you're walking and running, never mind playing professional sport, I'm delighted to be where I'm at. I played a couple of games for Yorkshire and then went straight into an Ashes series. The leg break could have ended my career.
"Everyone thinks I play better when people have a go at me. It gets a bit tiresome, to be honest. I've played a lot of cricket now. To keep being told you're rubbish... if I was that rubbish I wouldn't have played 94 tests."
Bairstow also discussed his controversial dismissal in the second Test at Lord's, when Australia stumped him out after he had wandered out of his crease thinking the ball was dead - an incident which England claimed was "not in the spirit of cricket".
"It wasn't the way I wanted to be out at Lord's," he added. "I've even heard about it in club cricket, which is not necessarily the example you want to set.
"You want to play it tough but fair. On a different day, it doesn't happen."
Bairstow's innings nonetheless has left Australia looking to the skies for intervention.
"I'd be very pleased (if it rains)," Josh Hazlewood added. "It's obviously forecast but forecasts can change. It will be great to lose a few overs here and there and make our job a little bit easier of hanging in there.
"I was just trying to limit his (Bairstow's) scoring. He hit some incredible shots at the end, those situations are happening more and more given how good batsmen are in T20 and 50 over cricket."