Pace spearhead Zaheer Khan's form and fitness turned out to be the main concern for the Indians after the left-armer failed to impress on the second day of their warm-up game against CA Chairman's XI, at the Manuka Oval, in Canberra, on Tuesday.
However, off-spinner R Ashwin made up for Zaheer's poor outing by claming four wickets to have the CA Chairman's XI struggling at 214 for 7.
The home team rode on Ed Cowan's 109 (154 balls), inclusive of 16 fours, and are still trailing by 55 runs with three wickets in hand.
Tim Ludeman was batting on 15 when stumps were drawn early due to bad light.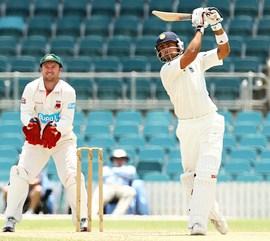 On a day when Virat Kohli's century (132) was the feature for the Indians, they were met with equal disappointment as far as Zaheer's performance was concerned.
The 33-year-old pacer bowled 10 overs in two spells and conceded 41 runs without ever looking like picking a wicket. Worryingly, he did not stay put in the field and left for the dressing room as soon as he was through with his spell on both occasions.
In all, Zaheer must not have spent more than an hour on the field.
With the first Test starting next week, the team think-tank will surely now be worried if the proven left-arm seamer would be up for the pressure of standing up to the rigours of a five-day game.
Earlier, Kohli and Rohit Sharma joined forces for a fifth-wicket stand of 101 before the visitors folded up for 269.
CA Chairman's XI's Cowan then struck a brilliant century to script a fightback.
 Scorecard
India (1st innings):
Gautam Gambhir b Behrendorff 24
Virender Sehwag c Dollan b George 12
Ajinkya Rahane c Khawaja b Lalor 15
Virat Kohli c (sub) b Holland 132
VVS Laxman b Holland 15
Rohit Sharma c Behrendroff b George 47
Mahendra Singh Dhoni c Boyce b Holland 3
Ravichandran Ashwin c Doolan b Holland 4
R Vinay Kumar not out 6
Zaheer Khan b Holland 0
Abhimanyu Mithun c Dollan b Holland 0
Extras: (B-1, LB-2, W-1, NB-3) 7
Total: (in 79.1 overs) 269
Fall of wickets: 1-20, 2-52, 3-53, 4-84, 5-185, 6-207, 7-227, 8-263.
Bowling: Doug Bollinger 11-1-52-0, Peter George 17-2-62-2, Jason Behrendorff 14-6-21-1, Josh Lalor 13-5-26-1, Jon Holland 18.1-2-70-6, Cameron Boyce 6-0-35-0.
Cricket Australia Chairman's XI (1st innings):
David Warner b Mithun 2
Ed Cowan c Dhoni b Ashwin 109
Usman Khawaja c Dhoni b Yadav 25
Philip Hughes c Dhoni b Ashwin 20
Tom Cooper lbw b Ashwin 38
Alex Doolan c Rahane b Ashwin 0
Tim Ludeman not out 15
Cameron Boyce b Ojha 1
Extras: (LB-1, NB-3) 4
Total: (For 7 wkts in 59 overs) 214
Fall of wickets: 1-3, 2-79, 3-115, 4-184, 5-188, 6-203, 7-214.
Bowling: Abhimanyu Mithun 6-1-23-1, Umesh Yadav 5-0-29-1, Zaheer Khan 10-0-41-0, R Vinay Kumar 7-1-13-0, Ravichandran Ashwin 14-1-52-4, Pragyan Ojha 17-0-56-1.
Photograph: Getty Images