A spineless India suffered their second successive overseas series defeat in the most humiliating manner as a ruthless Australia pulverised them by an innings and 37 runs in just two and half days in the third Test in Perth on Sunday.
The hosts just took about 135 minutes to polish off the remaining six Indian wickets to take an invincible  3-0 lead in the four-match series. It was the seventh successive loss abroad for India after the 4-0 whitewash by England last year. 
The highly-rated Indian batting line-up failed once again with the sole exception of Virat Kohli, who slammed an impressive 75, as the visitors were shot out for 171, around 15 minutes after the lunch break on the bouncy WACA  pitch. 
The Indian second innings total was just 10 runs more than the 161 in their first essay, in reply to Australia's first innings tally of 369. 
The two sides now move to Adelaide for the fourth and final Test which starts on January 24. 
India took lunch at 165 for six and they lost their final four wickets off only seven balls without any addition to the total to surrender the series and Border-Gavaskar Trophy.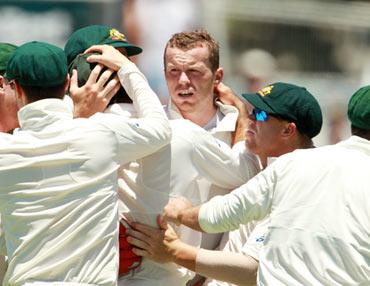 In the first innings, India had lost their final six wickets for 30 runs. 
The first two overs on resumption did not show any signs of such quick subjugation but it all unfolded quickly in Ben Hilfenhaus' 18th over, the 63rd of the Indian second innings. 
Sensing his opportunity of a short ball, Vinay Kumar went for a slash but the ball from Hilfenhaus was too quick for it and the resultant healthy edge was smartly snapped by Michael Clarke at first slip.
Zaheer Khan was out for first ball duck as Hilfenhaus directed a short ball at the Indian left-arm paceman who could only hang his bat. The edge flew and eluded a leaping wicketkeeper Brad Haddin but Michael Clarke was alert behind him at first slip and picked up his second straight catch. 
Ishant Sharma played out the hat-trick ball but two deliveries later, popped a catch at forward short leg where Ed Cowan made no mistake. 
Last man Umesh Yadav pushed a delivery at mid-on but Kohli refused to exchange strikes, hoping to gather some quick runs at the other end. It was not to be as the second ball from Peter Siddle was edged behind and Brad Haddin did not let the chance go out of his gloves to trigger Australian celebrations. 
Kohli batted for 191 minutes and faced 136 balls for his 75 runs, slamming nine fours. Kohli was impressive in his knock, his third Test fifty, as he showed the determination to stay put at the crease under difficult circumstances. 
Overnight 88 for four, India lost two wickets in the morning session with Rahul Dravid (47) and skipper Mahendra Singh Dhoni (2) being the batsmen out. 
Dravid fell by now all-familiar mode of dismissal in the series, bowled for 47. Ryan Harris brought the ball in from a length and Dravid, who has shown a tendency to neither go forward nor backwards at times, lost his leg stump as he made a last attempt to flick it. 
Dravid batted for 177 minutes and hit eight fours from 114 balls. There was a stage when he took 30 balls to move from 41.
This was the fifth time Dravid has been bowled in this series and 8 times in his last ten innings. He now has 54 such dismissals and has overtaken Allan Border as the batsman who has been dismissed most times clean bowled. 
Ben Hilfenhaus and Ryan Harris began the day's proceedings and both Dravid and Kohli were circumspect to start with as only three runs came from the first three overs. 
Dravid then slashed Hilfenhaus past the point region to raise the hundred of the Indian second innings. 
Kohli played solidly but for a rapid bouncer from Harris which took his bat while still rising and went over keeper Brad Haddin's head for a four. 
The youngster from Delhi then drove Mitchell Starc elegantly through the onside to raise an impressive half century, made in 115 minutes off 92 balls with six fours. 
Dravid and Kohli were unseparated till the first drinks break with India on 129 for four, having raised 41 runs from the first hour off 16 overs. 
The two stretched their stand to 86 runs from 30-odd overs before Dravid was out in a familiar fashion. 
Skipper Dhoni (2), continuing with his wretched form in the series, played forward to a Peter Siddle delivery and edged a low catch to Ricky Ponting in the second slip.