Australia have been harping that the dot balls and maidens they have been stringing together against India is a reason for their dominance in the ongoing Test series but statistics are not as conclusive as it would appear.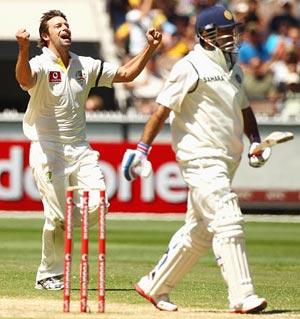 After the first Test in Melbourne, which India lost by 122 runs, the Indian trio of Zaheer Khan (10), Umesh Yadav (9) and Ishant Sharma (7) together sent down 26 maiden overs.
The Australians, on the other hand, managed fewer than that -- James Pattinson (8), Peter Siddle (3) and Ben Hilfenhaus (11) bowling 22 maiden overs among themselves.
It's only in Sydney where the Australians tested the Indian batsmen with a run of maiden overs.
But then the Indians faced the most difficult bowling conditions of the match on the first morning. The Indians bowled only eight maidens when the pitch had turned into a complete featherbed.
Australia, exploiting the lively conditions of the first day, bowled 20 maiden overs.
Thus, after three innings of the two Tests, the Indians bowled 30 maiden overs as against Australia's 42.
It's not an overwhelming difference of maidens and dot balls as the Australians would like the world to believe. It's the penetration of their fast bowlers which is causing the maximum damage.
But Hilfenhaus clearly is Australia's bowler of the moment. The busy swing bowler has not only claimed 15 wickets at 18.06 average, with two five-wicket hauls, he has also bowled as many as 28 maiden overs from the four Indian innings.
He presently is the bowler who has caused maximum damage in the Indian ranks.