Debate erupts over Channel Nine's live mike chat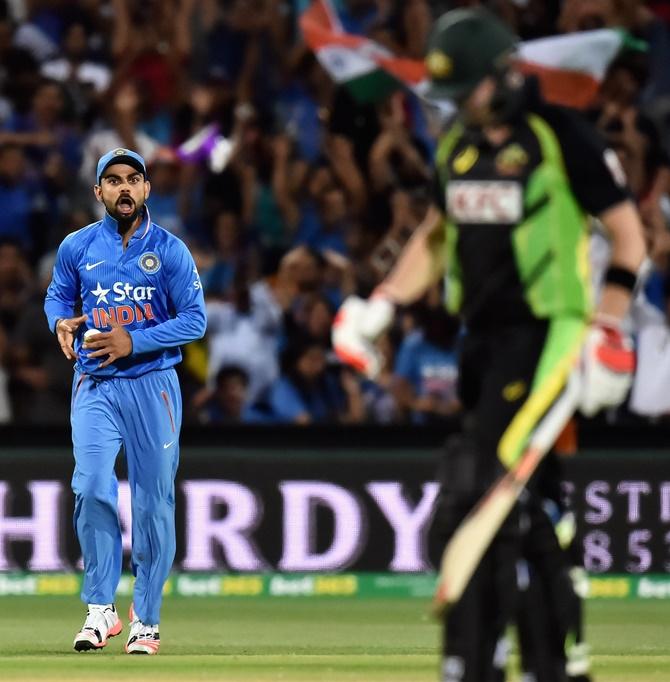 IMAGE: India's Virat Kohli takes a catch to dismiss Australia's Steven Smith during the first Twenty20 International match. Photograph: Daniel Kalisz/Getty Images
Television network Channel Nine's use of on-field mike chat has come under fire following Australian batsman Steve Smith's dismissal just after a live conversation with commentators in the first cricket Twenty20 International against India.
Smith was answering questions from broadcast commentators while he was in the middle of a 188-run chase with skipper Aaron Finch and soon got out after speaking.
Looking to work away Ravindra Jadeja's left-arm spin, Smith was caught at mid-off by Virat Kohli for 21 with the Indian star making a 'chatter box' gesture at the Australian Test captain.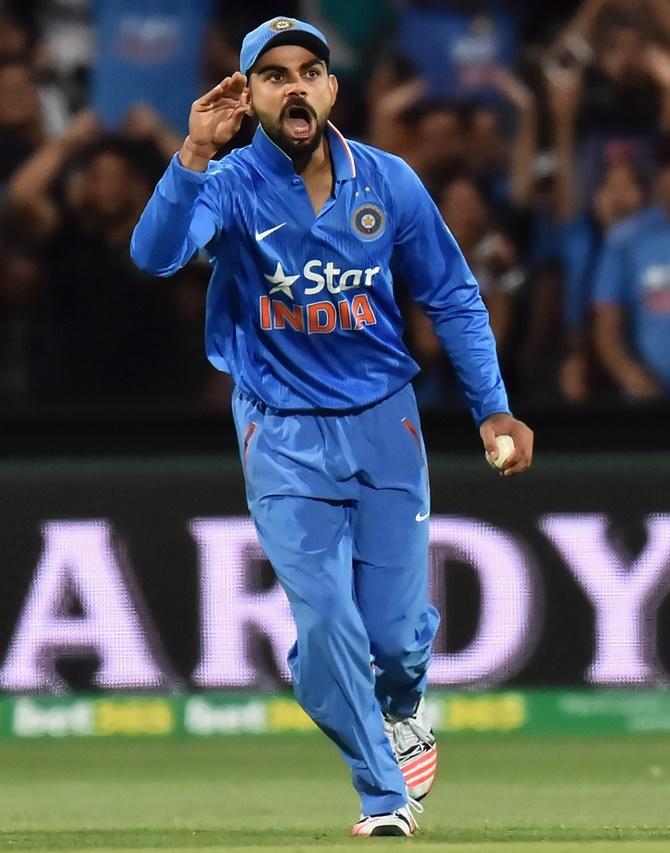 IMAGE: India's Virat Kohli reacts after taking a catch to dismiss Steven Smith. Photograph: Daniel Kalisz/Getty Images
While Kohli's gesture suggested that he wasn't impressed with Smith's chatter, even fans seemed to believe that the live mike chat led to the Australian batsman's dismissal as the hosts lost the match by 37 runs.
Social media was abuzz with reactions to Smith's chat and his dismissal thereafter and even analysts opined that the technology has done more harm than good to the player's concentration.
Meanwhile Australian opener David Warner has defended Channel Nine's use of mike-chat technology, saying it is the players' responsibility to keep their concentration intact.
"We have been doing that for the last couple of years. Obviously it is not in the interest of Channel Nine to disturb us when we are out there and you know, for us to get us dismissed. That's upon us to get to respond to them in professional to actually understand that's what happened when you are out there. It's about entertainment," Warner told reporters here ahead of their second T20 game on January 29 at the MCG.
"We are saying it during the Big Bash. We have done it plenty of time with Channel Nine. It is a great insight for people at home to get an understanding of how we are dealing with situations out there.
"And for me I have been doing it all the time and I feel no added pressure. It's great that I can actually give people at home in the occasion of what we are trying to achieve when we are out there in different situations," he added.