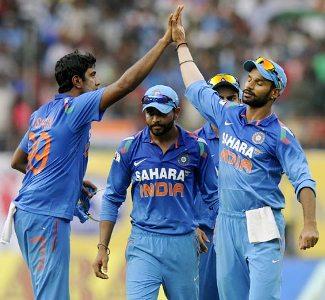 Team India, led by Virat Kohli, will be looking to win the Asia Cup, which gets underway in Bangladesh on Tuesday, for the sixth time. Rajneesh Gupta takes a look at the tournament over the years.
The 12th edition of the Asia Cup starts on Tuesday with defending champions Pakistan taking on four-time winners Sri Lanka at Fatullah.
Team India, winners of the tournament for a record five times, begin their campaign against hosts Bangladesh at the same venue a day later.
With Mahendra Singh Dhoni opting out of the tournament, Virat Kohli will lead Team India as they attempt to regain the title they last won in 2010.
Check out some statistical highlights pertaining to the tournament.
Summary of tournaments
| | | | | | |
| --- | --- | --- | --- | --- | --- |
| Teams | Season | Hosts | Mts | Winner | Runner-up |
| Ind,Pak,SL | 1983-84 | UAE | 3 | India | Sri Lanka** |
| BD,Pak,SL | 1985-86 | Sri Lanka | 4 | Sri Lanka | Pakistan |
| BD,Ind,Pak,SL | 1988-89 | Bangladesh | 7 | India | Sri Lanka |
| BD,Ind,SL | 1990-91 | India | 4 | India | Sri Lanka |
| BD,Ind,Pak,SL | 1994-95 | UAE | 7 | India | Sri Lanka |
| BD,Ind,Pak,SL | 1997-98 | Sri Lanka | 7 | Sri Lanka | India |
| BD,Ind,Pak,SL | 1999-00 | Bangladesh | 7 | Pakistan | Sri Lanka |
| BD,HK,Ind,Pak, SL,UAE | 2004 | Sri Lanka | 13 | Sri Lanka | India |
| BD,HK,Ind,Pak, SL,UAE | 2008 | Pakistan | 13 | Sri Lanka | India |
| BD,Ind,Pak, SL | 2010 | Sri Lanka | 7 | India | Sri Lanka |
| BD,Ind, Pak, SL | 2012 | Bangladesh | 7 | Pakistan | Bangladesh |
** played on round-robin basis
Synopsis of matches
| | | | | | | |
| --- | --- | --- | --- | --- | --- | --- |
| Date | Team1 | Team2 | Venue | Result | Batted 1st | Batted 2nd |
| 06 Apr 1984 | Pak | SL | Sharjah | SL won by 5 wickets | Pak 187-9 (46) | SL 190-5 (43.3) |
| 08 Apr 1984 | SL | Ind | Sharjah | Ind won by 10 wickets | SL 96 (41) | Ind 97-0 (21.4) |
| 13 Apr 1984 | Pak | Ind | Sharjah | Ind won by 54 runs | Ind 188-4 (46) | Pak 134 (39.4) |
| 30 Mar 1986 | SL | Pak | Colombo PSS | Pak won by 81 runs | Pak 197 (45) | SL 116 (33.5) |
| 31 Mar 1986 | Pak | BD | Moratuwa | Pak won by 7 wickets | BD 94 (35.3) | Pak 98-3 (32.1) |
| 02 Apr 1986 | BD | SL | Kandy | SL won by 7 wickets | BD 131-8 (45) | SL 132-3 (31.3) |
| 06 Apr 1986 | Pak | SL | Colombo SSC | SL won by 5 wickets | Pak 191-9 (45) | SL 195-5 (42.2) |
| 27 Oct 1988 | Pak | SL | Dhaka | SL won by 5 wickets | Pak 194-7 (44) | SL 195-5 (38.5) |
| 27 Oct 1988 | BD | Ind | Chittagong | Ind won by 9 wickets | BD 99-8 (45) | Ind 100-1 (26) |
| 29 Oct 1988 | SL | Ind | Dhaka | SL won by 17 runs | SL 271-6 (45) | Ind 254 (44) |
| 29 Oct 1988 | Pak | BD | Chittagong | Pak won by 173 runs | Pak 284-3 (45) | BD 111-6 (45) |
| 31 Oct 1988 | Pak | Ind | Dhaka | Ind won by 4 wickets | Pak 142 (42.2) | Ind 143-6 (40.4) |
| 02 Nov 1988 | BD | SL | Dhaka | SL won by 9 wickets | BD 118-8 (45) | SL 120-1 (30.5) |
| 04 Nov 1988 | Ind | SL | Dhaka | Ind won by 6 wickets | SL 176 (43.2) | Ind 180-4 (37.1) |
| 25 Dec 1990 | Ind | BD | Chandigarh | Ind won by 9 wickets | BD 170-6 (50) | Ind 171-1 (36.5) |
| 28 Dec 1990 | Ind | SL | Cuttack | SL won by 36 runs | SL 214 (49.2) | Ind 178 (45.5) |
| 31 Dec 1990 | SL | BD | Kolkata | SL won by 71 runs | SL 249-4 (45) | BD 178-9 (45) |
| 04 Jan 1991 | Ind | SL | Kolkata | Ind won by 7 wickets | SL 204-9 (45) | Ind 205-3 (42.1) |
| 05 Apr 1995 | BD | Ind | Sharjah | Ind won by 9 wickets | BD 163 (44.4) | Ind 164-1 (27.5) |
| 06 Apr 1995 | SL | BD | Sharjah | SL won by 107 runs | SL 233 (49.4) | BD 126 (44.2) |
| 07 Apr 1995 | Ind | Pak | Sharjah | Pak won by 97 runs | Pak 266-9 (50) | Ind 169 (42.4) |
| 08 Apr 1995 | BD | Pak | Sharjah | Pak won by 6 wickets | BD 151-8 (50) | Pak 152-4 (29.4) |
| 09 Apr 1995 | SL | Ind | Sharjah | Ind won by 8 wickets | SL 202-9 (50) | Ind 206-2 (33.1) |
| 11 Apr 1995 | SL | Pak | Sharjah | SL won by 5 wickets | Pak 178-9 (50) | SL 180-5 (30.5) |
| 14 Apr 1995 | SL | Ind | Sharjah | Ind won by 8 wickets | SL 230-7 (50) | Ind 233-2 (41.5) |
| 14 Jul 1997 | SL | Pak | Colombo RPS | SL won by 15 runs | SL 239 (50) | Pak 224-9 (50) |
| 16 Jul 1997 | Pak | BD | Colombo RPS | Pak won by 109 runs | Pak 319-5 (50) | BD 210 (49.3) |
| 18 Jul 1997 | SL | Ind | Colombo RPS | SL won by 6 wickets | Ind 227-6 (50) | SL 231-4 (44.4) |
| 20 Jul 1997 | Pak | Ind | Colombo SSC | No result | Pak 30-5 (9) | Ind ---------------- |
| 22 Jul 1997 | SL | BD | Colombo SSC | SL won by 103 runs | SL 296-4 (46) | BD 193-8 (46) |
| 24 Jul 1997 | Ind | BD | Colombo SSC | Ind won by 9 wickets | BD 130-8 (43) | Ind 132-1 (15) |
| 26 Jul 1997 | Ind | SL | Colombo RPS | SL won by 8 wickets | Ind 239-7 (50) | SL 240-2 (36.5) |
| 29 May 2000 | BD | SL | Dhaka | SL won by 9 wickets | BD 175-6 (50) | SL 178-1 (30.4) |
| 31 May 2000* | BD | Ind | Dhaka | Ind won by 8 wickets | BD 249-6 (50) | Ind 252-2 (40.1) |
| 01 Jun 2000 | Ind | SL | Dhaka | SL won by 71 runs | SL 276-8 (50) | Ind 205 (45) |
| 02 Jun 2000 | BD | Pak | Dhaka | Pak won by 233 runs | Pak 320-3 (50) | BD 87 (34.2) |
| 03 Jun 2000 | Ind | Pak | Dhaka | Pak won by 44 runs # | Pak 295-7 (50) | Ind 251 (47.4) |
| 05 Jun 2000 | Pak | SL | Dhaka | Pak won by 7 wickets | SL 192 (49) | Pak 193-3 (48.2) |
| 07 Jun 2000 | Pak | SL | Dhaka | Pak won by 39 runs | Pak 277-4 (50) | SL 238 (45.2) |
| 16 Jul 2004 | BD | HK | Colombo SSC | BD won by 116 runs | BD 221-9 (50) | HK 105 (45.2) |
| 16 Jul 2004 | Ind | UAE | Dambulla | Ind won by 116 runs | Ind 260-6 (50) | UAE 144 (35) |
| 17 Jul 2004 | Pak | BD | Colombo SSC | Pak won by 76 runs | Pak 257-6 (50) | BD 181 (45.2) |
| 17 Jul 2004 | SL | UAE | Dambulla | SL won by 116 runs | SL 239 (50) | UAE 123 (47.5) |
| 18 Jul 2004 | Pak | HK | Colombo SSC | Pak won by 173 runs (D/L) | Pak 343-5 (50) | HK 165 (44.1) |
| 18 Jul 2004 | SL | Ind | Dambulla | SL won by 12 runs | SL 282-4 (50) | Ind 270-8 (50) |
| 21 Jul 2004 | BD | Ind | Colombo SSC | Ind won by 8 wickets | BD 177 (49.1) | Ind 178-2 (38.3) |
| 21 Jul 2004 | Pak | SL | Colombo RPS | SL won by 7 wickets | Pak 122 (39.5) | SL 123-3 (32) |
| 23 Jul 2004 | BD | SL | Colombo RPS | SL won by 10 wickets | BD 190-9 (50) | SL 191-0 (33.3) |
| 25 Jul 2004 | Pak | Ind | Colombo RPS | Pak won by 59 runs | Pak 300-9 (50) | Ind 241-8 (50) |
| 27 Jul 2004 | Ind | SL | Colombo RPS | Ind won by 4 runs | Ind 271-6 (50) | SL 267-9 (50) |
| 29 Jul 2004 | BD | Pak | Colombo RPS | Pak won by 6 wickets | BD 166 (45.2) | Pak 167-4 (41) |
| 01 Aug 2004 | SL | Ind | Colombo RPS | SL won by 25 runs | SL 228-9 (50) | Ind 203-9 (50) |
| 24 June 2008 | BD | UAE | Lahore | BD won by 96 runs | BD 300-8 (50) | UAE 204 (45.4) |
| 24 June 2008 | Pak | HK | Karachi | Pak won by 155 runs | Pak 288-9 (50) | HK 133 (37.2) |
| 25 June 2008 | SL | BD | Lahore | SL won by 131 runs | SL 357-9 (50) | BD 226-7 (50) |
| 25 June 2008 | Ind | HK | Karachi | Ind won by 256 runs | Ind 374-4 (50) | HK 118 (36.5) |
| 26 June 2008 | Pak | Ind | Karachi | Ind won by 6 wickets | Pak 299-4 (50) | Ind 301-4 (42.1) |
| 26 June 2008 | SL | UAE | Lahore | SL won by 142 runs | SL 290-9 (50) | UAE 148 (36.3) |
| 28 June 2008 | BD | Ind | Karachi | Ind won by 7 wickets | BD 283-6 (50) | Ind 284-3 (43.2) |
| 29 June 2008 | SL | Pak | Karachi | SL won by 64 runs | SL 302-7 (50) | Pak 238-9 (50) |
| 30 June 2008 | SL | BD | Karachi | SL won by 158 runs | SL 332-8 (50) | BD 174 (38.3) |
| 02 July 2008 | Ind | Pak | Karachi | Pak won by 8 wickets | Ind 308-7 (50) | Pak 309-2 (45.3) |
| 03 July 2008 | SL | Ind | Karachi | Ind won by 6 wickets | SL 308-8 (50) | Ind 310-4 (46.5) |
| 04 July 2008 | BD | Pak | Karachi | Pak won by 10 wickets | BD 115 (38.2) | Pak 116-0 (19.4) |
| 06 July 2008 | SL | Ind | Karachi | SL won by 100 runs | SL 273 (49.5) | Ind 173 (39.3) |
| 15 Jun 2010 | SL | Pak | Dambulla | SL won by 16 runs | SL 242-9 (50) | Pak 226 (47) |
| 16 Jun 2010 | BD | Ind | Dambulla | Ind won by 6 wickets | BD 167 (34.5) | Ind 168-4 (30.4) |
| 18 Jun 2010 | SL | BD | Dambulla | SL won by 126 runs | SL 312-4 (50) | BD 186 (40.2) |
| 19 Jun 2010 | Pak | Ind | Dambulla | Ind won by 3 wickets | Pak 267 (49.3) | Ind 271-7 (49.5) |
| 21 Jun 2010 | Pak | BD | Dambulla | Pak won by 139 runs | Pak 385-7 (50) | BD 246-5 (50) |
| 22 Jun 2010 | Ind | SL | Dambulla | SL won by 7 wickets | Ind 209 (42.3) | SL 211-3 (37.3) |
| 24 Jun 2010 | Ind | SL | Dambulla | Ind won by 81 runs | Ind 268-6 (50) | SL 187 (44.4) |
| 11 Mar 2012 | BD | Pak | Mirpur | Pak won by 21 runs | Pak 262-8 (50) | SL 241 (48.1) |
| 13 Mar 2012 | Ind | SL | Mirpur | Ind won by 50 runs | Ind 304-3 (50) | SL 254 (45.1) |
| 15 Mar 2012 | Pak | SL | Mirpur | Pak won by 6 wickets | SL 188 (45.4) | Pak 189-4 (39.5) |
| 16 Mar 2012 | BD | Ind | Mirpur | BD won by 5 wickets | Ind 289-5 (50) | BD 293-5 (49.2) |
| 18 Mar 2012 | Ind | Pak | Mirpur | Ind won by 6 wickets | Pak 329-6 (50) | Ind 330-4 (47.5) |
| 20 Mar 2012 | BD | SL | Mirpur | BD won by 5 wickets (D/L) | SL 232 (49.5) | BD 212-5 (37.1) |
| 22 Mar 2012 | BD | Pak | Mirpur | Pak won by 2 runs | Pak 236-9 (50) | BD 234-8 (50) |
* played on 30 & 31 May
# target revised
Asia Cup winners
India 5 times
Sri Lanka 4 times
Pakistan 2 times
Performance in Asia Cup
| | | | | | |
| --- | --- | --- | --- | --- | --- |
| Team | Mts | Won | Lost | NR | Won% |
| Sri Lanka | 43 | 29 | 14 | 0 | |
| India | 39 | 24 | 14 | 1 | |
| Pakistan | 35 | 21 | 13 | 1 | |
| Bangladesh | 33 | 4 | 29 | 0 | |
| Afghanistan | 0 | | | | |
Performance in Asia Cup – vs each opponent
| | | | | | |
| --- | --- | --- | --- | --- | --- |
| Team | Mts | Won | Lost | NR | Won% |
| Sri Lanka v Bangladesh | 11 | 10 | 1 | 0 | |
| Sri Lanka v Pakistan | 12 | 8 | 4 | 0 | 66.66 |
| Sri Lanka v India | 18 | 9 | 9 | 0 | 50.00 |
| | | | | | |
| India v Bangladesh | 9 | 8 | 1 | 0 | |
| India v Sri Lanka | 18 | 9 | 9 | 0 | 50.00 |
| India v Pakistan | 10 | 5 | 4 | 1 | 50.00 |
| | | | | | |
| Pakistan v Bangladesh | 11 | 11 | 0 | 0 | 100.00 |
| Pakistan v India | 10 | 4 | 5 | 1 | 40.00 |
| Pakistan v Sri Lanka | 12 | 4 | 8 | 0 | 33.33 |
| | | | | | |
| --- | --- | --- | --- | --- | --- |
| Bangladesh v India | 9 | 1 | 8 | 0 | |
| Bangladesh v Pakistan | 11 | 0 | 11 | 0 | 0.00 |
| Bangladesh v Sri Lanka | 11 | 1 | 10 | 0 | |
Highest total for each team
| | | | | |
| --- | --- | --- | --- | --- |
| For | Total | Vs | Venue | Year |
| Pakistan | 385-7 | Bangladesh | Dambulla | 2010 |
| India | 374-4 | Hong Kong | Karachi | 2008 |
| Sri Lanka | 357-9 | Bangladesh | Lahore | 2008 |
| Bangladesh | 300-8 | UAE | Lahore | 2008 |
Lowest total for each team
| | | | | |
| --- | --- | --- | --- | --- |
| For | Total | Vs | Venue | Year |
| Bangladesh | 87 | Pakistan | Dhaka | 2000 |
| Sri Lanka | 96 | India | Sharjah | 1984 |
| Pakistan | 122 | Sri Lanka | Colombo RPS | 2004 |
| India | 169 | Pakistan | Sharjah | 1995 |
Largest win for each team (by runs)
| | | | | |
| --- | --- | --- | --- | --- |
| For | Margin | Vs | Venue | Year |
| India | 256 runs | Hong Kong | Karachi | 2008 |
| Pakistan | 233 runs | Bangladesh | Dhaka | 2000 |
| Sri Lanka | 158 runs | Bangladesh | Karachi | 2008 |
| Bangladesh | 116 runs | Hong Kong | Colombo SSC | 2004 |
Largest win for each team (by wickets)
| | | | | |
| --- | --- | --- | --- | --- |
| For | Margin | Vs | Venue | Year |
| India | 10 wkts | Sri Lanka | Sharjah | 1984 |
| Sri Lanka | 10 wkts | Bangladesh | Colombo RPS | 2004 |
| Pakistan | 10 wkts | Bangladesh | Karachi | 2008 |
| Bangladesh | N/A | | | |
Narrowest win for each team (by runs)
| | | | | |
| --- | --- | --- | --- | --- |
| For | Margin | Vs | Venue | Year |
| Pakistan | 2 runs | Bangladesh | Mirpur | 2012 |
| India | 4 runs | Sri Lanka | Colombo RPS | 2004 |
| Sri Lanka | 12 runs | India | Dambulla | 2004 |
| Bangladesh | 96 runs | UAE | Lahore | 2008 |
Narrowest win for each team (by wickets)
For

Margin

Vs

Venue

Year

India

3 wkts

Pakistan

Dambulla

2010

Sri Lanka

5 wkts

on 4 occasions

Pakistan

6 wkts

on 3 occasions

Bangladesh

5 wkts

on 2 occasions
Highest individual innings
| | | | | | |
| --- | --- | --- | --- | --- | --- |
| Batsman | Score | For | Vs | Venue | Year |
| V Kohli | 183 | Ind | Pak | Mirpur | 2012 |
| Younis Khan | 144 | Pak | HK | Colombo SSC | 2004 |
| Shoaib Malik | 143 | Pak | Ind | Colombo RPS | 2004 |
| SC Ganguly | 135* | Ind | Ban | Dhaka | 2000 |
| A Ranatunga | 131* | SL | Ind | Colombo RPS | 1997 |
| ST Jayasuriya | 130 | SL | BD | Karachi | 2008 |
| ST Jayasuriya | 130 | SL | Ind | Colombo RPS | 2004 |
| Shoaib Malik | 125* | Pak | Ind | Karachi | 2008 |
| ST Jayasuriya | 125 | SL | Ind | Karachi | 2008 |
Top batsmen
| | | | | | | | |
| --- | --- | --- | --- | --- | --- | --- | --- |
| | Mts | Runs | Hs | Avg | 100 | 50 | SR |
| ST Jayasuriya (SL) | 25 | 1220 | 130 | 53.04 | 6 | 3 | 102.52 |
| SR Tendulkar (India) | 23 | 971 | 114 | 51.10 | 2 | 7 | 85.47 |
| KC Sangakkara (SL) | 19 | 827 | 121 | 48.64 | 3 | 6 | 81.47 |
| A Ranatunga (SL) | 19 | 741 | 131* | 57.00 | 1 | 6 | 82.79 |
| PA de Silva (SL) | 24 | 645 | 96* | 32.25 | 0 | 4 | 83.44 |
| MS Atapattu (SL) | 13 | 642 | 100 | 64.20 | 1 | 6 | 71.09 |
| Inzamam-ul-Haq (Pak) | 15 | 591 | 88 | 59.10 | 0 | 6 | 89.27 |
| Shoaib Malik (Pak) | 12 | 575 | 143 | 63.88 | 3 | 1 | 95.04 |
| G Gambhir (India) | 13 | 573 | 100 | 44.07 | 1 | 5 | 89.95 |
| MS Dhoni (India) | 13 | 571 | 109* | 95.16 | 1 | 3 | 92.84 |
| DPMD Jayawardene (SL) | 23 | 563 | 78 | 31.27 | 0 | 6 | 89.93 |
| SK Raina (India) | 13 | 547 | 116* | 60.77 | 2 | 3 | 113.95 |
| Younis Khan (Pak) | 14 | 546 | 144 | 49.63 | 2 | 3 | 100.55 |
| NS Sidhu (India) | 14 | 530 | 104* | 66.25 | 1 | 6 | 77.71 |
| SC Ganguly (India) | 13 | 518 | 135* | 51.80 | 1 | 4 | 74.00 |
| Tamim Iqbal (Ban) | 12 | 517 | 70 | 43.08 | 0 | 6 | 81.54 |
| V Sehwag (India) | 13 | 509 | 119 | 39.15 | 1 | 3 | 113.87 |
Highest strike-rate (Min.100 runs)
| | | | | | | | |
| --- | --- | --- | --- | --- | --- | --- | --- |
| SR | Batsman | Mts | Runs | Hs | Avg | 100 | 50 |
| 135.33 | Shahid Afridi (Pak) | 18 | 429 | 124 | 35.75 | 2 | 0 |
| 113.95 | SK Raina (India) | 13 | 547 | 116* | 60.77 | 2 | 3 |
| 113.87 | V Sehwag (India) | 13 | 509 | 119 | 39.15 | 1 | 3 |
| 106.25 | Shakib Al Hasan (Ban) | 7 | 289 | 68 | 41.28 | 0 | 3 |
| 103.78 | Ijaz Ahmed (Pak) | 3 | 192 | 124* | 96.00 | 1 | 1 |
| 102.52 | ST Jayasuriya (SL) | 25 | 1220 | 130 | 53.04 | 6 | 3 |
| 100.57 | Moin Khan (Pak) | 14 | 174 | 56* | 34.80 | 0 | 1 |
| 100.55 | Younis Khan (Pak) | 14 | 546 | 144 | 49.63 | 2 | 3 |
| 99.33 | Nasir Jamshed (Pak) | 6 | 298 | 112 | 74.50 | 1 | 3 |
| 95.04 | Shoaib Malik (Pak) | 12 | 575 | 143 | 63.88 | 3 | 1 |
Most sixes
| | | | | |
| --- | --- | --- | --- | --- |
| 6s | Batsman | Mts | Balls faced | Balls / Six |
| 23 | ST Jayasuriya (SL) | 25 | 1190 | 51.74 |
| 18 | SK Raina (India) | 13 | 480 | 26.67 |
| 16 | Shahid Afridi (Pak) | 18 | 317 | 19.81 |
| 13 | SC Ganguly (India) | 13 | 700 | 53.85 |
| 12 | V Sehwag (India) | 13 | 447 | 37.25 |
| 12 | MS Dhoni (India) | 13 | 615 | 51.25 |
| 12 | Inzamam-ul-Haq (Pak) | 15 | 662 | 55.17 |
| 9 | M Azharuddin (India) | 18 | 563 | 62.56 |
| 8 | CK Kapugedera (SL) | 12 | 443 | 55.38 |
| 8 | SR Tendulkar (India) | 23 | 1136 | 142.00 |
Best bowling in a match
| | | | | | | |
| --- | --- | --- | --- | --- | --- | --- |
| Figures | Player | Balls | For | Vs | Venue | Year |
| 6-13 | BAW Mendis | 48 | SL | Ind | Karachi | 2008 |
| 5-19 | Aaqib Javed | 54 | Pak | Ind | Sharjah | 1995 |
| 5-21 | Arshad Ayub | 54 | Ind | Pak | Dhaka | 1988 |
| 5-22 | BAW Mendis | 39 | SL | UAE | Lahore | 2008 |
| 5-31 | M Muralitharan | 60 | SL | Ban | Karachi | 2008 |
| 5-34 | SL Malinga | 60 | SL | Pak | Dambulla | 2010 |
| 5-38 | Saqlain Mushtaq | 57 | Pak | Ban | Colombo RPS | 1997 |
| 5-42 | MF Maharoof | 60 | SL | Ind | Dambulla | 2010 |
| 5-48 | Sohail Tanvir | 60 | Pak | SL | Karachi | 2008 |
Hat-tricks
| | | | | | |
| --- | --- | --- | --- | --- | --- |
| Figures | Player | For | Vs | Venue | Year |
| 4-31 | Kapil Dev | Ind | SL | Kolkata | 1991 |
| 5-42 | MF Maharoof | SL | Ind | Dambulla | 2010 |
Top-bowlers
| | | | | | | | | | |
| --- | --- | --- | --- | --- | --- | --- | --- | --- | --- |
| | Mts | Overs | Mdns | Runs | Wkts | Best | Avg | RPO | 4W |
| M Muralitharan (SL) | 24 | 230.2 | 13 | 865 | 30 | 5-31 | 28.83 | 3.75 | 2 |
| WPUJC Vaas (SL) | 19 | 152.2 | 20 | 639 | 23 | 3-30 | 27.78 | 4.19 | 0 |
| IK Pathan (India) | 12 | 109.1 | 1 | 605 | 22 | 4-32 | 27.50 | 5.54 | 1 |
| ST Jayasuriya (SL) | 25 | 148.5 | 2 | 667 | 22 | 4-49 | 30.31 | 4.48 | 1 |
| Abdur Razzak (Ban) | 15 | 141.2 | 9 | 612 | 20 | 3-17 | 30.60 | 4.33 | 0 |
| BAW Mendis (SL) | 5 | 42 | 3 | 145 | 17 | 6-13 | 8.52 | 3.45 | 3 |
| Abdul Qadir (Pak) | 8 | 69.2 | 8 | 251 | 17 | 3-15 | 14.76 | 3.62 | 0 |
| SR Tendulkar (India) | 23 | 76.2 | 0 | 364 | 17 | 3-21 | 21.41 | 4.76 | 0 |
| Wasim Akram (Pak) | 12 | 92.1 | 8 | 297 | 16 | 4-19 | 18.56 | 3.22 | 1 |
| Abdul Razzaq (Pak) | 11 | 75.2 | 5 | 323 | 16 | 4-29 | 20.18 | 4.28 | 1 |
| N Kapil Dev (India) | 7 | 54.4 | 5 | 195 | 15 | 4-31 | 13.00 | 3.56 | 1 |
| JR Ratnayeke (SL) | 9 | 73 | 5 | 315 | 15 | 4-23 | 21.00 | 4.31 | 1 |
Most Man of Match awards
| | | |
| --- | --- | --- |
| | For | MoM |
| ST Jayasuriya | SL | 5 |
| NS Sidhu | Ind | 3 |
| A Ranatunga | SL | 3 |
| MS Atapattu | SL | 3 |
| Shoaib Malik | Pak | 3 |
| SK Raina | Ind | 3 |
| Shahid Afridi | Pak | 3 |
Most appearances
| | | |
| --- | --- | --- |
| | For | Mts |
| ST Jayasuriya | SL | 25 |
| PA de Silva | SL | 24 |
| M Muralitharan | SL | 24 |
| DPMD Jayawardene | SL | 23 |
| SR Tendulkar | Ind | 23 |
| TM Dilshan | SL | 20 |
- COMPILED BY RAJNEESH GUPTA