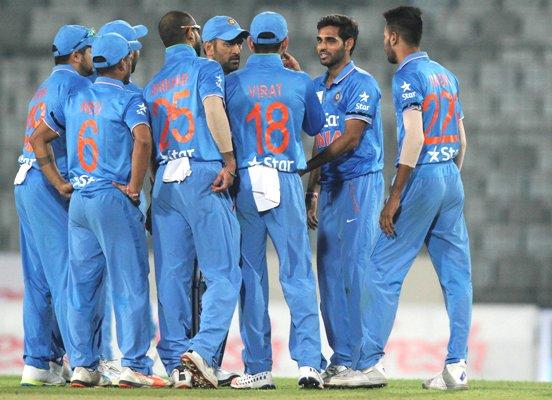 IMAGE: Indian players celebrate the wicket of United Arab Emirates' opener Swapnil Patil during their Asia Cup match in Mirpur. Photograph: Solaris Images
India skipper Mahendra Singh Dhoni feels the current Indian team is a "balanced" side which can "take on any team anywhere in the world" at least in the shortest format of the game after they notched up their ninth win in 10 matches.
India beat UAE by 9 wickets in their Asia Cup match on Thursday.
"Well if you see, more often than not, the team that we have played with (this year in T20's), looks like a team that can play in any condition, especially in this format. Let's not talk about the 50-over format. But in T20s, we can play with this team anywhere in the world," said Dhoni after their win.
"We now have three proper seamers, two spinners and if needed part-timers. I think it is the right combination. And even if you go for a few extra runs, with the batting that we have -- till No 8 -- I think we can look to get those extra runs if the opposition scores off us. So I think this team is set for playing in any conditions, whether you are playing in India or outside India. It looks like a very balanced team."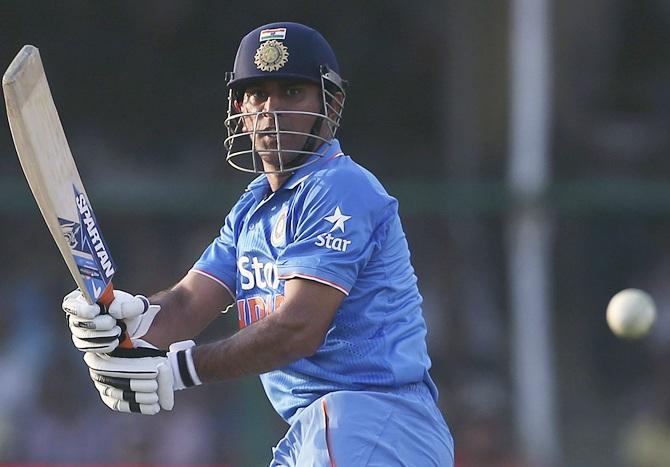 IMAGE: India's captain Mahendra Singh Dhoni plays a shot. Photograph: Adnan Abidi/Reuters
Dhoni was in playful mood when a Bangladeshi scribe asked him a long question with basic intent of wanting to know if this is the last time that India's limited overs skipper will be playing in this country.
"I'm not getting rid of myself so soon. Bangladesh will have to face me more often than not. This is one occasion when the question was longer than the answer," he smiled as everyone present in the conference room had a good laugh.
On a serious note, Dhoni said that he expects the final to be a tough one as Bangladesh knows the conditions well.
"As I said, any good team if they are the home team, they will always know the conditions very well. So to beat a home team is always difficult. Also, Bangladesh over the years has developed a lot. They have improved their strength. They know the condition well, as I have said. It will be a good final.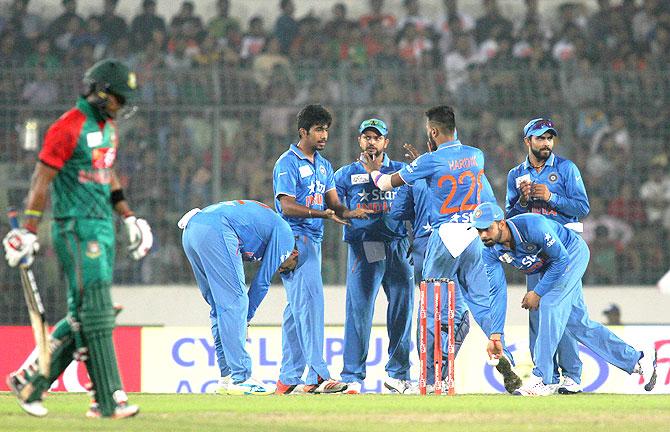 IMAGE: India players celebrate the wicket of Bangladesh's Soumya Sarkar during their Asia Cup match on February 24. Photograph: Solaris Images
"A lot depends on which team plays better cricket. This format the difference between the two teams can often be just one knock, one individual having a very good day or one bowler having a very good day. The difference between a good team and not-so-good team can be just a performance on that particular day. So I feel it will be a very good final," Dhoni assessed.
"In this format, what has happened doesn't really matter. It depends on that particular day as to what's going to happen. You have to keep the big-hitter out of the game. You have to make sure that one of the bowlers doesn't have an outstanding day. The field is set for a very good final."
Dhoni also does not think that Bangladesh being the home team will have any "unfair advantage" on these strips.
"I don't think the home team have an unfair advantage as such. We've also played four five games here. It gives us a good idea about the wicket and what the conditions are. Lot will depend on what kind of cricket we play on that particular day. It is not about how strong. It is all about how you have executed your plans."