- 'There is definite help in the wicket. You have got to be patient, I guess. Long partnerships came in, one breakthrough and somebody gets into a spell. That's what we're looking at. If and when a couple of wickets fall, we can squeeze and jam them in.'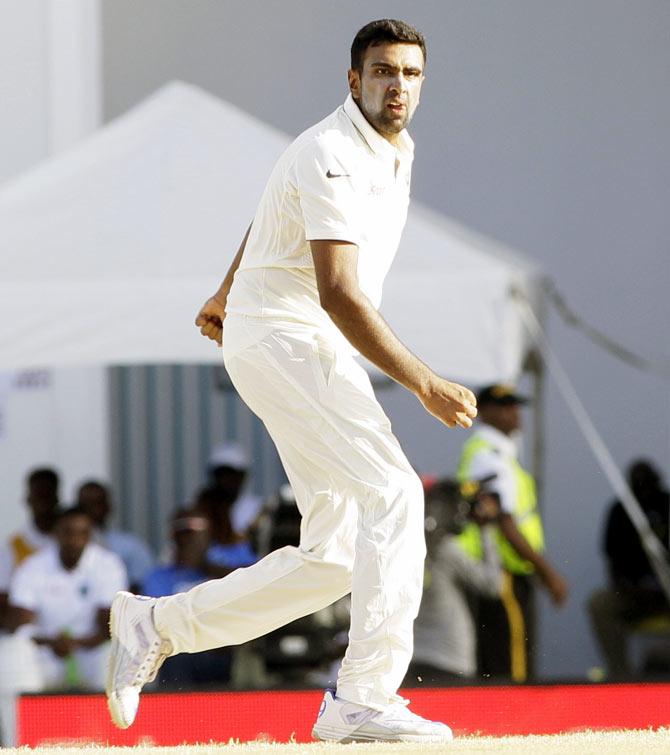 IMAGE: India off-spinner Ravichandran Ashwin in action. Photograph: WICB Media Photo

Off-spinner Ravichandran Ashwin said that India will be looking to continue the fightback in the remainder of the third Test after recovering from a precarious 130 for five and finishing the first innings at 353.
The West Indies finished day two at 107 for one, in Gros Islet, on Tuesday.
"When we got together we were in quite a bit of trouble and it was one of those wickets where you are not in any time. There was a good chance that you might be nicked off or you might get a good ball any time. It was very difficult to score," Ashwin said after the second day's play.
"So we went thought, bit the bullet quite hard and wanted to just stick in there even if the runs weren't quite coming. Obviously, the results came later on. It was a good partnership and both enjoyed each other's company to be very honest," he added.
"The thing is that they did get some momentum, I believe, from the Jamaica Test, but that's how Test cricket is like. We didn't come over here thinking or expecting to roll them over. They're also a Test team, and in their home conditions, it's going to be hard and we expected it."
IMAGE: Ravichandran Ashwin plays a shot during the third Test. Photograph: WICB Media Photo
Ashwin, who made 118, added 213 runs for the sixth wicket with Wriddhiman Saha (104) as they performed a patient rescue job for the Indian team. It was a fourth Test hundred for Ashwin, while Saha scored his maiden century.
"In hindsight, later on this could very well be a series-defining knock because we were in some trouble yesterday and there was every chance that we could be skittled out. I thought it needed a bit of application. It was not like making a hundred back home or anywhere in the world."
"I'm sure about that because it was definitely not a wicket where you could just plonk your front foot and play through the line. It was a hard-fought day yesterday and it was no different today. We just hope we can capitalise on the rear guard action later tomorrow," he said.
Ashwin claimed that Saha's positive approach on Day 2 helped him stick to his game place, which was to bat as long as possible.
"Saha expressed himself this morning, and he played quite a few shots. To me, it was very important that I hung around, because that sort of solidity was very important. We knew we were about 50-60 runs away from any kind of respectability so my game plan was very simple," he said.
"As I walked in yesterday, I walked in today. I wanted to leave the balls and I wanted to play close to the body. Try and bat time, it was not about knocking off the hundred or going and playing shots, it was all about batting time and trying and stringing partnerships," he added, about his mega partnership.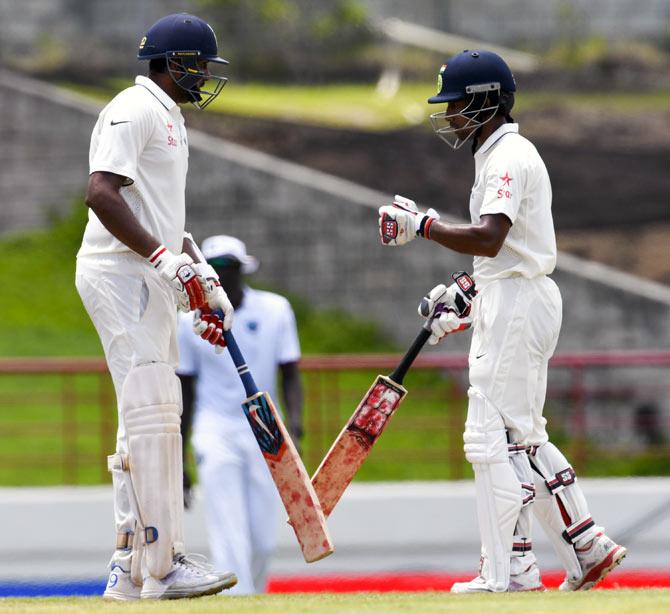 IMAGE: Ravichandran Ashwin, left, with Wriddhiman Saha during day two of the third Test. Photograph: WICB Media Photo
In reply, West Indies adopted a slow approach with the bat as they scored just 107 runs in 47 overs with opener Kraigg Brathwaite scoring an unbeaten half-century. The hosts are still 246 runs behind with three days to go in the Test even as the pitch seemed to have eased out a bit.
"There is definite help in the wicket. You have got to be patient, I guess. Long partnerships came in, one breakthrough and somebody gets into a spell. That's what we're looking at. If and when a couple of wickets fall, we can squeeze and jam them in. I thought we bowled pretty well, and pulled things back towards the end of the day today," the off-spinner said.
"If we can extract the same amount of control then tomorrow, you never know if it could be the first or second session, but I'm definitely sure that we will get the rewards for what we showed today," Ashwin signed off.