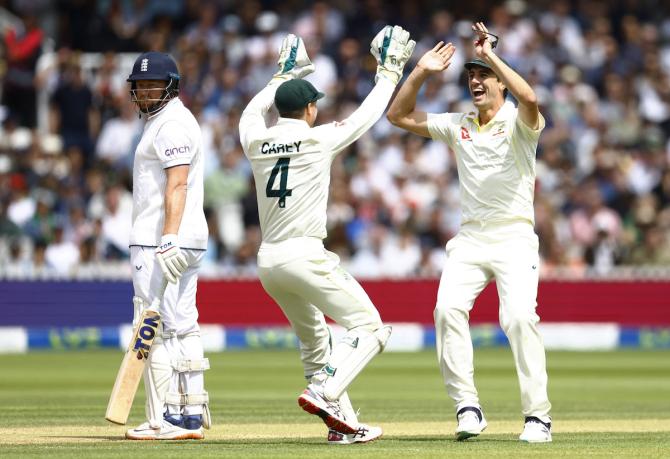 Jonny Bairstow's 'controversial dismissal' on the final Day of the second Ashes Test at the Lord's has left the cricketing world divided.
Former England opener Mark Butcher is confused by the uproar over Bairstow's dismissal in the second Ashes Test, saying that "it's just as plain as day out" and the chatter in cricketing circles is "nonsense".
Lord's was the hotbed of controversy on the final day of the second Test when England batter Bairstow ducked a slow bouncer from Australia's Cameron Green and ventured out of the crease thinking that the ball was already 'dead'.
However, wicketkeeper Alex Carey played within the rules and broke the stumps, and third umpire Marais Erasmus adjudged it stumped in favour of Australia.
Australia won the Test by 43 runs to take a 2-0 lead in the five-match series.
Butcher, 50, who played 71 Tests and scored 4,288 runs, said almost everyone he had spoken to following the incident thinks Bairstow was out.
"For me, it's just as plain as day out. And pretty much to all of the other professional cricketers I have spoken to, they all say exactly the same thing," Butcher told the Wisden Cricket Weekly podcast.
"Why didn't he (Bairstow) make sure that he knew where the ball was and what was going on before he left (the crease)?" added Butcher.
He blamed Bairstow for his own dismissal saying he should have known where the ball was when he ventured out of the crease.
"I was listening to it on the radio. Nobody had really described what had happened apart from, 'oh no, oh this, oh dear',"
"So I got on the phone to call my old man (father Alan, also a former cricketer). I said, 'Just tell me what happened, just walk me through it'. So he walked me through it and I said, 'So that's out then, isn't it?' And he said, 'yeah'.
Several experts had started questioning the spirit of the game following the incident but Butcher asked what was the England batter up to when he left the crease.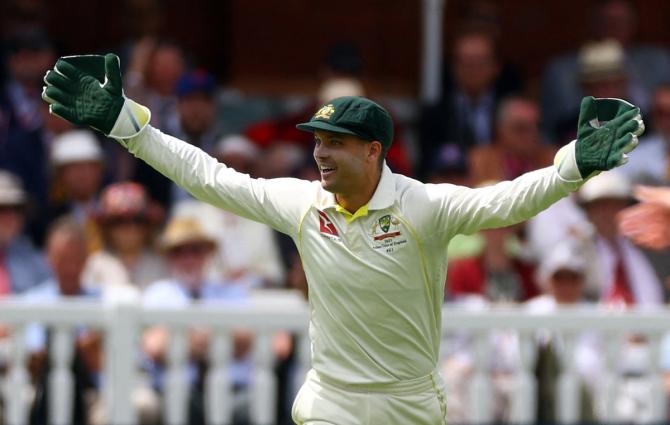 "What was he doing? Where was he going? Of course, now we've got an international incident. We've got people saying they're not going to have a beer with each other after the game."
England head coach Brendon McCullum had said post-match that he "can't imagine we'll be having a beer anytime soon (with Australians)".
"And what's worse, people who have definitely done worse things being holier than thou on social media saying how awful the whole thing is and how you would never have done anything like it. Nonsense."
Meanwhile, former Australian captain Mark Taylor has reminded cricketers that if stumping is one of the modes of dismissals permitted by the laws of the game then it's entirely the batsman's responsibility to guard his wicket.
"The batsmen have to remember there are 10 ways to get out in Test cricket. One of them is by being stumped, and it doesn't say in the laws it has to be off a slow bowler. If you're going to wander out of your crease doing whatever you want to do, be mindful that you can be stumped," Taylor in his column for Sydney Morning Herald.
"So, your job as a batsman is to get back in your crease until the ball is dead."
Taylor said the mode of dismissal has been legitimate since the time he has known and played the game, adding that he had "no issues" with what Australia skipper Pat Cummins and his team did at the moment in time.
"I've got no issue at all with what Pat Cummins and the Australian team did during the last day of the Lord's Test when they stumped Jonny Bairstow.
"It's a legitimate form of dismissal and has been as long as I've known the game of cricket. I've seen many wicketkeepers throwing the ball towards the stumps to try and claim an unsuspecting batsman's wicket."
Taylor said just two days before Bairstow's dismissal, the England wicketkeeper-batter had himself had been criticised for a "controversial stumping".
"Jonny Bairstow found himself on the receiving end of a controversial stumping, but two days earlier tried to pull one off himself -- the incident drawing parallels with England head coach Brendon McCullum when he stumped Paul Collingwood."
Bairstow's dismissal was almost identical to an episode in 2009 involving then-New Zealand cricketer-turned-England coach Brendon McCullum and England's Paul Collingwood.
Collingwood had wandered from his crease after leaving the last ball of an over and keeper McCullum threw the ball at the stumps during a Champions Trophy game in Johannesburg.
"I can remember Rod Marsh throwing the ball towards the stumps off Dennis Lillee's bowling, Ian Healy did the same thing when a batsman was out of his crease, we've seen Jonny Bairstow do it in the latest Test, I've seen footage of England coach Brendon McCullum doing it back in 2009. This sort of stuff has been going on for a long time," added Taylor.
Taylor added he was dismayed with the way the Australian players were treated following the incident.
"I'm disappointed with the way the Australian players were treated after completing this entirely legitimate dismissal, particularly in the Long Room (at Lord's). I will congratulate Guy Lavender, CEO of the MCC, for getting onto it reasonably quickly, calming down the MCC members and suspending three of them. However, I think that's the minimum amount they need to do at this stage."