Photographs have emerged of Australian cricketers Michael Clarke and Phillip Hughes drinking at a Melbourne bar well into the night on the eve of their humiliating Ashes series defeat at the MCG.
According to media reports, the duo was spotted drinking at the World Restaurant Bar on the third night of the Melbourne Test, which Australia went on to lose by an innings and 157 runs, helping England retain the Ashes on foreign soil for the first time in 24 years.
The pictures have raised some serious questions pertaining to the professionalism and discipline of Aussie cricketers. However, Test vice-captain Clarke has reiterated that he did no wrong.
The 29-year-old insisted that he would never do anything to jeopardise his performance.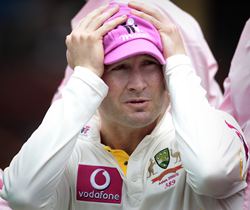 "There's no doubt Phillip and I went to a restaurant bar, we had dinner there, I had two drinks and didn't have a late night at all," Clarke said.
"We posed for a lot of photos with a lot of people, we were polite to a lot of people and there were even a few of the Barmy Army there.
"I have absolutely no idea what time I got home, but I guarantee you it wasn't late," Clarke said.
The batsman then admitted to leaving the restaurant to go to the casino to meet up with Michael Slater for some advice, because he "wasn't scoring as many runs as (he) would have liked".
A 25-year-old Melbourne woman, Emily Goodyear, had earlier claimed that the duo seemed to have no regrets and told her "it doesn't matter that we are out, we've lost the match anyway".
The lady had even clicked pictures of the cricketers and offered media outlets a photo of her with the cricketers in return for a cash payment.
Cricket Australia (CA) has however deposed faith in the cricketers and said that there was no problem with the behaviour of the players.
"It's unrealistic to expect people to spend 220 days or more a year eating hotel room service and living their lives as if they're on a Sunday school picnic," said Cricket Australia's general manager of public affairs, Peter Young.