The former England all-rounder Ian Botham on Wednesday accused Australian opener Phillip Hughes of cheating when the later reluctantly claimed a catch while the replays clearly showed that the ball had bounced before it went into his hands.
The English commentators did not waste a minute and came down heavily on the 22-year-old with Ian Botham labelling him as "cheat".
"Terrible. Cheating. How much do you want it to bounce into your hands?" Botham said while commentating on the third day of the fifth and final Ashes Test at Sydney Cricket Ground.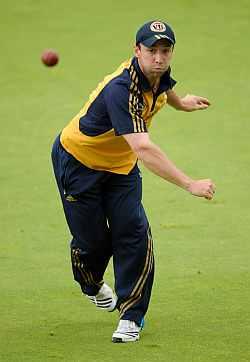 The incident took place when Alastair Cook, who was batting on 99, clipped a bat-pad off Michael Beer only to see Hughes claiming a ground level catch at forward short-leg.
The left-hander though stood his ground among loud and sustained appeals from the Australians, and got the retrieve only after the video replays confirmed that the ball had touched the ground before landing in the hands of Hughes.
"He (Hughes) knows he hasn't caught it. There's no appeal. Someone else says something and then he goes up," Botham quipped as was reported in the Sydney Morning Herald.
English media who joined the chorus wasted no time in bashing the youngster who was probably swept up in the emotion of an Ashes battle.
A headline in The Daily Mail screamed "CAUGHT OUT! Phil Hughes is the Aussie rotter on a day of otherwise human decency."
"Memo to Phil Hughes: sledging we can handle, cheating we can do without," The Mail wrote.
Describing the incident as a dark spot, the reports said, "On a day when Sydney turned out in its proudest pink to raise money and awareness for the breast cancer charity founded by Glenn McGrath and his late wife, Jane, the actions of the Australian opener, fielding at short leg, left only the bitterest taste."
"On a day that brought out the common decency in most folk, it was disappointing to see cricket's dark arts practiced so casually," the reports added.