Australian cricket will undergo a thorough review of all facets of its game in the wake of the humiliating 3-1 Ashes drubbing, Cricket Australia chief executive James Sutherland said on Friday.
Acting skipper Michael Clarke said Australian cricket had hit rock-bottom after his team crashed to an unprecedented third innings defeat to England to lose their second consecutive Ashes series.
Amid calls for heads to roll after Australia's inept showing, Sutherland said his organisation could not keep doing the same things and expect a better result in the next Ashes series in England in 2013.
Chairman of selectors Andrew Hilditch has expressed a desire to keep selecting teams beyond the conclusion of his contract after the World Cup, which starts next month, while team coach Tim Nielsen is contracted for another three years.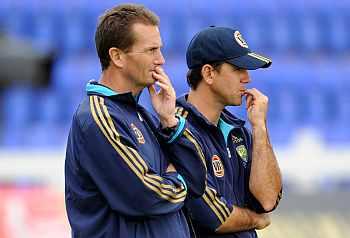 Pace bowling coach Troy Cooley is departing at the end of the World Cup to become head of Cricket Australia's centre of excellence in Brisbane.
England bowling coach David Saker withdrew from the running as Cooley's successor today, the Australian announcing he had signed a new three-year deal with the England and Wales Cricket Board.
"Right now we're clearly not on top and we need to find a way to get back on top as quickly as we can," Sutherland told reporters.
"We do a review every year irrespective of whether we have a good year or a bad year.
"This has been a bad series and it's a reason for us to have a very good look at where we're up to, what we do, how we can get better, how we can get back on top.
"I'm firmly of the view that you can't expect to get back on top by doing the same things and just simply plugging away.
"You have to look at where you're up to, how things are delivered and your approach and that will certainly be part of a review that will happen in the coming weeks.
"It's not something that will happen overnight, it needs to be fully endorsed by the board, but in due course we will find ourselves in the midst of a review," he added.