Indian and Australian cricketers will soon be sharing dressing rooms in the Indian Premier League and wicketkeeper Wriddhiman Saha, fresh from his team's triumph in one of the most controversial and hard-fought bilateral contests in recent times, feels it's time to 'move forward'.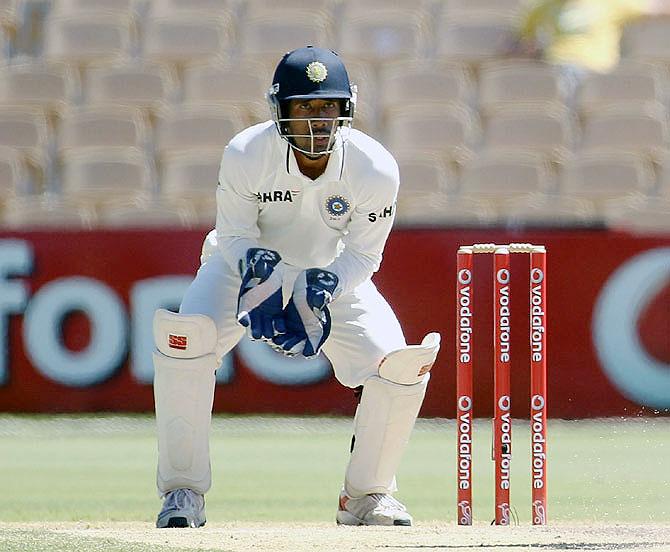 Days after he had mocked Indian captain Virat Kohli's shoulder injury in the third Test in Ranchi, Glenn Maxwell will be seen captaining Saha and opener Murali Vijay at Kings XI Punjab.
Saha, who arrived in the city after India's 2-1 series-clinching eight-wicket victory in Dharmasala, said the Test series rivalry would not spill into the T20 league.
"I do not look behind. As professional cricketers, we need to move forward. We will see and wait for the team instructions when I join the franchise," Saha said.
"I've always enjoyed sledging in any format of the game, even during domestic matches."
Without reading too much into the Indian skipper's remark that Aussies are "no longer friends", Saha said: "It was his opinion."
The Indian wicketkeeper, however, was upset at Brad Hodge's comment that Kohli, who did not play the fourth and final Test because of a shoulder injury sustained in Ranchi, was saving himself for IPL.
"This is rubbish. He is not someone who will shy away from the action. He was not on the field but was constantly involved."
Terming it a tough series, he said: "Their records suggest they are a tough side, and you get a lot of confidence after doing well against a team like Australia."
Saha scored his third Test century in Ranchi and was involved in a big partnership with Cheteshwar Pujara, which put India in a winning position, before the match ended in a draw.
Saha returned to the city along with Mohammad Shami, who was included in the squad for the fourth Test.
"Hopefully I will get back to full fitness in the IPL and make a comeback," Shami, who last played for India against England in the Mohali Test in November last year, said.
Image: India wicket-keeper Wriddhiman Saha has a contrary opinion to that of captain Virat Kohli with regards being friends with Australian cricketers.
Photograph: Hamish Blair/Getty Images