Suspended cricketer Ankeet Chavan, an accused in the IPL spot-fixing scandal, was granted interim bail for a week by a Delhi court to solemnise his marriage, scheduled for June 2.
"By denying accused to solemnise marriage which was already fixed, not only he but also the would-be bride and other relatives would also suffer because of no fault of theirs," Additional Sessions Judge Vinay Kumar Khanna said while granting interim bail to Chavan, with a condition that he will have to surrender on June 6.
Granting him bail on furnishing a personal bond of Rs 100,000 and two sureties of like amount, the court directed him to surrender his passport, not make any direct of indirect inducement to any person related to the case and also not leave India.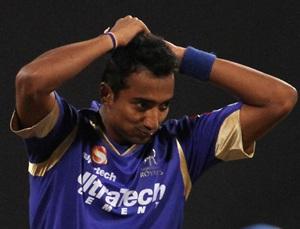 Chavan had sought bail on the grounds that his marriage is fixed for June 2 and if the wedding does not take place it will harm his reputation and that of his fiancee.
He had approached the sessions court after a magistrate denied him bail.
Chavan's counsel, Kishore Gaikwad, said, "Marriage is a sacrosanct occasion which comes once in a lifetime. The fiancee and Chavan knew each other for last four years and got engaged on July 1, 2012 at Mumbai. It was decided that marriage would take place immediately on completion of IPL," he said.
An affidavit of the brother of Chavan's fiancee was also filed in the court along with the wedding card and other documents showing that the bookings, purchase of articles and all other preparations for the wedding have already been made.
The counsel said there is no direct evidence against him and he has been falsely implicated.
Chavan, former India Test bowler Shanthakumaran Sreesanth and a third Rajasthan Royals player, Ajit Chandila, were arrested on May 16 for allegedly taking money to concede a pre-determined number of runs in matches of IPL 6.
The trio deny any wrongdoing.
Madras HC dismisses Aggarwal's anticipatory bail plea
Meanwhile, the Madras high court dismissed the anticipatory bail plea of Chennai-based hotelier Vikram Aggarwal, who was summoned by the Tamil Nadu CB-CID in connection with the IPL betting case.
When the matter came up for hearing on Thursday, Justice C T Selvam dismissed one of his applications.
Aggarwal had filed an anticipatory bail application saying though he was sent a communication under Section 160 of the CrPC by Tamil Nadu CB-CID on May 23 that he needed to appear before them on May 30 as a witness in a case, he was taken for interrogation on May 27 and was let out only on Tuesday night.
In another interim anticipatory bail application, wherein the Mumbai police had summoned him in connection with a separate IPL betting case, the judge ordered issuing of notice to the Mumbai police, returnable by June 3.
Aggarwal owns Hotel Radisson Blu in Chennai and was summoned by the Tamil Nadu CB-CID to appear on Thursday, and by the Mumbai police, in connection with their separate cases on IPL betting.
Image: Ankeet Chavan
Photograph: BCCI