Captain Andrew Strauss hit his second century in as many matches to leave England in the driving seat and in clear sight of West Indies' first innings score of 370 at close on the second day of the second Test at Trent Bridge in Nottingham, on Saturday.
England had reached 259-2 with Strauss on 102 and the aggressive Kevin Pietersen on 72.
It was the 21st century of Strauss's career and puts him only one short of England's joint record holders Wally Hammond, Colin Cowdrey and Geoff Boycott.
It also underlined the captain's full return to form after a modest 18-month spell broken only by his century in the first Test at Lord's last week.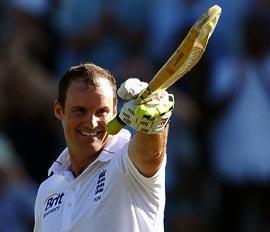 Strauss and Pietersen came together on a flat pitch with the score on 123 and proceeded to hand out hefty punishment to the tourists' attack in a superb display of stroke-making.
It was the first time the two had enjoyed a century partnership together and in perfect conditions they look full of runs going into Sunday's third day.
Strauss ended the day with 18 fours to his name, Pietersen with 10 fours and a six.
Paceman Kemar Roach had helped the England cause early on with eight no-balls in his first 10 overs. He twice had Alastair Cook out caught behind by Denesh Ramdin off his bowling only for no-balls to be called.
Cook was finally dismissed for 24 - caught with some justice by Ramdin - but off the bowling of Ravi Rampaul.
Earlier, England talisman Tim Bresnan blew away West Indies' main resistance with the key wickets of Marlon Samuels (117) and Darren Sammy (106).
Resuming on 304 for six, West Indies had started the day well with captain Sammy reaching his maiden Test century from his overnight 88 and Samuels looking comfortable after notching his third international ton on Friday.
But paceman Bresnan - who has been on the winning side in all of his 12 Tests to date for England - was having none of it, first removing Sammy and then Samuels, both caught.
Roach was the third Bresnan victim of the morning, caught for seven, and Graeme Swann wrapped up the innings when Matt Prior stumped Shane Shillingford for 16.
Bresnan topped the bowling with four for 104 from his 27 overs.
England lead the three-match series 1-0 after a five-wicket win in the first Test at Lord's.
Scorecard:
 West Indies first innings 
 A. Barath c Anderson b Broad 0 
 K. Powell c Anderson b Broad 33 
 K. Edwards b Anderson 7 
 D. Bravo c Swann b Anderson 3 
 S. Chanderpaul lbw b Swann 46  
 M. Samuels c Anderson b Bresnan 117 
 D. Ramdin b Bresnan 1 
 D. Sammy c Pietersen b Bresnan 106  
 K. Roach c Strauss b Bresnan 7  
 S. Shillingford st Prior b Swann 16 
 R. Rampaul not out 6                
 Extras (b-8, lb-18, w-1, nb-1) 28            
 Total (all out; 109.2 overs) 370   
Fall of wickets: 1-9, 2-26, 3-42, 4-63, 5-125, 6-136, 7-340, 8-341, 9-360, 10-370.
Bowling: J. Anderson 30-12-73-2, S. Broad 27-4-81-2 (1-nb), T. Bresnan 27-4-104-4 (1w), G. Swann 20.2-4-62-2, J. Trott 5-0-24-0
England first innings  
A. Strauss not out 102    
A. Cook c Ramdin b Rampaul 24 
J. Trott lbw b Rampaul 35
K. Pietersen not out 72
Extras (b-9, lb-5, nb-10, w-2) 26       
Total (2 wickets, 68 overs) 259 
Fall of wicket: 1-43, 2-123.
Bowling: K Roach 15-1-48-0 (8-nb), R Rampaul 18-4-42-2 (2-nb), D Sammy 15-0-69-0, S Shillingford 15-2-73-0, M Samuels 5-1-13-0. 
Still to bat: Kevin Pietersen, Ian Bell, Jonny Bairstow, Matt Prior, Tim Bresnan, Stuart Broad, Graeme Swann, James
Anderson.
Photograph: Laurence Griffiths/Getty Images