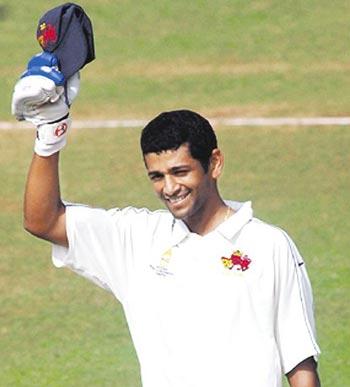 He was 'The Wall' of Mumbai's cricket. When he walked in to bat, the opposition knew that dismissing him early was vital in order to beat the oft-crowned Ranji Trophy champions.
So Thursday was a sad day for Mumbai's cricket aficionados when Amol Muzumdar announced he was leaving 'home' to play for minnows Assam this season.
"I feel this is the right time to move. I have given it a very good thought for the last 15 days and decided this is the correct time to move," he said at the Khar Gymkhana in Mumbai.
Muzumdar started his career for Mumbai as a young 18-year-old in the 1993-94 season, and his memories of a Ranji Trophy triumph on debut are still fresh.
"In 1993-94, Ravi Shastri lifted the Ranji Trophy at the Wankhede stadium, and I was just an 18-year-old then … and it really gave me goosebumps. That was the best moment for me during my Mumbai career," the right-hander recalled.
"There are a lot of other happy moments too, like the 2006-07 season, when we won the Ranji Trophy. It was a topsy-turvy tournament and it was unbelievable that we ended up winning it despite coming back from situations that we did then --- like 0 for five in the semi-finals at Baroda. Even in the final against Bengal, when Sourav Ganguly looked he was taking the game away from us."
Muzumdar studied at the famous Shardashram Vidyamandir, which also produced Sachin Tendulkar and Vinod Kambli, and was a prominent member of Mumbai's under-16 and India under-19 teams. He also led Mumbai to an under-19 national title.
He burst on the national scene scoring 260 against Haryana in 1993 -- an international first-class record for a debutant -- in the Ranji Trophy pre-quarter-final, and many in Mumbai believed he was the next best thing to emerge after Tendulkar.
Muzumdar expressed surprise that no one from the Mumbai Cricket Association asked him to reconsider his decision to play for Assam.
"When I was not selected in the Mumbai team for the Buchi Babu tournament I knew perhaps that was the indicator that I had to make the move. No one in the Mumbai Cricket Association asked me to stay back," he said.
The 34-year-old is on the verge of a historical landmark, needing just 31 runs to become the highest run scorer in Ranji Trophy history. So it is shocking that he has chosen to achieve that milestone in a remote corner of the country, in Guwahati, rather than at the famous Wankhede stadium, where he played many a scintillating knock since starting as a cricketer.
But Muzumdar insists that it is not because of the record that he is moving to Assam.
"I know the 31 runs will be scored and the record will be achieved. I will be very happy when I get there. It was a tough decision to make, because Mumbai cricket is so close to my heart. I would have loved to get the landmark wearing the lion-crested Mumbai cap, but that is not to be.
"The record is not the thing I am playing for. I played my last match in February and my next match is in November, which means for nine months there is no cricket at all, so the record has not crossed my mind too much," he clarifies.
Muzumdar said the challenge of leading a side like Assam may help reinvent himself both as a batsman and captain.
"I believe this move will give me more motivation and I accepted it as a challenge. I have signed a contract with Assam for two years and will be leading the side. They are expecting a few things from me and they feel I can make a difference and get the youngsters going. Their vision is big and they want to get ahead and take their cricket forward."
Asked what he would miss the most from his Mumbai stint, he replied: "It is not easy to leave something you love so dearly. I will definitely miss the Mumbai dressing room; it was a special place."
So as he sets sail on his journey into the unknown, Muzumdar's parting shots make it evident it was a path he was forced to tread.
"I never thought that this day would come when I will leave Mumbai. I have played 16 years in Ranji Trophy for Mumbai but I have been connected with Mumbai for 22 years, starting from my young days. It is definitely a sad feeling to leave Mumbai."