Secretary of the Indian cricket board, Anurag Thakur, on Saturday, sought to play down health issues of the Board of Control for Cricket in India president Jagmohan Dalmiya, stating that rumours of a communication gap between the duo is a figment of imagination.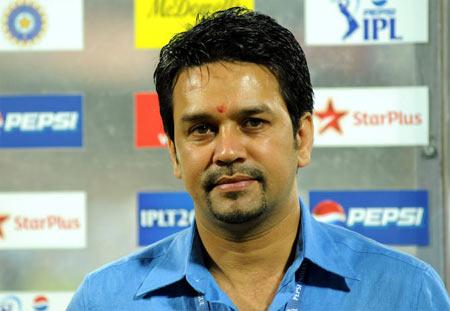 It was reported that the Supreme Court-appointed committee headed by former Chief Justice RM Lodha felt Dalmiya was not physically well to run the Board as Thakur has been calling the shots.
Scotching the rumours, Thakur said: "From Day 1, we (him and Dalmiya) have been working very well. We have brought transparency and accountability. After every selection committee meeting, we have been interacting with the media. After every meeting, there has been a co-ordination and a press statement is issued."
Thakur also reiterated that the International Cricket Council was yet to send any report on spot-fixing allegations against three international cricketers who were accused of accepting bribes from a businessman by former Indian Premier League commissioner Lalit Modi.
Modi had shared a letter via Twitter on Saturday last, which stated that the Chennai Super Kings' Suresh Raina, Ravindra Jadeja and all-rounder Dwayne Bravo, received favours in cash and kind from a real estate tycoon called Baba Diwan.
However Raina had subsequently issued a statement stating he would file a legal suit against the tainted former IPL commissioner.
"We have already made it clear after the selection committee meeting in Mumbai that he (Modi) has got some information from some source and he had alerted this to the ICC. ICC under its jurisdiction may have conducted an inquiry and they have not yet come out with any formal report or informed BCCI on that," the BJP MP said.
On the appointment of a successor to Duncan Fletcher he said; "As of now, the cricket advisory committee is looking into this. If any name is picked, that will be shared by the cricket advisory committee."
Image: Board of Control for Cricket in India Secretary Anurag Thakur
Photograph: BCCI