'If he carries on playing and if he stays fit, he will go past Tendulkar.'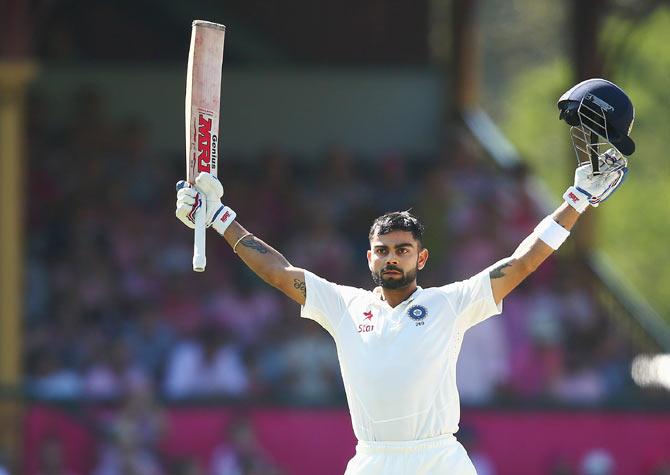 IMAGE: Virat Kohli has the potential to break Sachin Tendulkar's batting records, feels Allan Lamb. Photograph: Cameron Spencer/Getty Images
Keaton Jennings continues the long standing tradition of South African-born players turning out for England, adding to an illustrious list of international stars that includes Tony Greig, Kevin Pietersen, Andrew Strauss and Jonathan Trott among many others.
Allan Lamb too switched nationalities, moving to the country of his parents' birth -- they were born in England -- in the 1980s.
He didn't see South Africa -- banned from all sport for its apartheid policies -- getting back to international cricket at that point in time.
Lamb, who is at the Wankhede Stadium to watch the fourth Test between India and England is happy to see Jennings start off his Test career with a sparkling century.
"For a debutant, scoring a hundred like that, he looked very composed and looked like he has been playing Test cricket for a long time," Lamb told Rediff.com's Harish Kotian on Friday.
"I am very pleased for him because he came as a replacement, there was a lot of pressure on him playing against world class spinners, the wicket was turning, so all credit to him," Lamb added.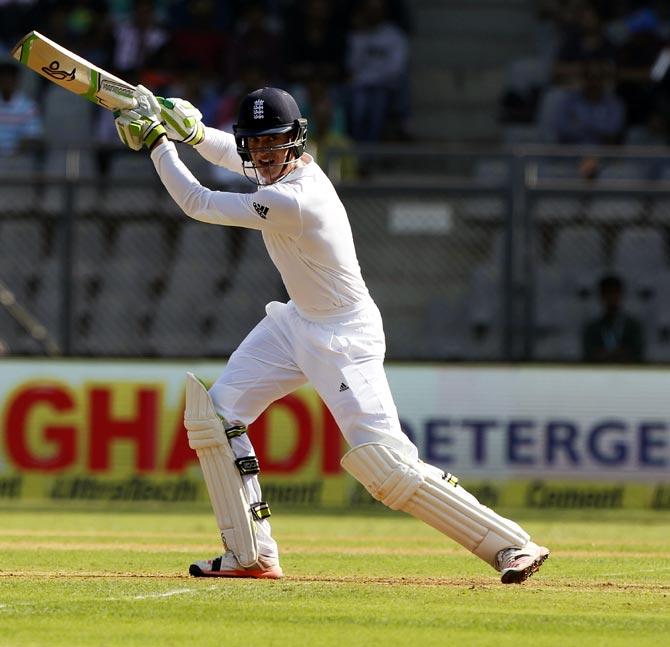 IMAGE: Keaton Jennings cuts during his 112. The Johannesburg, South Africa-born 24 year old is the 19th English batsman to score a Test century on debut. Photograph: BCCI
The left-handed opener, well-known coach Ray Jennings's son, scored 112 on Day 1 to help England post 400 in its first innings.
Jennings, whose mother was born in the United Kingdom, became eligible to play for England earlier this year after he served a four year qualification period.
The England and Wales Cricket Board changed its rules on qualification from four years to seven in April 2012, but Jennings squeezed through just in time after his county, Durham, claimed he was eligible as he arrived in the UK before that ECB ruling came into force.
Switching nationalities is not the fault of someone like Jennings or South African players before him.
"If they (the ECB) want to change the rules they must change the rules so they (players of other nationalities) can't play. It was four years earlier, now they have made it seven years. If they don't want any South Africans playing for England, then they must make it 10. When they come and play, they score runs and do well, which is why they get selected," Lamb added.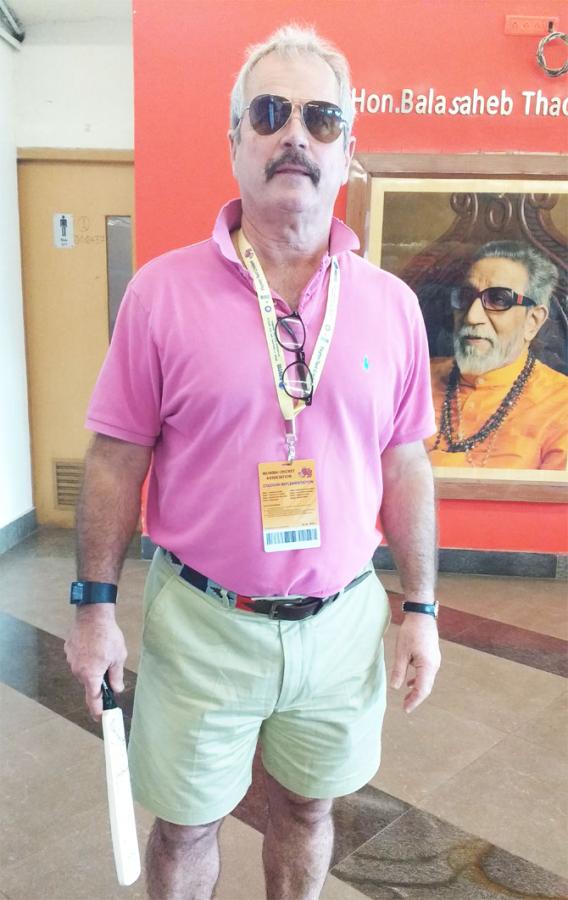 IMAGE: Dickie Bird, the legendary umpire, believes there are few pranksters in cricket like Allan Lamb. Photograph: Harish Kotian/Rediff.com
Virat Kohli, Lamb believes, has the potential to break Sachin Tendulkar's records.
"What I have seen of him, he looks absolutely brilliant. If he carries on playing and if he stays fit, he will go past Sachin Tendulkar," Lamb, who played 79 Tests, scored 4,656 runs and hit 14 centuries, said.
What gives India the edge over England, Lamb felt, is the quality of their spinners, led by off-spinner Ravichandran Ashwin.
"When the ball does turn, you got to have good spinners and India has Ashwin, (Ravindra) Jadeja and Jayant Yadav and they are all good spinners. The problem is that we have got Moeen Ali and Adil Rashid, they are not frontline bowlers, they haven't played a lot of Test matches and that is what England are lacking," he said.
IMAGE: England spinners Moeen Ali, seen here bowling at the Wankhede on Thursday, and Adil Rashid are not frontline bowlers and that could hamper England's chances, Lamb feels. Photograph: BCCI
"Getting 400 on a wicket like this is a good score if you have got good spinners, but we don't have good spinners and it is going to be difficult," he added.
The key to playing spin in India, Lamb said, is to play positively and get on top of the bowlers.
"As a batter, you got to try to hit the bowlers out of the attack and that is what the Indian batsmen did. They took a few chances and they haven't allowed the England bowlers to bowl to them. That is why they have played positively."
Lamb's travel company Cleveland Collection and Africa Travel has brought around 40 English tourists for a tour of India. One of their stops is Mumbai for the Test match.
"I have been all over India. I have always loved coming to India," Lamb said. "I love Mumbai, Delhi, Kolkata, Chennai... I would love to visit Kerala."
Lamb, who made his Test debut against India at Lord's in 1982, was part of the England tour of India in 1984-1985 -- he scored three half-centuries in a row in the second, third and fourth Tests.