'I woke up at 5'o clock this morning thinking I will miss the bus. So jumped out of bed, panicked where everything is, settled myself down and then I saw the time.'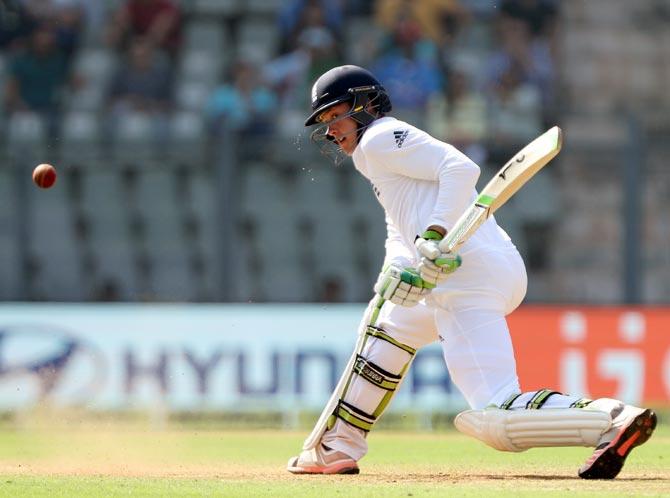 IMAGE: Keaton Jennings hits a reverse sweep to complete his century on Day 1. Photograph: BCCI.
For debutant Keaton Jennings, it was a dream come true just to turn out for England in a Test match and then to follow it up with a century on his debut was even more 'surreal' for the young left-hander.

Jennings, who was dropped on nought, played a splendid knock of 112 in his first innings in Test cricket, lifting England to 288 for five at stumps after they had elected to bat first.
The 24-year-old South African-born opener says he could not sleep all night and was up as early as 5am in anticipation of playing his first ever international match.

"I suppose waking up this morning if someone said to me you will get a Test match hundred, I would have put them off. I woke up at 5'o clock this morning thinking I will miss the bus. So jumped out of bed, panicked where everything is, settled myself down and then I saw the time. It's been a dream come true and surreal that it's come on debut," he said after Day 1.

Jennings, son of famous coach Ray, says he had spoken to former England off-spinner Graeme Swann last month, who helped him understand the difference between first class cricket and the Test level.

"The atmosphere was incredible. When you arrive at the ground in a police escort, it's little bit surreal. We had a chat in November with Graeme Swann and Mark Wood and they highlighted the fact that Test cricket isn't miles away from first-class cricket.
"They tried to highlight that there will be nothing you have not faced in first-class cricket that will be thrown at you in Test cricket. You try and take a little bit of heart in the guys that have played and are currently playing in what they say. Then just try and do the same things you have done in the last six-eight months and have little bit of success."
While his innings left everyone impressed at the Wankhede stadium, Jennings left quite a few stunned by bringing up his debut century with a reverse swept boundary off Jayant Yadav.
He later revealed that he would prefer getting out trying to hit a four to get to his century rather than playing a defensive shot.
"It's been a shot over the last six-eight months that I have played fairly successfully. At the moment I looked at the scoreboard and thought well rather than get out caught at first slip defending, I would rather try to get to the hundred," he said.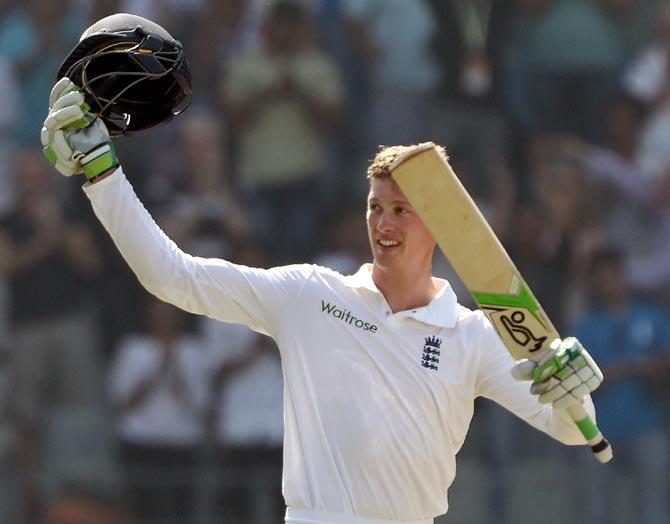 IMAGE: Keaton Jennings celebrates after completing his century on Day 1. Photograph: BCCI.
Jennings explained why he preferred for a rather muted celebration after getting to the landmark.
"I looked up and saw 96 on the board and then I hit it and it went for four. The ground went little bit dull and I kind of mugged up a little bit and thought it wrong. Looked up again at the board and realised I had gone to a hundred.
"I suppose at that moment you don't really want to jump around and go ballistic. The emotion that went over me at that point, the elation, the pride and the satisfaction to get to a Test hundred was really incredible, really special," he said.
Jennings struggled at the start of the innings and had a few close shaves with Karun Nair putting down a catch at gully even before he had scored a run off Umesh Yadav.
He survived another close leg before wicket appeal against Bhuvneshwar Kumar before he settled down and grew in confidence.
"It was a bit like a tennis ball with the new ball. I suppose you really don't know how to play at it or get underneath at the start. Thankfully it kind of hit his (Nair's) hand and got out. I had a little bit of luck but I suppose that's the way the game goes sometimes. I am really thankful that the day has gone the way it has," he stated.
Jennings, who came into the team to replace the injured Haseeb Hammed, is not worried as to what happens in the future when England have to choose between him and Hameed to partner captain Alastair Cook at the top of the order.
"Thankfully, it's not my problem. Hopefully I can keep going the way I have gone today and make it a good problem. It's out of my hands and it's not controllable for me. If I play, two Tests, one Test, whatever in my career, hopefully I can make them two happy Tests."