The aim is to 'stay in a good zone' which requires one to spend quality time with himself rather than social media, feels Kohli
IMAGE: Virat Kohli with his cartoon counterpart. Photograph: ICC/Twitter
Virat Kohli has nearly 16 million followers on micro-blogging site Twitter but the Indian captain considers it as a distraction before a big match like ICC Champions Trophy final against Pakistan on Sunday.
His counterpart Sarfraz Ahmed, however, is 'indebted to millions on social media' for supporting the team throughout. Kohli does not want his side to be 'over excited' before the summit showdown while Sarfraz admitted that his team is 'excited and motivated to perform well'.
In a nutshell, the two captains were like chalk and cheese before their biggest match as captains of their respective nations.
When the question was popped up to Kohli at the pre-final media conference as to what are the things he would like to prioritise, his reply was crystal clear.
"The biggest thing is to stay off social media. Honestly, it sounds funny, but it's so important to stay away from those things, to connect to things that matter, the things that a sportsman needs to take care of," Kohli said.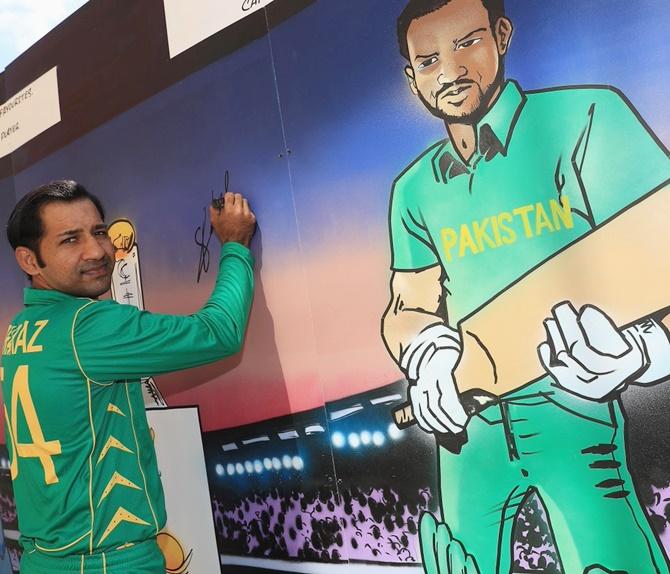 When Sarfraz was asked that same question, the Pakistan captain's answer was diametrically opposite.
"I would like to thank all the Pakistani fans on social media for the tremendous support that they have been providing us throughout the tournament. They have showed faith in us and we would like them to support us during the final too," the soft-spoken Pakistan skipper said in a hurried tone.
The aim is to 'stay in a good zone' which requires one to spend quality time with himself rather than social media, feels Kohli.
"You know, connecting to yourselves within, taking a bit more time to do stuff which you don't normally get to do and stay away from everything. To be happy playing second fiddle in a big tournament like this throughout all the games, to be thinking about bouncing back after a setback. And that can only happen when you're able to connect with yourself first," said Kohli. revealing his personal 'checklist' before a big game.
For Kohli, a connect with outside world means that the focus has wavered from the goal due to external factors.
"If you are too distracted listening to too many suggestions or players or criticism, then you cannot focus on what you need to think as a sportsman first to be able to lead the team and then help the others in the team, as well. Yeah, that's probably been the biggest learning. To be able to maintain that balance nicely has been a good thing for me," said Kohli, making his point of view clear.
Once he steps onto the field wearing the blue India jersey, there's nothing called social media but expectation of a billion people does create a pressure. The skipper understands that it is a part and parcel of wearing the blue shirt for his country.
"I know there are people that expect the team and me, to do well every time that we play, but I understand as a player and as a person that it's not possible, so it's very important to realise the things that might or might not happen in the game, and you have to be close to reality. You can't live and die and then think on those lines where you do end up thinking what people are expecting back home," he said in a pragmatic tone.
"You have to focus on what you have to do on the field. So this is a part of being an Indian cricketer and then having performed for a few years obviously expectations go up. You have to find a way to deal with it. You can't ignore it. I think I have been able to strike a good balance until now, I'm sure I'll be fine for tomorrow," he said in his usual 'Kohli-like confidence'.
About what kind of interactions he has had with his team, Kohli replied that there's no over-excitement as they have gone through the routines.
"Until now, we have never spoken of the semi-final in any different way. We have not spoken about this game in any different way. We have practised the same way from the first day we came here. Even today's practice was something extra. There is no over-excitement," Kohli said.
"People are just doing the normal things that they do in any practice session, and that's the kind of approach we have maintained throughout the tournament. It's just another game of cricket tomorrow, and whatever the result, we have to go forward and play more games after that.
"The more relaxed you stay in these kind of situations, it's a good thing because it helps you take better decisions when you are composed and calm mentally and you can help the team come out of difficult situations only if you are thinking in that fashion. We have changed nothing from the first day we came here, honestly," Kohli opined.
Sarfraz's answer was different as he spoke about the motivation in his young team having reached the final after a sound thrashing by India in their first game.
"The boys are really looking forward to this match. The youngsters are ready for the big event. They are motivated and if we can work had in the finals, we will get good results," said Sarfraz.