A sports agent accused of taking bribes to fix matches said Australian cricketers were "the biggest" culprits and that some of Pakistan's best-known former players were involved in betting scams, a London court heard on Monday.
Agent Mazhar Majeed, 36, told an undercover journalist match-fixing had been going on "for centuries" and named celebrated former Pakistan fast-bowlers Wasim Akram and Waqar Younis as alleged participants, the court heard.
Prosecutors allege that Majeed conspired with Pakistan's former Test captain Salman Butt, 27, and fast bowlers Mohammad Asif, 28, and Mohammad Amir, 19, to fix parts of the Lord's Test between England and Pakistan last August.
Butt and Asif, who are standing trial, deny conspiracy to cheat and conspiracy to accept corrupt payments.
The jury at Southwark Crown Court was played covert recordings of meetings between the agent and former News of the World journalist Mazher Mahmood, who was posing as a rich Indian businessman organising a proposed cricket tournament in the United Arab Emirates.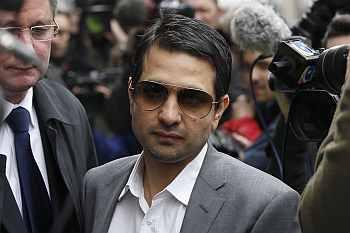 Majeed met Mahmood at a west London restaurant on Aug. 18 last year -- the first day of Pakistan's Oval Test against England -- and, after the meal, discussed match-fixing in the undercover reporter's car, the court was told.
"It's been happening for centuries. It's been happening for years. Wasim, Waqar, Ijaz Ahmed, Moin Khan -- they all did it," Majeed said.
"ABSOLUTE MILLIONS"
Majeed alleged that Australian players would fix "brackets", a set period of a match on which punters bet, such as on how many runs would be scored, the Press Association reported.
"The Australians, they are the biggest. They have 10 brackets a game," he said in the tape played to the court.
Majeed told the reporter he had been "doing this with the Pakistani team now for about two-and-a-half years, and we've made masses and masses of money. You can make absolute millions."
The agent said his players did not often fix the outcomes of matches.
However he told Mahmood it would cost between £50,000 ($78,000) and £80,000 for information about a bracket, £400,000 to fix the result of a Twenty20 game, £450,000 for a One-day International and one million pounds to rig the outcome of a Test match.
Majeed said it was the Pakistan cricketers who asked him to get involved in match-fixing, the court heard. He also boasted that he knew Hollywood film star Brad Pitt and former world number one tennis player Roger Federer "very well" and could arrange for them to promote the UAE tournament.
He told the journalist he managed 10 Pakistan cricketers, as well as "a couple of Indian players", Australian fast bowler Nathan Bracken and West Indian all-rounder Chris Gayle.
The undercover reporter indirectly referred to match-fixing at the end of the meeting, saying two or three players were needed "on the betting side".
The agent replied: "There's more than two or three, believe me, it's already set, it's already there."
The trial continues.