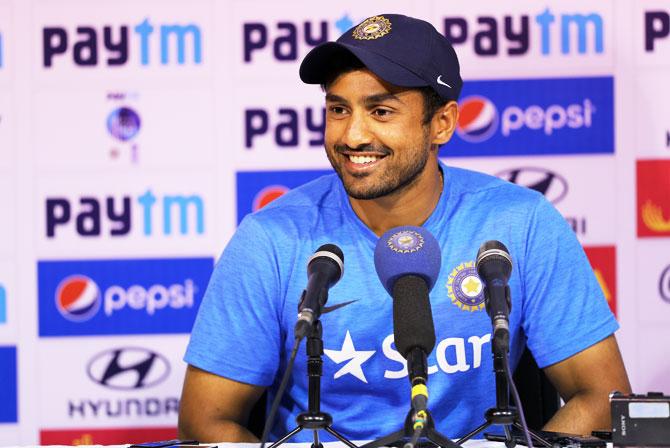 IMAGE: Karun Nair can't contain his happiness at the press conference after play on Day 4 of the 5th Test in Chennai on Monday. Photograph: BCCI
India batsman Karun Nair reflected on his brush with death this year after scoring a brilliant triple century against England in the fifth Test on Monday.
- PHOTOS: Nair's triple century propels India to record total
- Feels like we are in heaven, say Karun Nair's 'proud' parents
Life has changed in a matter of a few hours for Nair, India's second triple centurion in Test cricket and the Bangalore boy admits that it will take some time to sink in.
"Everyone is being very nice to me. They have congratulated me. I think it will take a couple of days for myself to sink in. The dressing room atmosphere has always been really good and they have always backed me in whatever I have done," Karun said at the day end press conference.
Talking about a near-death experience, the 25-year-old, who was among the hundred-plus passengers on a boat which capsized in his home state of Kerala in July, killing six people, remembered: "I didn't know how to swim. People there rescued me and I was just lucky enough to live again," Nair said after scoring 303 not out at the MA Chidambaram Stadium.
Fortune played a crucial part in his marathon 381-ball knock against England in only his third Test.
Nair was dropped on 34 by Alastair Cook at slip and by Joe Root on 217, and he survived a stumping opportunity off Moeen Ali.
Nair just carried on, however, compiling his maiden Test century before lunch and converting it into a double before counter-attacking in the final session to become the second Indian, after Virender Sehwag, to make a Test triple century.
"After the first hundred, pressure was off. The first hundred is always important and I think when I got the first hundred, I was just playing my shots after that," he said.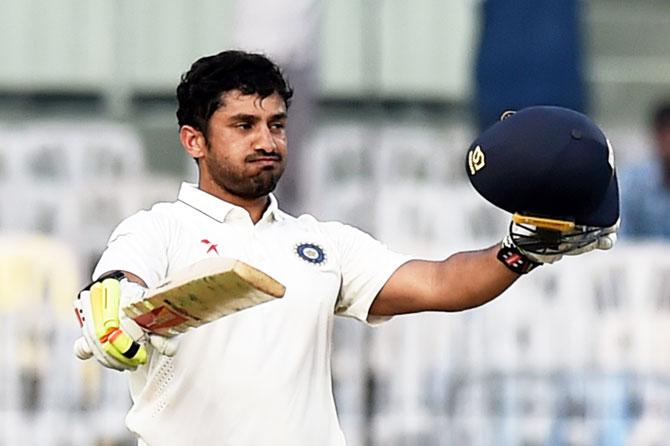 IMAGE: India's Karun Nair celebrates after completing his triple hundred. Photograph: R Senthil Kumar/PTI
India posted their highest ever Test total of 759-7 before declaring, a decision which was delayed to allow Nair complete his triple century.
"The message was to just go after the bowling. We had a set over in mind (for the declaration). When I got closer to 300, they pushed it back. I'd like to thank the team management for giving me the extra time."
Asked as to when he thought about getting to a triple century, Karun said it was only after he reached 280 that his partner Ravindra Jadeja started egging him on to reach the milestone.
"I think it never took place in my mind. Once after I crossed 250, the team management had certain plans of going after the bowling and declaring. So I think within the space of five overs, I got to 280-285, that is when I started thinking and Jaddu kept egging me on to not throw it away and get to 300 easily."
The 25-year-old said he fought nerves during each of the milestones on 99, 199 and 299.
"Obviously, there are some nerves. You can't be thinking negative at that point. You just have to watch the ball and just get over that moment. You just have to feel that moment, being there."
Apart from displaying an impeccable temperament, Nair also exhibited his prowess at sweeping, both conventional and reverse, against England's three-pronged spin attack.
"Sweep comes naturally to me, I've worked on it a lot, it's my go-to shot and it just came off today," he said.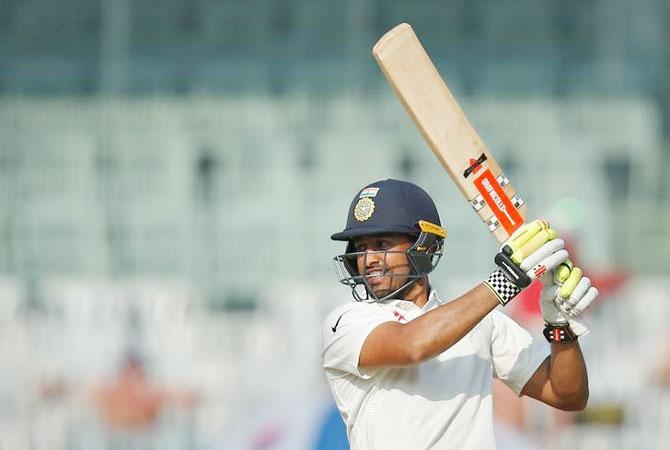 IMAGE: Karun Nair during his innings of 303 not out. Photograph: Danish Siddiqui/Reuters
Karun said that he is currently overwhelmed by emotions.
"There are a lot of things that is going in my mind that I want to do but at that moment, it just doesn't come out. I think I will just have to get more hundreds for me to show emotion."
Karun said that he feels sorry that his close buddy K L Rahul got out on 199.
"Like he (Rahul) said, we started playing cricket together. It's just that we have been together since then. At every stage, if he has gone ahead I have caught up. Or if I have gone ahead, he has caught up. So I think that healthy rivalry is good. I feel bad for him that he did not get the double hundred but I think he will get one very soon."
Crossing the century mark certainly took away a lot of pressure off him, he feels.
"I think it's just playing normally. I think after 100 the pressure is off. You just go out there and play the shots that you can and you just look to hit the gaps. Once you cross 150, it is just playing freely like how you always do and just expressing yourself."
The Bengaluru lad also said that it is only the mental approach that changes while playing each format of the game.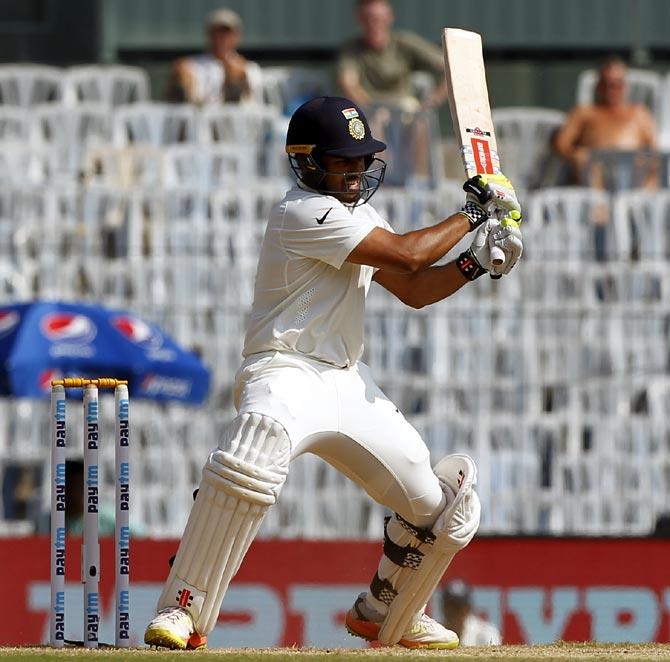 IMAGE: Karun Nair bats during Day 4. Photograph: BCCI
"Like I said before, my game doesn't change much. It's just the mental approach that changes. In Test matches, obviously you have a lot more time to get settled and play big. I think the approach doesn't change at all. I don't play any different shots in any other format. I just play the same way."
He did not score too many in the first two Test matches but did not feel any extra pressure apart from the usual bit.
"There was no extra pressure as every game has its own pressure. I got run out in the first game and didn't get many runs in the second game but there was no extra pressure that I put on myself. There is always pressure going into a Test game but nothing extra."
While a Test triple century is special, triple hundred in the 2015 Irani Trophy was physically more demanding according to him.
"I think there is a big difference. This is a Test match -- a far bigger achievement for me if I look back. But having said that I think that innings was more taxing. I played a lot longer. I played for over two days there. Still the Chennai heat does get to you. It is just amazing moment in my career to get such a milestone and I would like to just go on."
The man of the moment believes that their bowlers could make full use of the footmarks created by batsmen.
"The pitch has been good all four days. And it is slowly deteriorating. And there are footmarks there so I think we just have to bowl well and get the wickets. Good bowling does get you wickets on any wicket."