Within five months of quitting cricket due to a spat with his Board, former Pakistan captain Shahid Afridi on Tuesday announced his availability for the national team following a change of guard in the PCB and claimed that he had never retired.
"I have decided to make myself available for Pakistan again. I had never retired from cricket, I had only said I don't want to play under the previous board setup. Now that a new chairman has taken over I want to play for Pakistan again," Afridi said.
The all-rounder had quit international cricket in May last year after being stripped of the one-day captaincy due to a turbulent tour to the West Indies where he developed differences with then coach Waqar Younis.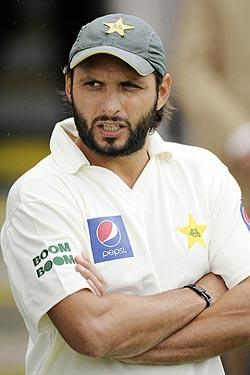 "I had never retired. I had said that I can't continue to play under a board and team management that I am not comfortable with and who don't respect senior players," Afridi said.
"The board now has a new Chairman and the team management has also changed so I think It is time now for me to try to play for my country once again. I still have some years of cricket in me to give to the team," the 31-year-old added.
Waqar stepped down as coach after the last tour to Zimbabwe owing to personal and health reasons while Zaka Ashraf took over as the new Chairman of the PCB after the completion of Ijaz Butt's three-year tenure.
Butt had sacked Afridi as captain of the one-day team after the former manager Intikhab Alam submitted an adverse report about the all-rounder's behaviour confirming that he had problems with Waqar over selection issues and had twice walked out of team meetings in the one-day series.
Butt later said he held Afridi responsible for Pakistan's defeats in the last two one-dayers against the West Indies.
The decision to sack Afridi as captain led to a bitter tussle between him and Butt with the all-rounder going to court against the PCB's decision to not give him permission to play in England's Twenty20 tournament.
But after vowing to fight till the end, Afridi reached an out of court settlement with Butt which led to him withdrawing his case and appearing before the PCB's disciplinary committee which fined him Rs 4.5 million for breach of code of conduct.
Afridi, who led Pakistan in the one-dayers and the Twenty20 matches since 2010, said he had no problems playing under anyone's captaincy as he had never run after the position.
"Positions have never been an issue for me. I just want to play for Pakistan again. I think the conditions are now better and I can give my best for my country," he said.
The Pakistan team has been led by senior batsman, Misbah-ul-Haq in all formats of the game after Afridi's retirement in protest and he is now captaining the side in the UAE in the series against Sri Lanka working with a new interim coach Mohsin Khan and manager Colonel Naushad Ali.
There was no word from the PCB on Afridi's announcement but an official said the senior player's comeback would depend on the requirements of the national selectors when the one-day series was played against Sri Lanka.
Former players and administrators welcomed Afridi's decision to come back with many of them pointing out that he commanded an automatic place in the one-day side with his recent performances.