Indo-Pak bilateral cricket could be in for an early revival with PCB chief Ejaz Butt saying that the modalities of a possible series are being worked out with BCCI officials.
Butt, who visited India recently and met with the BCCI officials, hinted at a breakthrough during discussions with his counterparts.
"I held discussions with Indian officials," Butt told The Express Tribune newspaper.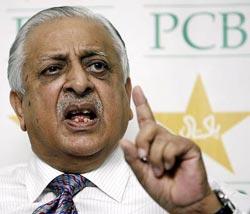 "Both countries have shown their eagerness for the revival of the series. We are working on finalising terms and conditions and fans will hear the good news soon," he said.
The PCB chairman, however, termed reports that the series would be played at a neutral venue as premature.
"We are still at a stage of finalising things. Confirming anything on the venue would be premature," he said.
But the tight international schedule of the two teams could be a major roadblock.
India are unlikely to fit in the series this year due to a hectic schedule while the scheduled series is also clashing with the Asia Cup.
"This is why the two Boards are not confirming anything," said a PCB official.
"They're working on the creation of a window for the series as soon as possible. While there have been meetings to discuss the arrangement of the bilateral series, India, with their packed schedule, are unlikely to create a window."